Today's prompt from the UltimateBlogChallenge was online retail inspiration. I thought and thought on how I could play off that prompt. I almost thought of just pulling from my blogging idea word document instead. Then I thought, hey wait a minute, you are an amazon associate and its almost Halloween so why not write about some fun Halloween Shopping with Amazon.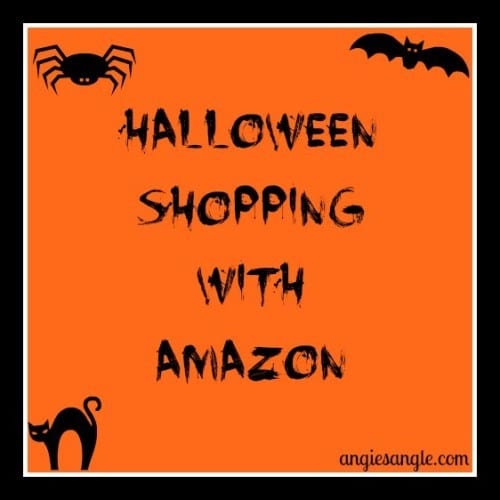 I imagine for some of you Amazon wouldn't be the first place you'd think to turn to for your Halloween shopping needs. In fact, though there is a wide variety of things at Amazon for amazing prices. It's worth taking a look at and browsing around to see what you can find.
Today I'll highlight a bit of the things I like at Amazon for the Halloween season, but I encourage you to look around yourself I bet you'll be surprised.
– These are super cute and only $21 and free shipping if you have prime.
– I think this is just adorable and would be super cute on a mantle. Only $15.97 with free shipping!
this woman's costume is just adorable too and on sale right now for $25.87. Sadly there is a shipping cost of $4.99, but I still think its a pretty good deal. This one was actually sitting on my costume wish list.
again something pulled from my costume wish list. This little number is $25.81 right now with free shipping if you are a prime member.
In fact, looking at my wish list for costumes you should go look at all the costumes right now because it seems most of the prices on them have dropped and on sale right now.
Look at how cute this little number is!! I already bought this for Roxy for Halloween and she loved it and looks so cute in it. The price ranges for the size you need.
this was the only men's costume that pulled at me for this post. Its pretty fantastic, don't you think? Priced at $41.93 for the XL with free shipping if you are a prime member.
What about candy do you say? What would Halloween be without candy? Luckily Amazon also has that for you to buy and stock up on.
What about this amazing assortment. Sure to please everyone. You can get it in a 30-pack or a 60-pack. The 30-pack will run you $18.30 along with free shipping if you are a prime member.
What about this great tasting assortment? At $12 with free shipping for prime members.
There are amazing things though, these I shared with you are just the tip of the iceberg. Go browse yourself and come back and let me know if you found anything that tickled your fancy!
Happy Halloween shopping!