Swagbucks has announced a lot of special promotions for those of you looking for deals this Holiday season!
Now is the time to join Swagbucks my lovely readers. If you haven't joined Swagbucks yet, what are you waiting for? It's the easiest place to earn point towards gift cards you can use. Right now they are having a shopping special (which I should have shared earlier this month, but didn't).
If you want an even more rewarding Shop experience, Swagbucks is running a series of Double Swag Bucks Days and throughout the holiday season! Plus a special contest where you can win even more! If you're not a member of Swagbucks yet, there's still time to earn free gift cards towards your holiday spending! Just click here to sign up.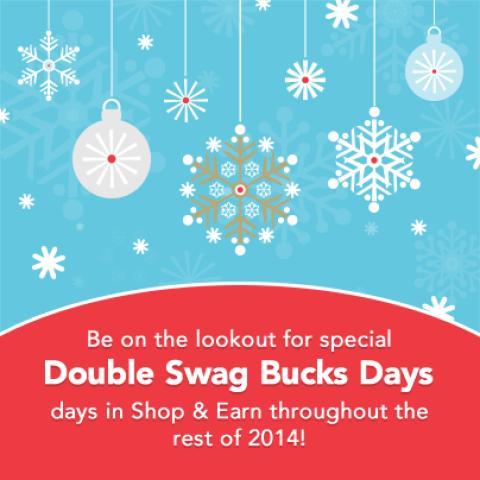 Here's the schedule:
Swagbucks Holiday Shopping Promotions
Halfway to Christmas – December 12th – 15th, 2014
Double Swag Bucks in ALL Shop & Earn stores!
Spend at least $1 in Shop & Earn between December 12th – 15th and you'll receive an entry into a drawing for one of 51 prizes!
Grand Prize (1)- 50,000 SB
Runner Up Prizes (50) – 1,000 SB
*HURRY, you can still take advantage of this one if you are on the West Coast*
Free Shipping Day – December 18th, 2014
Double Swag Bucks in ALL Shop & Earn stores!
Last Day to Order Online (for Christmas delivery) – December 21st, 2014
Double Swag Bucks in ALL Shop & Earn stores!
Shop & Earn Spotlight – December 1st – 30th, 2014
Be on the lookout for super-special deals at featured Shop & Earn stores
I know I got some amazing bonus swagbucks when I shopped for Halloween and received my bonus the beginning of December. It's the easiest place to earn points towards all those useful gift cards. I always cash out for amazon and paypal.
Remember just join by clicking – here – and start earning your way to gift cards. If you need any help at all, just holler! I'd be more than happy to help you out.