Welcome to 2015.
Everyone is doing their goals, wants and thoughts for 2015. I figured I needed to write down my own as well, even I am not 100% yet what I want out of 2015. I figured though my 2015 Personal Goals will come flying out as I start to write them. Or I hope.
I liked how I wrote out the 2014 Goals and I am going to do it in a similar fashion. I like fresh starts and new chapters. As someone else said, the new year brings being able to start your very own blank book. I feel similarly when September rolls around, so to me there are two new fresh starts to every year.
Before I start diving into 2015 Personal Goals. I am going to take a quick peek back at 2014 and let you know what I accomplished, which wasn't much.
Blogging/Photographing of 2014: I moved myself over to my domain very early in the new year and half way through the new year I moved myself over to self-hosted. Best decision EVER. Though, I still need a layout that I completely happy with. I did a lot more link-ups, which helped grow my blog a tiny bit. I also completed the Catch the Moment 365 for 2014, though I did miss a few days here and there. And I did post a bit more, not every day, but I still say it's a win.
Personal and Home of 2014: I did put more in my savings, but not our mutual savings account. Go out to eat/drink less, we did well on this at the beginning of the year and then faltered later in the year. We did get our new mattress as well. That was it on achievements for last year in this area. Our life didn't life didn't like us much this last year and didn't leave a lot of room for personal fun or improvements around the house.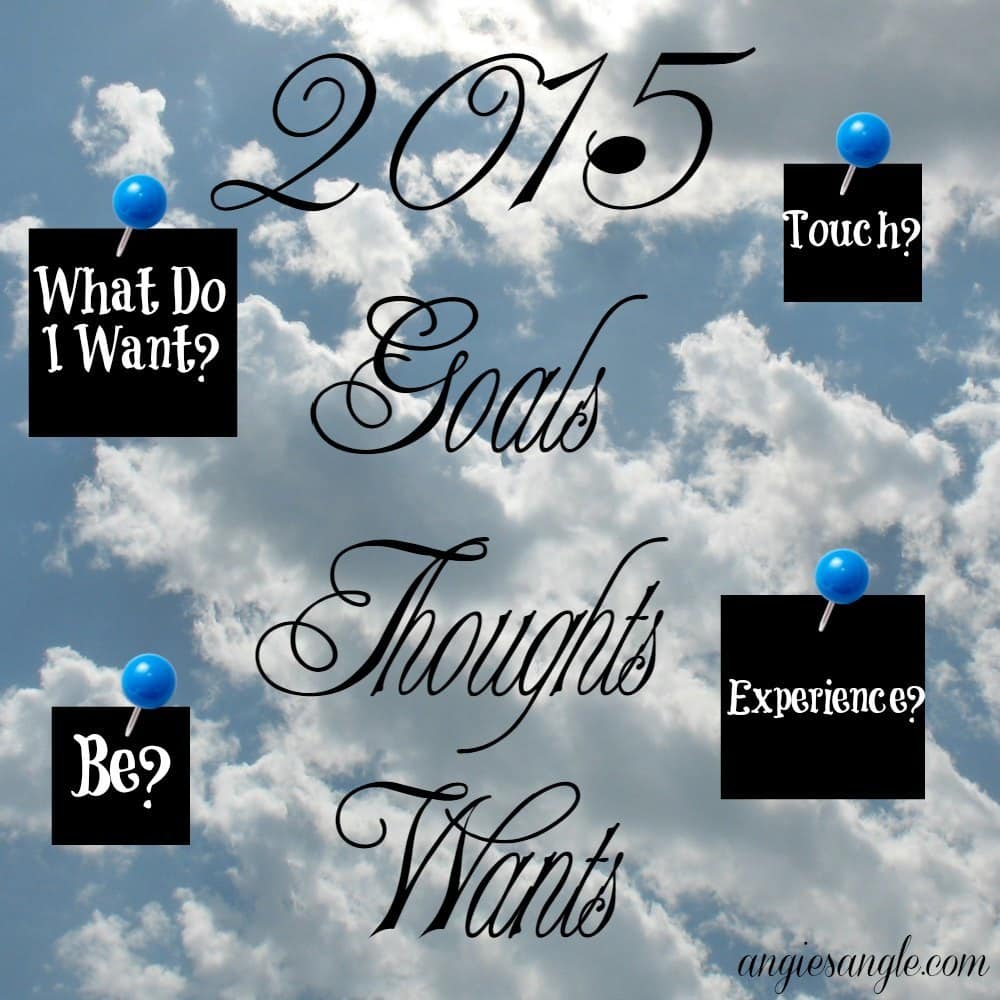 Blogging/Photographing 2015 Personal Goals
Fully do Catch the Moment 365 for 2015 and Project 52 (be a darn good hostess on it too)
Learn to take better food/plated pictures for the recipe section
Do more crafty type of posts along with house project developments
Learn more about my manual settings on my camera
Participate in more link-ups
Comment and Share my fellow bloggers posts more
Improve my overall page views and mostly my unique views
Be more consistent with my weekly segment postings
Self/Family 2015 Personal Goals
Read more. I am ashamed that I only read 28 books last year. I have never read so little before in a year. I need to bring that back and take time away from the computer to read.
Hike. We didn't go at all last year, minus a tiny bit here and there on our only true vacation last year in February.
Exercise. Get moving again. Every since I hurt my foot in June. I haven't done much in the course of movement. I need to get back into it and get a routine going, no matter what the routine is. Just move!
Explore Portland. Yes, this was also on my last year one, but I want to actually try to do some this year.
Vancouver Farmers Market. We need to walk downtown and actually go on a weekend.
Once again, putting more into our savings is one of my biggest goals. Weather its just my personal one or our joint. Just do it more.
Play games. Whether it's with Debbie and I's game night (posting still upcoming) or on the gaming systems. I need to play more and detach myself from my computer more.
Don't buy beauty care products unless I need them. I have so much in the way of makeup, shampoo and conditioners, face washes, mask. I need to use what I have.
House 2015 Personal Goals
Paint. I said this last year and I am saying it again. We need to put paint on our walls. And now that I have a color scheme in mind for each room, it should be easier.
Pictures on the walls. I have several different ideas of what to put where now. Now we just need to do it. We can totally do it this year.
Re-do our main bathroom. Has been our "to-do" list for some time, but it'll just keep being put on until it's done.
Main floor guest room. Finish up and redesign the main floor guest room, so we can move our full up into it and have a nice cozy room for people. Which means pulling up the carpet in there and putting down new flooring and painting.
Design the nook downstairs for our desktop, scanner, and printer and office supplies.
Maybe being able to get our main couch and putting it in the second living room like we have wanted.
Get a garden in this spring/summer.
Have an actual nice looking/soft yard.
Re-do the front porch.
Make a backyard patio.
So many of the same goals, missions, thoughts, wants as last year. I think that is okay though; as we do want it all and what a better way to remember than to write it down and print it out to stick on our fridge.
I would have liked to say travel again and camping, but with our situation right now I am not sure if that'll be able to happen. It's there, just not out there in the open.
What are your 2015 Personal Goals, Wishes, Wants, Thoughts?