You all know that I do a lot online to earn things in various ways. Swagbucks is one of my major earners though and I don't have to do a lot to earn. Actually both my husband and I earn each month to add towards our Amazon cash mainly. You are totally missing out if you haven't joined yet!
Trust me, it is worth it to join and start using it. It's so easy you'll wonder why you didn't join a long time ago!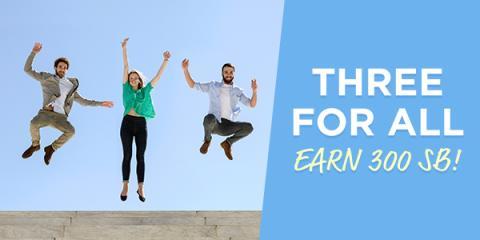 Swagbucks.com is one of the easiest ways to get gift cards just for doing the things you already do online! But now, you can get even more SB when you invite a friend, to the tune of 300 SB! Here's how –
Refer someone to Swagbucks between now and Sunday, June 7th.

When your referral earns 300 SB by the end of the month (June 30th),

You AND your referral BOTH get 300 SB each!

The 300 SB Bonus will be credited to all eligible members on July 10th.
Check out all the details here, then click on "Refer Friends" at the top of the screen to get started! If you or your friends need ideas on how to earn your 300 SB, check out my past Swagbucks posts here.