This shop has been compensated by Collective Bias, Inc. and its advertiser. All opinions are mine alone. #CampbellSavings #CollectiveBias
I think I can safely say, most of us like to save money when and where we can no matter how much we earn. There is something amazing about saving a few bucks and a few bucks there. It all adds up and it means less coming out of your pocketbook. Sometimes coupons can be all time-consuming, but they do end up being worth it if you can get your routine down with them. Today though I am bringing you some Campbells Savings that are just easy to grab and go save with.
You'll be saving without even thinking about it really. Who doesn't love that? Grab those Campbells Savings now! You'll thank me later.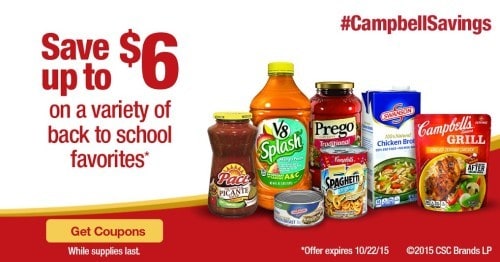 With back to school around the corner, it's time to think about quick and easy weeknight meals. Saving money is an important factor, too. Campbell's® has you covered with big savings and easy meals with seven great products.
For a limited time, save on the following products:
Pace® Picante Sauce – Save $1 on any Two (2) jars of Pace® Picante Sauce or Salsa.
V8® Splash® – Save $1 on any TWO (2) bottles of V8 Splash®.
Swanson® Chicken Broth – Save $0.50 on any TWO (2) cartons of Swanson® broth (26oz. or larger).
Campbell's® Dinner Sauces – Save $1 on any TWO (2) Campbell's® Skillet, Slow Cooker, Oven or Grill Sauces.
Swanson® Premium Chunk Chicken Breast – Save $0.50 on any TWO (2) cans of Swanson® Premium Chunk Chicken Breast.
Prego® Italian Sauces – Save $1 on any TWO (2) Prego® Italian sauces.
SpaghettiOs® – Save $0.40 on any THREE (3) Campbell's® SpaghettiOs® pastas.
Click here for great savings on your back-to-school meals!