I was excited to get the offer to read Stone Cold Case by Catherine Dilts. The description of the book sounded amazingly fun, as I love a good mystery. I am happy to say that I wasn't disappointed in the least and now am anxious to get my hands on the first book of the Rock Shop Mystery, Stone Cold Dead.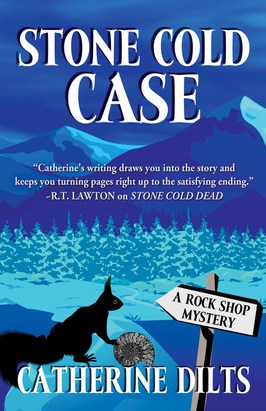 Synopsis of Stone Cold Case

Rock shop owner Morgan Iverson's discovery of human remains reopens a cold case and unhealed wounds in a Colorado mountain town, while her find of a rare gemstone sparks a dangerous treasure hunt.

Sixteen years ago, prom queen Carlee Kruger vanished. When Carlee's mother asks Morgan to investigate her death, the clues seem as convoluted as the coils on a fossilized ammonite. The hunt for the truth heats up as the local newspaper editor helps Morgan uncover the past. The rock shop's mascot donkeys and an elderly cowboy chase after a Sasquatch look-alike who may hold the key to Carlee's death. Whoever knows what happened to Carlee will do anything to keep the truth buried.

In book two of the Rock Shop Mystery series, amateur sleuth Morgan Iverson digs into gemstone prospecting to solve a Stone Cold Case.
My Personal Thoughts on Stone Cold Case by Catherine Dilts
As I started Stone Cold Case, I was immediately thrown in the feel of this small Colorado town. When I realized what I was reading was actually the second book of a series, I got a little mad and upset since I like to read books in order normally. I kept plugging on though without reading the first book of the series, Stone Cold Dead, and I am happy to say you can easily read each book independently of each other.
The book opens up with Morgan Iverson, the main character, out on a hike with her the class as a group project looking for special rocks. On the hike Morgan decides she needs to step off the hiking path and use the bathroom. After she does that, she wants to take a picture of this pretty bird and because of that she stumbles and falls completely off the side and right into a dead body.
Not only a dead body but a man who could be a Sasquatch himself, she thankfully runs and finds her way her back into the hiking path and down back with her group.
She is once again thrust into finding dead bodies after only being in this town for a few short months. She wonders why she is always the one to find them and then throws herself into solving the case, no matter how many times she tells herself she is not going to get involved.
There is also a splash of romance along with the mystery that gives it that great combo in the book. Play along with the whodunnit and see if you can figure out before Morgan does.
I can't wait to get my hands on the first book now, Stone Cold Dead and keep following the feel of this amazing small town in Colorado.
About the Author Catherine Dilts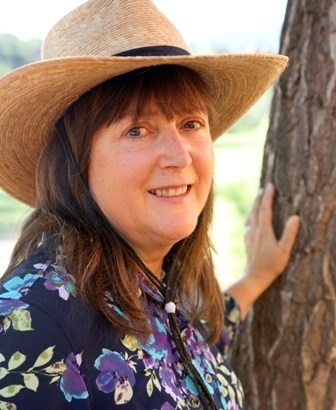 To Catherine Dilts, rock shops are like geodes – both contain amazing treasures hidden inside their plain-as-dirt exteriors. Catherine caught mountain fever after a childhood vacation in Rocky Mountain National Park. Determined to give up her flat–lander ways, she moved from Oklahoma to Colorado. Her husband, a Colorado native, proposed to her as they hiked Barr Trail on Pikes Peak. Catherine works as an environmental scientist, and plays at heirloom vegetable gardening, camping, and fishing. Her short stories appear in Alfred Hitchcock Mystery Magazine. In her spare time, she attempts to lure wild donkeys to her property in the mountains.
Catch up with Catherine and her books by following her on the following channels:
Does this Rock Shop Mystery sound like your kind of book? What kind of books are your favorite types? Are you like me and love a good whodunnit? Can't wait to hear what you like or even don't like.