Welcome to Project 52. One theme, one photo, once a week. Simple. I hope this project will help you grow as a photographer. Amy, Sarah and I are going to co-host this link up each week. Each of us will pick a favorite from the previous link up to share each week.
Another week, another theme to showcase our love of photographs. I was so excited by this week's theme but really didn't do it justice like I was hoping. Which saddens me, but it is what it is.
Before I share the photo I ended up going with for Fall, let's look back at last weeks theme of button with my favorite from those that linked up.
It was from one of my lovely co-hosts, Amy, who just was able to get back after a hiatus from her blog with issues she was having. She posted three different photos, so you'll have to peek at her actual post to see them all, but I am sharing the cute as a button kitty in his captain costume.
Project 52 – Week 42 – Fall
As I stated in the beginning, I was so excited for this theme. So excited! We went around Saturday doing our errands, but I didn't have my camera and we saw so much pretty Fall colors and the sun was out and it was just perfect. We said we'd try to go out Sunday again to get some photos, but Sunday came and it was pouring at times and dark and just not picture worthy for this theme. So sadly, we never got to go back out and get photos.
Instead, Jason got a couple of shots of one of the trees in our neighborhood Sunday morning. It's not perfect, but at least its Fall like.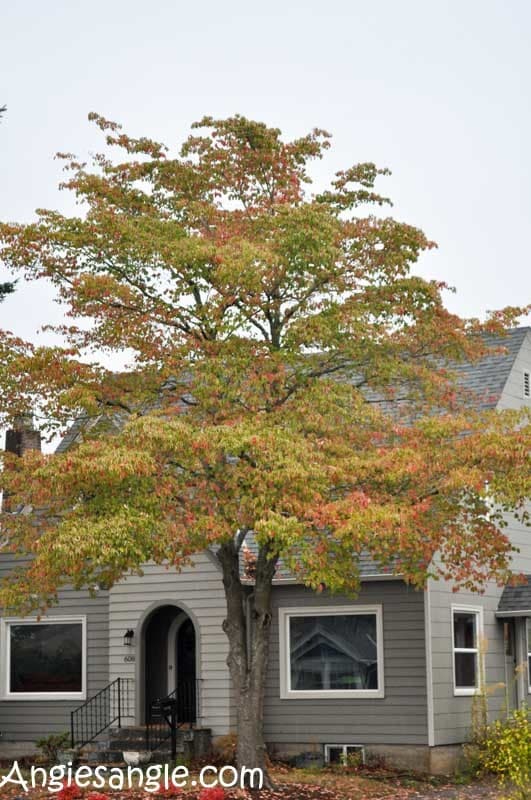 So there we go with mine. I bet I get a few this weekend, but a little late to share with this link-up, so you'll have to look for it with my Catch the Moment post for next Thursday evening.
Now it's your turn, link up that fall and make me jealous with what you were able to capture!
Here are the themes for the next 52 Weeks. Feel free to join in at any time!
Feel free to join us on instagram using the hashtag #Project52Photos.
Project 52
This Weeks Theme: Together
Next Weeks Theme: Disguise
Grab our button and share on your blog so others will join.
Come back next Friday and link up your "Together" photo.