January 1st is famously known as a time of New Year's Resolutions and we always hear a lot of talk about trying to live a healthier lifestyle this time of year. It's hard to do by yourself though, especially as the colder months set in. If you've considered a get-fit New Years Resolution this year, We've got the site to help you keep it, and save some cash too! Shopping with Swagbucks can help you get ahead of the game, while earning tons of Cash Back on New Year's Resolution deals this New Year. It's time to make your 2016 Resolutions stick!
I have used Swagbucks for years and think it's one of the easiest way to earn a bit extra each month. If you haven't joined, you
need to do today
and start your new year off right with loads of earning potential! And never fear about asking questions if you have questions on how to earn with Swagbucks. I swear to you it's easy and legit!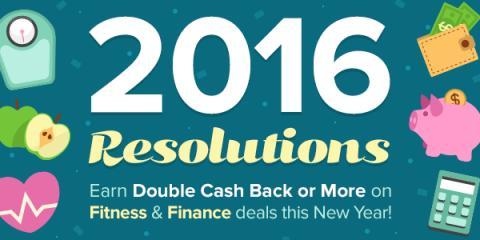 Looking for athletic apparel to help get your body in gear for a fitness plan? These featured stores on Swagbucks have everything you're looking for and offer up to 10% Cash Back:
Sports Authority

REI

Nike

Under Armour

New Balance

Reebok

Champs Sports

Adidas

Eastbay

Speedo USA

And many, many more
Looking to change your diet to prime your body to reach it's full potential? These featured stores are a one stop shop and offer up to 14% Cash Back:
Nutrisystem

GNC

Vitamin World

Vitacost

A1 Supplements

And many, many more
Shifting your focus to getting your personal finances looking healthy and in shape, these tax prep programs and office supply headquarters are the first step on the path to financial comfort and offer up to 50% Cash Back!
TurboTax

H&R Block

Office Depot

Vistaprint

Staples

And many, many more
Can't decide what you're looking for, there's always the classics that have everything you might need and offer cash back for all of those every day purchases, on top of their low prices and your credit card points!
Target

Walmart

Macy's

Kohl's
So have Swagbucks help you reach your 2016 Resolutions! 2016 promises to be the best year yet so get a head start on your goals. Have a health, fitness or financial New Years Resolution? Share it in the comments and tell us how well you've been able to stick to it so far!
What are you waiting for?
Join today
! Get to earning now!