If you join Swagbucks with any of the links below, you'll be my referral and I'll earn points when you earn points! I do hope you join, not only for your own point-earning causes but mine too.
Boy is there great news for all of you Swaggernauts this weekend.
I heard Swagbucks just announced that they are starting to prep for their 8th Birthday Bash.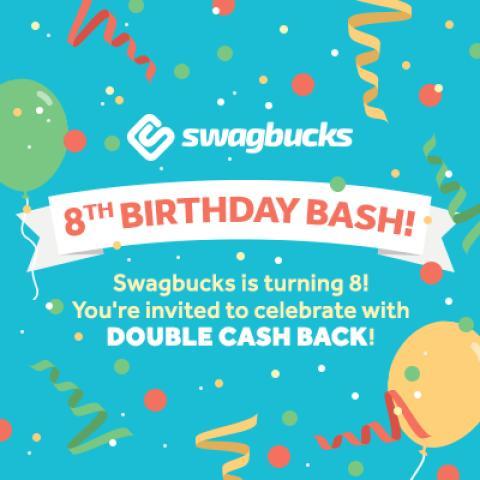 React accordingly. This is pretty big news. If you weren't a Swaggernaut in years past, you might not remember that Swagbucks goes crazy with earning opportunities on their birthday. This company has been around forever in web-years and every birthday they do something special to celebrate.
Today through Thursday, February 25th you're invited to celebrate with Double Cash Back or More through their Online Shopping portal!
How do you get invited to the celebration?
Do what you always do? Head to Swagbucks and visit all of your favorite retailer's websites, it's that simple!
All are invited to enjoy this exclusive Cash Back shopping opportunity 🙂
You know that gift you've had your eyes on?
Buy it!
All of your favorite retailers are offering Double Cash Back including: 10% Back at 123Inkjets.com, 6% Back at Macy's, 8% Back at PetSmart, 10% Back at GoDaddy.com, 8% Back at Priceline, and many more!
So what are you waiting for? Let's get to celebrating!
Happy Birthday to Swagbucks!