Sometimes finding a new face washing product can be a pain the rear. It may not work well with your skin or wash as well as it claims too. You'd thinking something like a face wash would be a simple product to buy and go and be happy enough with. Sadly though there a million products out there and it takes a lot of testing and trying to find ones you like and will buy in the future because a few strip your face and leave makeup behind.
I test a lot of face products and some I like well enough and some I really do enjoy and like.
This Exuviance Gentle Cleansing Creme is one of those products I actually really like and think does what it claims.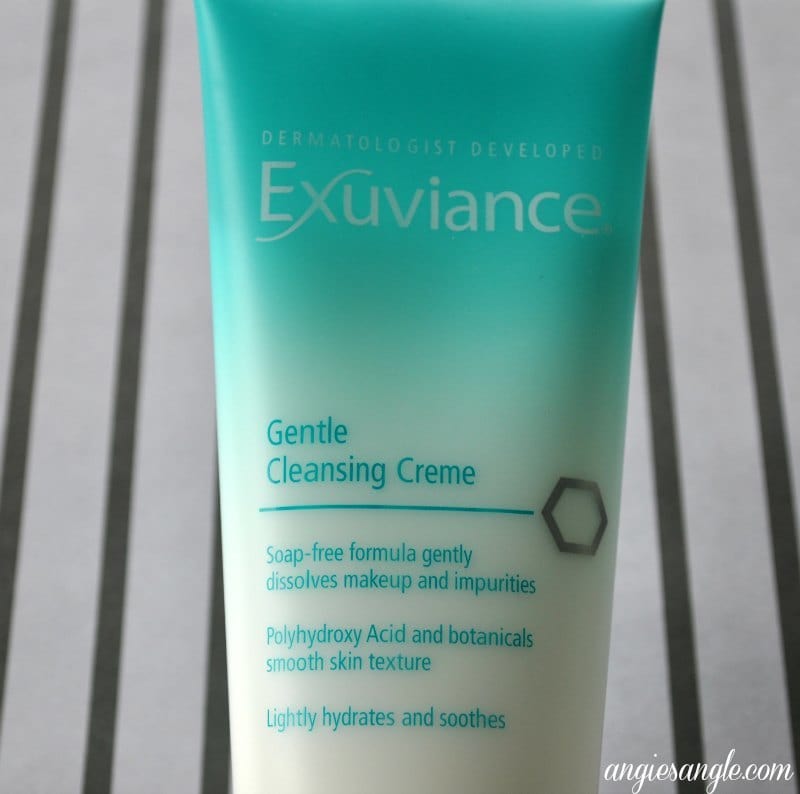 Exuviance Gentle Cleansing Creme
Cleanse and purify skin that needs special attention with this gentle anti-aging cleanser.
Comfort rich, soap-free formula gently dissolves makeup and impurities
Formulated with Gluconolactone (PHA) and botanicals to smooth skin texture
Lightly hydrates and soothes
The benefits: This comfort-rich cleanser gently removes makeup, surface oils and impurities without altering the skin's natural moisture balance. The soothing creme formulation is blended with an anti-aging Polyhydroxy Acid (PHA), along with skin conditioners and nourishing botanicals to soften and soothe while improving the skin's texture. This dermatologist developed soap-free cleanser is highly moisturizing and ideal for dry or sensitive skin. It's also wonderful as a makeup remover and can be rinsed or tissued off for a clean, refreshed complexion. Dye-Free. Paba-Free. Dermatologist and allergy tested.
How to use: Moisten hands and face. Dispense product onto fingertips and massage onto face and neck using an upward circular motion. Tissue off or rinse thoroughly with warm water, and pat dry.
Recommended usage: Twice daily AM/PM
Recommended for: Any and all! Works well for all skin types, even the most sensitive of skin.
Size: 7.2 oz tube
Price: $32 at Exuviance.com
My Thoughts On Exuviance Gentle Cleansing Creme
I've enjoyed using the Exuviance Gentle Cleansing Creme. I wet my face and hands before grabbing the bottle a squeeze some on my hands and apply to my face. I sometimes washed it off with warm water and wash cloth and a few times I just used the kleenex.
I don't want to forget the smell. You know me and my sniffer and this product smells amazing. Since I am horrible at telling you what things smell like just trust me that it smells amazingly great and made me happy using it.
It was really helpful while we were on our getaway up in Seattle cause I couldn't find any wash cloths at one place, so I just used the Exuviance Gentle Cleansing Creme and wiped it off with the kleenex I could find.
My face felt totally clean and soft, I didn't feel like I hadn't washed my face. Which sometimes I can feel if I don't use water and a wash cloth when washing my face.
I even felt like I could skip moisturizer because my face felt so soft and supple like I had applied moisturizer already. Which I loved about this product. Even though most of the time I did apply moisturizer after as well. It was nice though it didn't feel like it needed it.
You know how your face can feel kind of stiff after washing it and you just need to apply that moisturizer right after? You've felt that, right? It's not just a me thing?
So yes, grab yourself a tube of this Exuviance Gentle Cleansing Creme and I am pretty sure you'd love it too!
Follow Exuviance on Twitter too, to keep up-to-date on their products. They have some great ones.
Powered by BrandBacker