Taking a bit of look back to last year, 2015. I wanted to step back and let you all know 6 of my favorite books from 2015. Those that received 5 stars on my Goodreads account. Curious to look back with me on what my favorites were? Maybe what you need to pick up next, if you haven't already read them.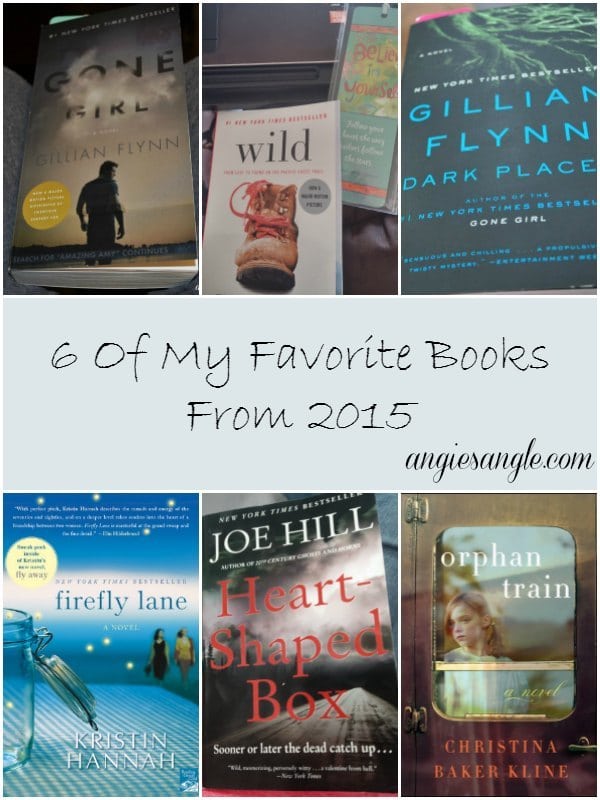 6 Of My Favorite Books From 2015
Gone Girl by Gillian Flynn – to me, it totally lived up the hype I kept hearing about it, before getting my own hands on it. It was amazing. Full of twists and turns and heart thumping moments. You go through so many emotions while reading that you are not quite sure what will be happening next to brace yourself for that next roller coaster of emotion.
Wild: From Lost to Found on the Pacific Crest Trail
by Cheryl Strayed – I received this book from my dear April early in the year because it had sat on my Amazon Wish List for quite some time. So good. I read it so quickly too. I wondered how she was going to finish the trail, what was going to happen next and who she was going to meet next. An excellent read that makes you feel empowered like you could do it too.
Dark Places
by Gillian Flynn – after reading
Gone Girl
, I had to gather up Gillian's other books and to me, this book was just as good if not better than Gone Girl. It left you questioning all the answers until the end when you get slammed with a good twist.
Firefly Lane
by Kristin Hannah – all about those lazy summers where you meet your best friend forever and you grow with her throughout the years with the bumps that growing up can have. You hate each other one day and you love one another the next. Amazing book. Filled with love of friends who become family. Also, read the second in the series, but not as good,
Fly Away
.
Heart-Shaped Box
by Joe Hill – again another gifted book that was sitting on my Amazon Wish List after reading another blogger's review on it. Thrilling, and gruesome. I loved this book and devoured it. It's scary and twisty and odd and just wow.
Orphan Train
by Christina Baker Kline – one of those that have talked about over and over again and so I couldn't wait to get my hands on it and find out for myself what I thought. Happily wasn't disappointed in the least. Heart-warming and lovely. But full of hardship too.
There you have my top 6 books of 2015. Any that catch your eye? Have any books last year that you'd like to recommend to me? I'm always wanting to hear more books that I may like.