Walking into our house, you'll probably notice it's a bit outdated and needs a bit of TLC and updating. Our bathroom is probably the most noticeable one in need of a complete redo. I plan to walk you through our house and be able to show you updating as we do it, but today I'm just going to highlight the showerhead in the bathroom. Our previous showerhead was fine but had hard water stains on the heads that no matter what trick I tried to clean them with, it wouldn't clean. So when I saw the HotelSpa Showerhead on Tomoson I knew I wanted to try that, as it looked almost exactly like the showerhead we had already and loved.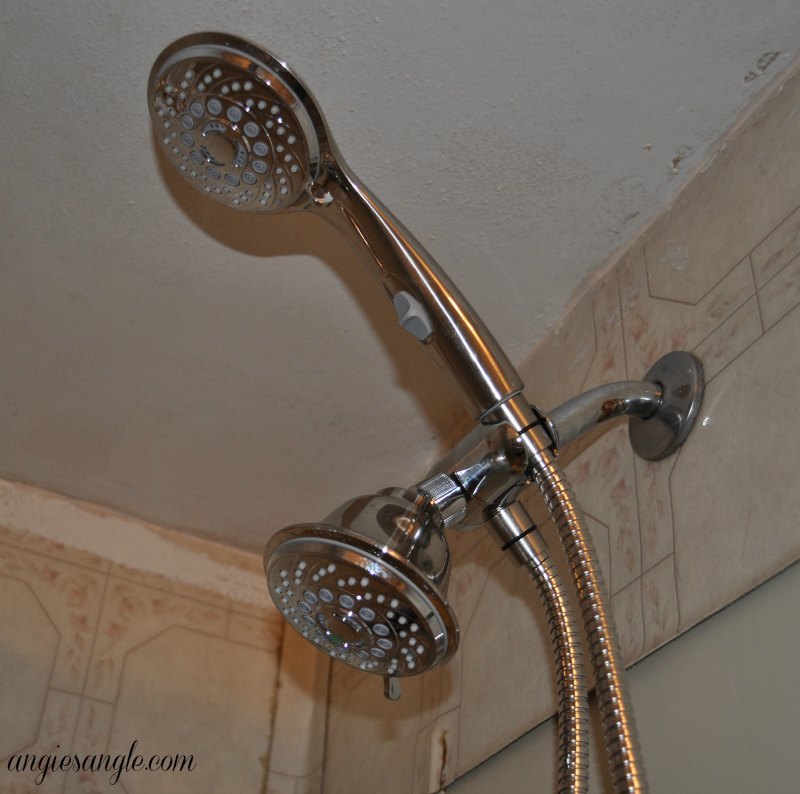 My Thoughts On HotelSpa Showerhead From Sears
• Use each shower separately or both together!
• Choose from 30 full and combined water flow patterns
• Stunning Exclusive 2-tone Design
• Matches both Chrome and Nickel bath fixture decor
• 6-setting 2-tone Chrome Face 4″" Shower Head
• 6-setting 2-tone Chrome Face 4″" Hand Shower
• High-power Precision SpiralFlo dial design
• Settings of each shower include: Power Rain, Pulsating Massage, Hydrating Mist, Rain/Massage, Rain/Mist and Water-saving Economy Rain
• 3-zone Click Lever Dial with Rub-clean Jets
• Patented 3-way 2-tone Water Diverter with Anti-swivel Lock Nut
• Angle-adjustable Overhead Bracket
• 5′ Super Flexible Stainless Steel Hose
• Conical Brass Hose Nuts for easy hand tightening
• Tools-free Installation. Connects in minutes to any standard overhead shower arm, no tools required
• Lifetime Limited Warranty
Jason had this showerhead installed in seconds, so a win right there. Though he decided to change it right before I showered, so I was standing there waiting for him to do it which made it seem like forever for him to do. Really, though, was a very quick easy install.
Once I got in, it took a bit of playing with the showerhead to find out which setting I liked. I first used the moveable/hand showerhead to start out, holding it in my hand to get right temperature and setting. After that, I switched to use both heads and that was so nice. It was an amazing feeling to have both heads raining down on you.
Easy to switch between heads and what settings you'd like. The only thing I didn't care for on this showerhead set was you can only pause the hand showerhead, so when I wanted to use my body wash, it was a bit difficult to pause it so I could soap up. My husband could pause the hand showerhead without having to hold it, but I couldn't, the only way I could pause it was to hold it. I wish the fixed showerhead had a pause feature like our old one.
Below a short video of it in action, the best I could get anyway.
Otherwise, very happy with this showerhead and am excited to use it for years to come. Seems to be built very solid like and not cheaply made.
Are you in the market for a new shower head? Hop on over to Sears and grab this HotelSpa one, its fabulous!