This shop has been compensated by Collective Bias, Inc. and its advertiser. All opinions are mine alone. #CleanWithMrsMeyers #CollectiveBias
Thursday. Thursday's are my normal cleaning days. Sometimes I find myself not being able to get motivated to clean at all. Even though I know I'll (and the house) will feel so much better once I get done with it. I don't always get all the cleaning done that I would like, but you'll usually find that I, at least, get both bathrooms cleaned, our sheets changed, and vacuuming done. Even with my lack of motivation I honestly enjoy cleaning, which surprises some people when I tell them that I do indeed like cleaning.
There is something thrilling to me about wiping away that dust, vacuuming up those bits of gunk off the floor and having that amazing smell left behind after it all. You can sit back and relax and just enjoy knowing you put in your own hard work and can relax.
Which is why I am coming up at you today with how to take the chore out of cleaning. Yes, cleaning doesn't have to feel like a chore at all. It's true!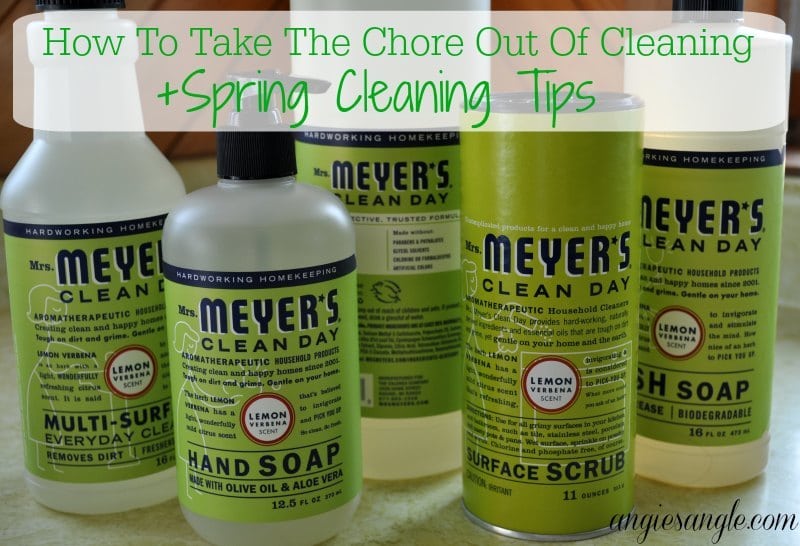 How To Take The Chore Out Of Cleaning
*have you all stopped gasping and doubting that cleaning can be fun yet?…oh you haven't, then read on*
Pick A Day Or Time
Before anything else, decide what day and/or time you'll be wanting to clean and what rooms or areas you are going to work on. You don't have to set aside a full day to just clean, you can pick a bit of time here and a bit of time there. I just like having a full day to get it all clean and get done personally.
Comfy Clothes
Throw on clothes you are most comfortable in, yet don't mind getting a bit gross while cleaning or worrying if you stain them. You want to be comfortable. You'll enjoy the cleaning more when you have scrubby clothes on.
Music
Turn on fun music. Something you really enjoy and can dance around and sing with as you clean. Trust me this helps ten million times over. Make it loud!
Cleaning Products
Pick out nice smelling cleaning products. Again I just enjoy using products more when they smell good. It makes me want to use them and in turn, takes the chore out of cleaning.
I've recently been using Mrs. Meyer's Clean Day® Lemon Verbena Multi-Surface Concentrate that I found in the natural section of my local Fred Meyer and just had to give it a go. All of their cleaners are made with natural essential oils, are phosphate-free, and never tested on animals. With that amazing essential oil smell and knowing it's good for you, your home, and the earth, you'll put the fun right back into your weekly cleanings. And especially with all the spring cleaning that is going to be happening now and in the next couple of months.
Spring Cleaning Tips To Take The Chore Out Of Cleaning
It's important when spring cleaning that you really get every nook and cranny you can that you don't tend to get on your average cleaning. I have a few little tips to make sure you are getting the most out of your spring cleaning.
I'll be talking about the kitchen with these tips, but remember to take them to any room you are spring cleaning.
Cleaning the Floor
Using a mop and wet jet works fine for regular cleaning, but once or twice a year, at least, you should get a bucket and clean the floor on your hands and knees. Use 1/4 cup of Mrs. Meyer's Clean Day® Lemon Verbena Multi-Surface Concentrate in a gallon of water. While you are down there cleaning the floor you'll get the little nooks that you don't normally get. Also, remember to wipe down the cupboard and drawer fronts while you are down there. If are you feeling it, take everything out of those drawers and cupboards and wipe down the surface in there as well.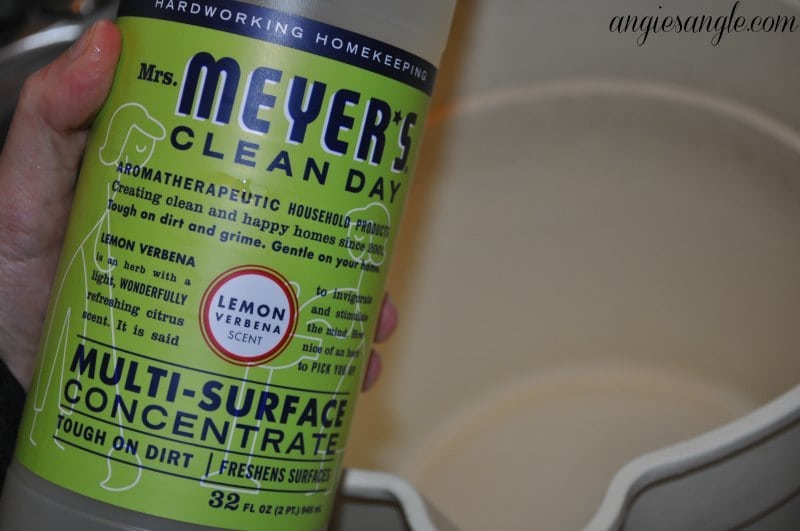 Cleaning the Counters
Sure, you wipe down those counters quite often, but I bet you don't move all the stuff on the counter very often to do it. Take everything off the counter and use the Mrs. Meyer's Clean Day® Lemon Verbena Multi-Surface Everyday Cleaner to wipe down all of your counters. And as you are putting the stuff back on the counter, wipe those down as you do it. Then not only will your counters will be clean and shiny while smelling amazing, so will those things you had laid out there for all to see.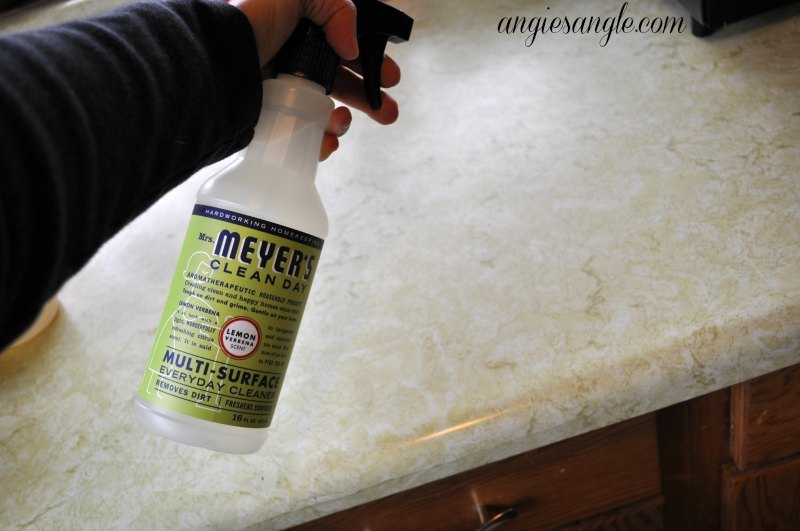 Cleaning the Sink
It's time to give that kitchen sink a big old cleaning. Move anything that might get in your way of cleaning around and on the sink. Now you are ready to start cleaning it. Use first the Mrs. Meyer's Clean Day® Lemon Verbena Surface Scrub to really scrub down that sink and get out all the built-up grime.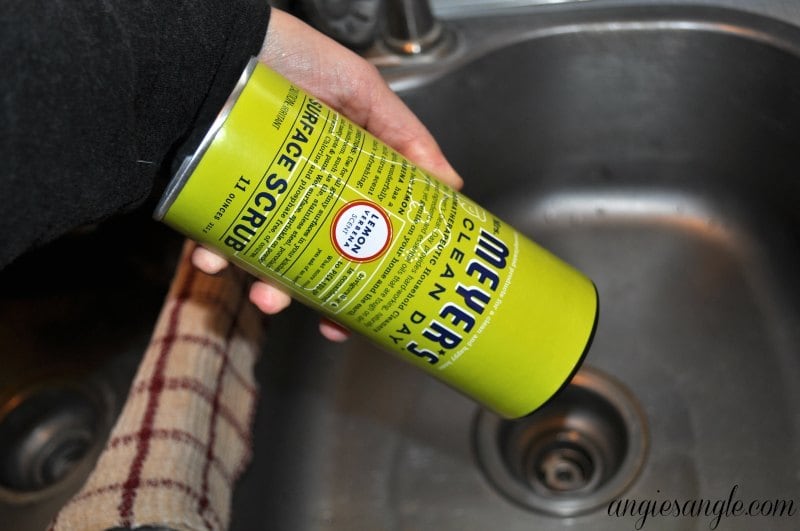 Once you are done with the main sink, grab your Mrs. Meyer's Clean Day® Lemon Verbena Multi-Surface Everyday Cleaner to clean the faucet and all the edges around the sink that need a good washing.
There we have it, a nice and easy way to add in some spring cleaning with Mrs. Meyer's Clean Day® products and a few ways I found to take the chore out of cleaning.
Once you are done with all that cleaning give your hands a good washing with Mrs. Meyer's Clean Day® Lemon Verbena Hand Soap and be on your way.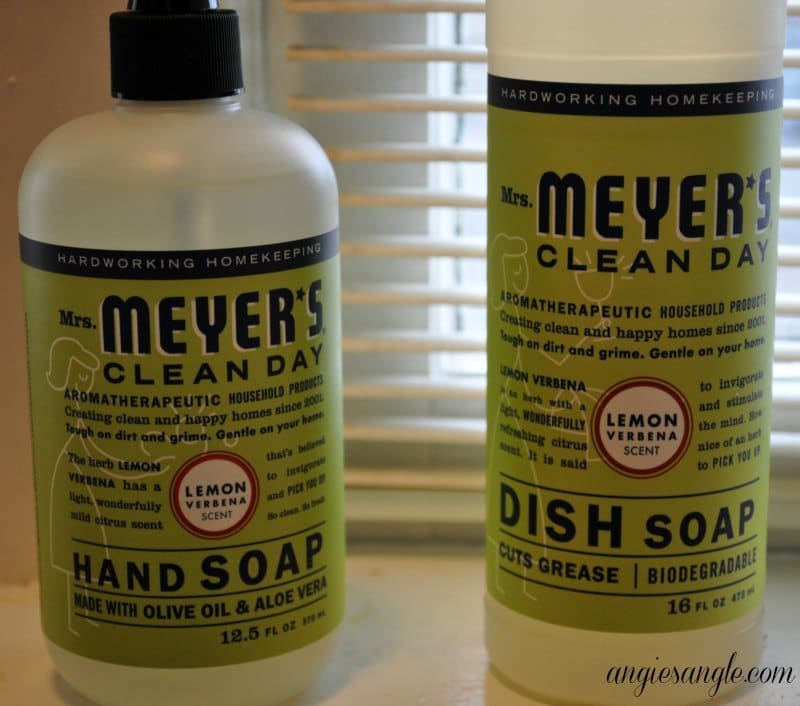 If you wanna see some of the tips that Mrs. Meyer's Clean Day® has for you, check them out on pinterest, instagram, facebook, and twitter.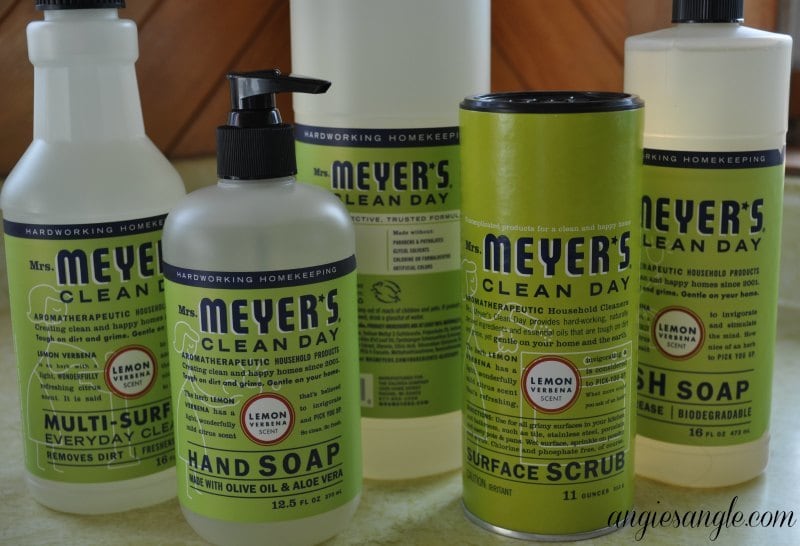 How do you take the chore out of cleaning? Are you looking to use more green products for your home? Have you seen Mrs. Meyer's Clean Day® in your current stores? If not, check it out next time you there in the natural section and try these tips yourself!