Thanks to Gimmee Jimmy's Cookies for providing me with a tin of cookies for my review. However, all thoughts are 100% my own.
There is something amazing and comforting about a batch of fresh-baked cookies. That fresh batch of cookies, freshly pulled out of the oven and the smells that greet you is next to none. With our busy lives a fresh batch of cookies, we bake ourselves, doesn't always happen like we'd like it to.
But did you know that you can find some amazing sites online that will send you fresh-baked cookies?
I was lucky enough to get sent a big old tin of Gimmee Jimmy's Cookies and was asked to test out how long they stay fresh and yummy! I'm ready to share my journey with you.
Freshness Of Gimmee Jimmy's Cookies
I received these in July and am just now getting around sharing with you all our experience with the freshness of Gimmee Jimmy's Cookies, but that isn't because the lack of yumminess or freshness. It is worth mentioning as well that Gimmee Jimmy's Cookies are made with no artificial ingredients or flavors and are made fresh daily.
Day One of the Freshness of Gimmee Jimmy's Cookies
When I first opened the tin I was immediately welcomed with the scent of fresh-baked cookies. I was amazed that the scent would greet me in something that was shipped to me and who knows how long they were baked from the time they got to me.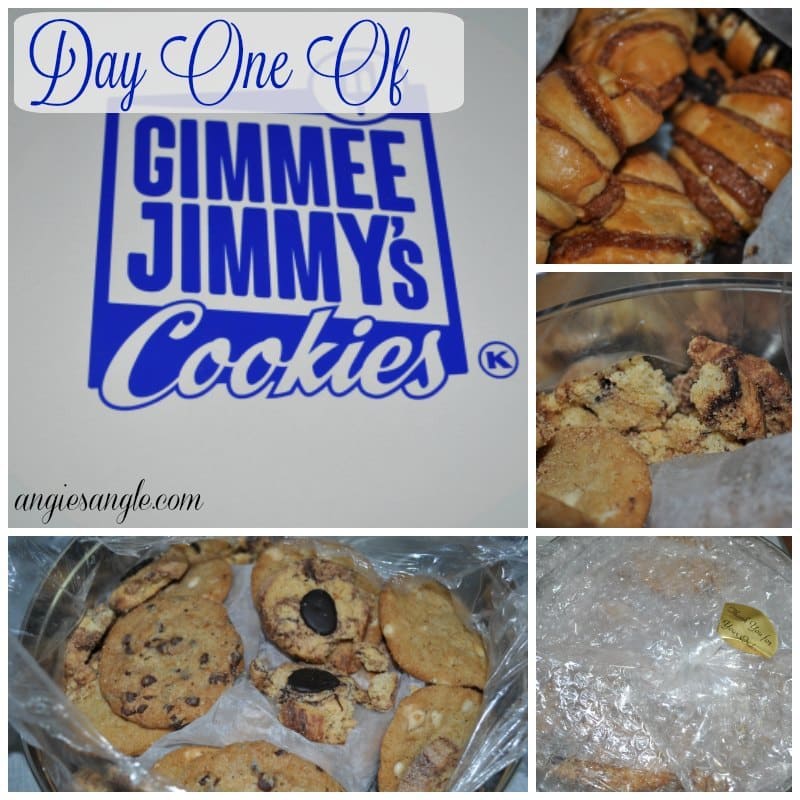 My only downfall when I opened the tin were how damaged the cookies themselves were. A majority of the cookies were crumbled and only a few were in their full cookie form. The Rugelach's however, were all whole and looked perfect. It was just the cookies that seemed to have taken a beating while being delivered.
Would have also been nice had the cookies came with information on what exactly each cookie was.
All the cookies tasted amazing though & were completely fresh upon arrival.
Day Two of the Freshness of Gimmee Jimmy's Cookies
The next day, there was no change. They seemed just as fresh and yummy as the first day. Still noticed that fresh-baked smell when I opened up the tin.

Day Four of the Freshness of Gimmee Jimmy's Cookies
I am going to sound like a broken record, but even after day four the cookies were still just as fresh and great. I noticed no lacking in flavor or the freshness of Gimme Jimmy's Cookies. My husband and I were both shocked. It's especially nice for us that they stay fresh for so long since there is only two of us and it can take a while for us to finish up a cookie tin.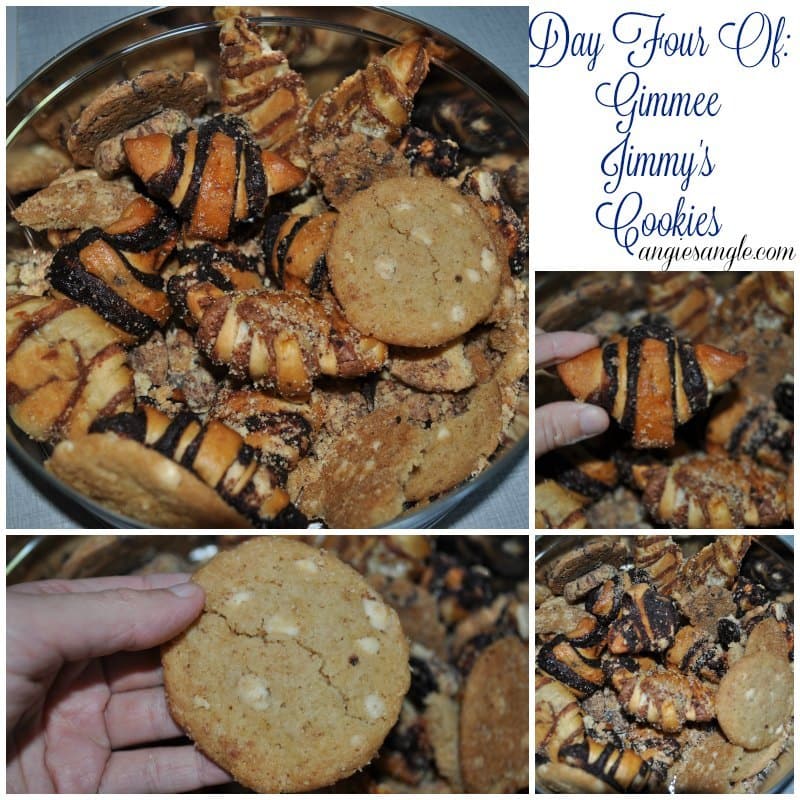 Day Six of the Freshness of Gimmee Jimmy's Cookies
I'll let the single photo I took for day six speak for itself here.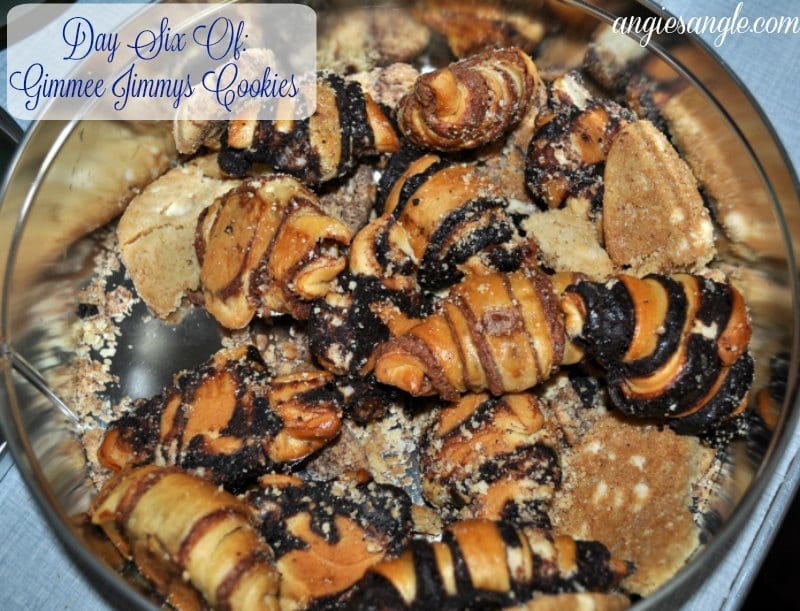 Day Eight of the Freshness of Gimmee Jimmy's Cookies
Day eight was the last day I took photos of the freshness of Gimmee Jimmy's Cookies, but it wasn't the last day we had them. The cookie crumbles got worse, but the taste and freshness did not. They were STILL fresh and amazing.

Overall Freshness of Gimmee Jimmy's Cookies
I don't know when we finally got rid of them, but it wasn't because of lack of freshness. They still seemed very fresh and good. We had just had them for a while and decided it was probably time for them to go.
We were blown away on how long these cookies lasted in their tin. The homemade smell gets me every single time and I couldn't tell you just how long they could last and still taste fresh, but our experienced showed it was a long time.
These Gimmee Jimmy's Cookies not only make great cookies to have around the house but make excellent gifts as well. Check out the Gimmee Jimmy's Cookies website yourself and you'll find their prices are great and as I already told you their cookies stay fresh!