I earned Swagbucks for posting about this promotion from Swagbucks. Also, if you join Swagbucks with any of the links provided below you'll become my referral and I'll earn when you earn.
You've probably seen me write about Swagbucks a lot on here. It's a site where you earn points (called SB) for things you're probably doing online already, like searching, watching videos, discovering deals, and taking surveys. Then you take those points (1 SB is worth a penny) and exchange them for gift cards to places like Amazon, Starbucks, Walmart, Target, or PayPal cash.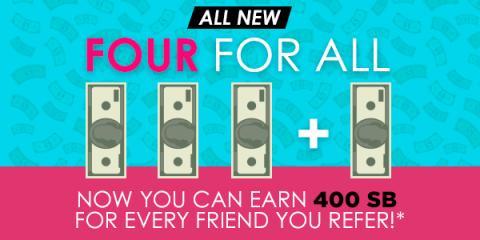 Four for All with Swagbucks
Unlike a lot of other rewards site, you can cash out at any time, and they have gift cards for as little as 300 SB (The $3 Amazon gift card – every little bit helps)!
This month, you can get a 400 SB bonus through my site. How? It's really easy:
1. Sign up through this link
2. Earn 300 SB before November 1st – that'll get you a 300 SB bonus applied at the beginning of November.
3. Complete just ONE survey before November 4th and you'll get an additional bonus of 100 SB.
So let's recap – if you do all of those things, you'll have at least 700 SB to spend. Plus, there are all sorts of great deals and other earning opportunities all October long, so why stop at 300 SB? You could earn a LOT more. My husband and I have both earned at least $25 Amazon each month, quite often more than that. We just try and make our goal each day and most of the time it's fairly easy. With being able to watch videos on your phone, doing searches, and watching some ncrave on your laptop! I never imagined it would be so easy and legit way to earn some extra gift cards. Especially with the Holidays coming up!