I received Swagbucks for posting about this promotion. If you join Swagbucks with any of the links provided below, you'll become my referral and I'll earn while you earn.
It's hard to get meals on the table. Even with just Jason and I, we have issues figuring out what we want and what fits into our time frame with soccer. How great would it be to get meals delivered straight to your door? Customized to your needs and ready to eat in 30 minutes or less. That is Home Chef for you. Join Home Chef today with Swagucks. Learn more below.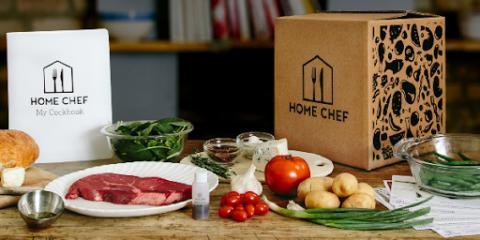 Home Chef with Swagbucks
Swagbucks has partnered with Home Chef to bring you a special offer where you can earn 1500 SB just for placing your first order. Home Chef tailors itself to your dietary needs and sends you the ingredients necessary to make a home-cooked meal from scratch in about 30 minutes.
You choose how many meals you want each week, when they get delivered, AND you get a $30 credit towards your first order as well. You can decide how often food is delivered and even look through the available meals to plan ahead. The 1500 SB credits instantly, so click here to begin!
This is a great way to start with Swagbucks and earn $18 in gift cards (1800 SB). Because you're signing up with me, you get a bonus 300 SB when you complete this offer before November 1st! The bonus will be applied later in that week. You can do all sorts of online activity on Swagbucks to earn SB, including other offers like this one! Then you can turn your gift cards into PayPal cash of gift cards to places like Amazon, Walmart, Target, Starbucks, and more!