I received Swagbucks for posting about this promotion. If you join Swagbucks with any of the links provided below, you'll become my referral and I'll earn while you earn.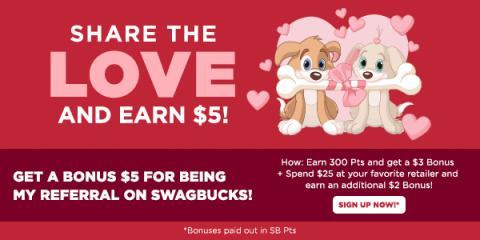 Share the Love with Swagbucks
February is a month of love, and getting a $5 bonus from Swagbucks is their way of showing it! Swagbucks is a rewards site where you earn points (called SB) for things you're probably doing online already, like searching, watching videos, discovering deals, and taking surveys. Then you take those points and exchange them for gift cards to places like Amazon, Starbucks, Walmart, Target, or PayPal cash.
When you sign up through me this month, you can earn a $5 bonus! Here's how:
2. Earn 300 SB total before 3/1/17. You'll get a $3 (300 SB) bonus for it!
3. If you spend at least $25 through Swagbucks Shop* you'll get another $2 (200 SB) bonus on top of the cash back you'll get from shopping. If you have some shopping to do online, just go to Swagbucks first and visit the store through them. It doesn't cost you anything extra, but you'll get SB points for every dollar you spend (on top of the bonus)!
That's it. It's super easy, and Swagbucks is for real.
As always, if you join please feel free to ask me for help. I want you to actual earn and enjoy Swagbucks. Yes, I'd love for you to be my referral but I believe that actually earning your own Swagbucks is amazingly fun and useful.
*You must receive your shopping SB before April 1st