I received Swagbucks for posting about this promotion. If you join Swagbucks with any of the links provided below, you'll become my referral and I'll earn while you earn.
From time to time Swagbucks does different challenges to let all of us earn in a bit different way. Coming up is just that case with the Sweet Treat Team Challenge. Join a team and however, your team places you'll earn a Swag Up. Swag Up's are used the next time you redeem a gift card.
Learn more about it below.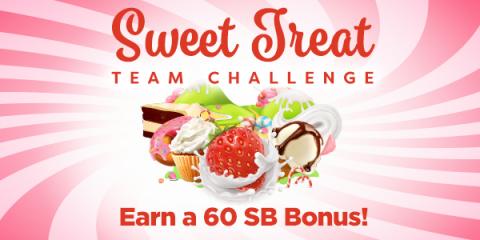 Sweet Treat Team Challenge
To help make your June a little sweeter, Swagbucks is holding a fun team challenge to help you earn free gift cards! For those of you who don't know what Swagbucks is, it's a website where you can earn cash back on everyday tasks you do online like shopping, answering surveys, discovering deals, and watching videos. You can even earn for searching the web!
If you've never tried Swagbucks before because you didn't know where to begin, their Team Challenges are a great way to learn the ropes! Their latest, the "Swag Wars" Team Challenge, begins Monday, June 12th at 8am PT.
Here's how you can join the challenge and the site:
1. Click here to join the challenge and be assigned to a team.
2. Starting June 12th at 8am PDT, in addition to earning SB you'll contribute points to your teams total as you complete different activities on Swagbucks.
3. Check back on the page often to see the scores and what you've contributed so far.
All members who participate and contribute at least 400 points to their team's total will receive a SB bonus in the form of a SB Swag Up Rebate on their next gift card!
Not only that but if you earn 300 SB before July 1st, you'll get a 300 SB bonus (as long as you've signed up under me)!

Members of the 1st place team will receive a 60 SB Swag Up Rebate, members of the 2nd place team will receive a 40 SB Swag Up Rebate, members of the 3rd place team will receive a 20 SB Swag Up Rebate, and members of the 4th place team will receive a 10 SB Swag Up Rebate, Your SB Swag Up Rebate will be made available on Friday, June 16th and will expire on Friday, June 30th at 11:59pm PT.