For me personally, when I think of the Holidays, I think games. Families gathering together and playing games. Laughter and memories happen when families get together and even more so when games are involved. At least in my eyes.
When I ran across this giveaway hop of This and That. The first thing that came to mind was giving out games because it's the start of the Holiday season and what a better way to bring others together. Color me even more excited when I was able to snag Thames and Kosmos again to work together. The makers of the amazing fun game, Word Slam.
Find out all the details below on what two games are up for grabs and how you can win them!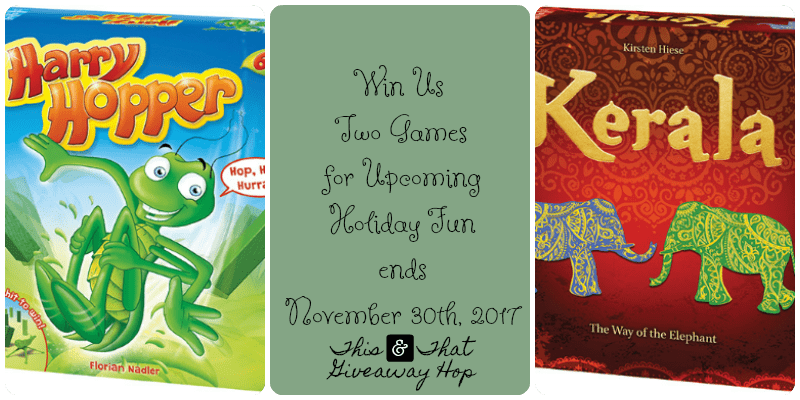 Win Some Games from Thames & Kosmos
Now is your chance to win the two games shown above. Harry Hopper & Kerala.
Harry Hopper
Hop… Hop… Hurray! Two teams of grasshoppers are both trying to knock over all of their blades of grass. Take turns making your grasshoppers hop toward the blades of grass. It takes a lot of skill to aim and launch them accurately! The team that knocks over all of their blades of grass first wins! Harry Hopper is a fun, active game that helps kids practice their gross motor skills, hand-eye coordination skills, and manual dexterity. MSRP $24.95; ages 6+. For 2-4 players.
Kerala
Welcome to the elephant festival in the Indian province of Kerala! Exquisitely decorated elephants parade the streets. The celebration is alive with color and music. To participate in the revelry, you want to fashion the most elegant platform for your elephants. You want your festival platform to have at least one tile of each color, with all the tiles of a color contiguously placed, and showing as many elephant symbols as possible. Each round, you move one of your two elephants to place a new tile and expand your platform. You will have to adjust your plans as your rival platform builders grab the desirable tiles before you can get them. You will need clever tactics and good luck to win the award for the best in show! MSRP $39.95, ages 8+. For 2-5 players.
Entering is easy, just enter via the Gleam platform below. Remember to come back daily for your daily entries & entries may change over the course of the giveaway.
USA only, please.
Win Some Games in This & That Giveaway

This & That Giveaway Hop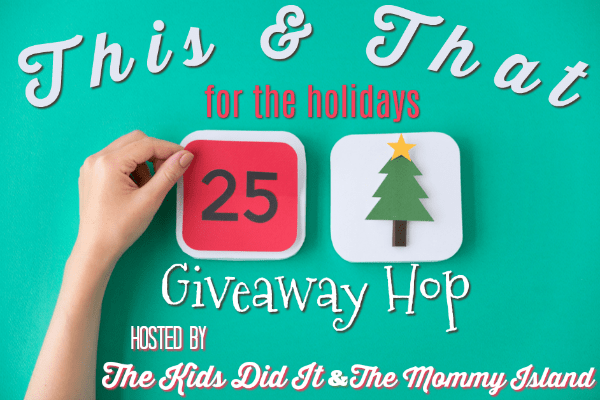 Now that you have entered my giveaway, make sure to hop around to everyone else. Everyone involved has an item valued at least $50. Well worth your time to hop around, I think!
The Kids Did It and all participating blogs are not held responsible for sponsors who fail to fulfill their prize obligations.