As I was happily scrolling my feed on facebook I happened upon this beautiful photo of a mom & son standing on a dock. And before them was this beautiful view with a slight fog layer on the water. The next picture was some amazing fall colors reflecting on that said water. I had to go to this place, pictures must be taken. It has to happen.
We all know I had been aching for some good Fall pictures this Fall.
Those were my thoughts. Planning it out for us to go on the last sunny warm day for a while. Where was this place you say? Why it was our very own Battle Ground Lake State Park. Plans were made for us to make a day adventure for that Friday. I was pretty darn excited to see this beauty for myself.
Now we've lived here together since December 2007. Jason grew up here and only left while in the Air Force and then living with me in Idaho from 1999 to 2007. Yet, Battle Ground Lake State Park never really came up. It wasn't even a thought on our radar. I think Jason said he had gone many years ago.
I am so glad we went and I look forward to seeing Battle Ground Lake State Park in the other seasons of the year too!
Read on for the pleasure of Battle Ground Lake State Park and see why I fell in love with it. And why you'll likely do so as well.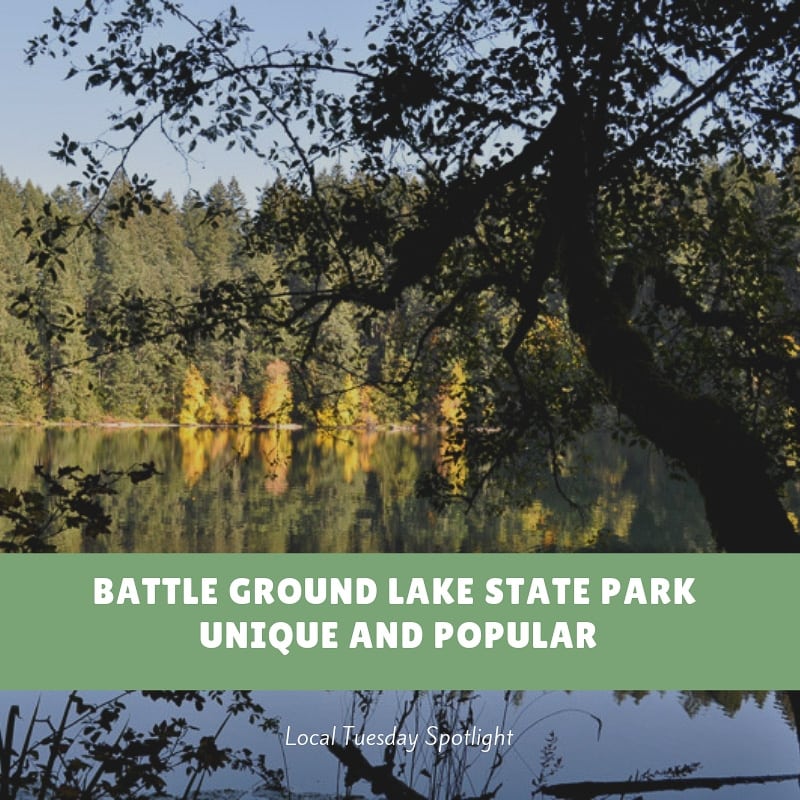 What Makes Battle Ground Lake State Park Unique and Popular?
What makes this place so great is that it's so near home. Only a few minutes outside of Battle Ground, Washington – which is a suburb basically of Vancouver, Washington. The magic happens though when you arrive. Not having to travel far yet it feels like you are a million miles away surrounded by nature. It's a beautiful thing.
Now to visit Battle Ground Lake State Park, you will need to pay a day fee or get yourself a Discover Pass for the year. We had the Discover Pass from our camping trip in June and will likely always have a yearly pass, worth it in our eyes. We had gone by the park at least one time before and I pointed it out and was intrigued because it looked cute and inviting from the entrance area. Little did I know the beauty that was inside until this last adventure.
First viewing of the lake
We parked and made our way to the boat launch area, having no idea if this was the way to the walking trail I read about. Finding several kayaks locked up and reading that you could rent them for your own use by visiting Paddle EZ on your smartphone. Taking note of that because we may take advantage of that in the future. After falling love with kayaking after doing the kayaking Willamette Falls for our Oregon Trail campaign and wanting to buy our own this could be great for us.
Gasping once we reached the crest of the hill because this is what greeted me.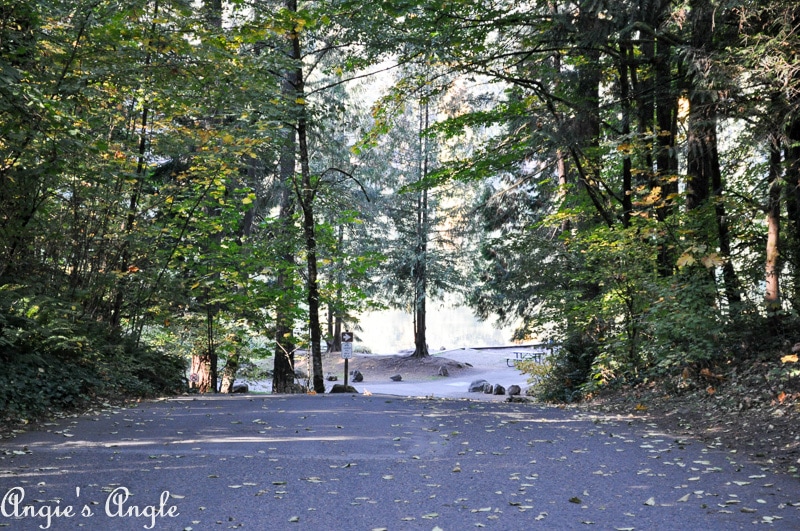 This photo, as usually is the case, doesn't do it justice. Beyond this little road for the boat launch was cute and inviting Battle Ground Lake.
Walking down the steep hill, the lake happily greeted us with the Fall trees reflecting themselves on the still calm lake. There was a nice little sandy area for swimmers to rest and sunbathe during the warmer months. Benches and picnic tables for everyone to enjoy no matter the weather.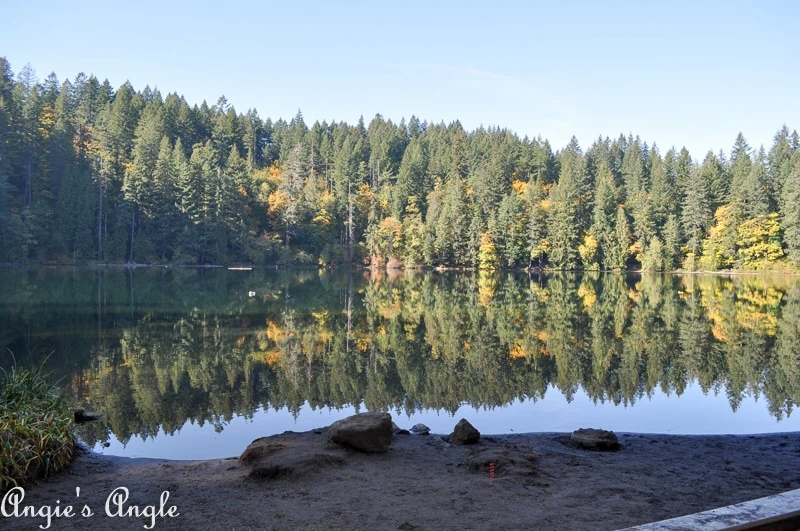 Walking the lower trail
There were two walking trails, one lower and one upper. The upper from what I heard is slightly harder because of it being up hill quite a bit. Opting for the lower one this day, we started our little walk. Completely taken aback by the views that kept greeting me as we did our walk.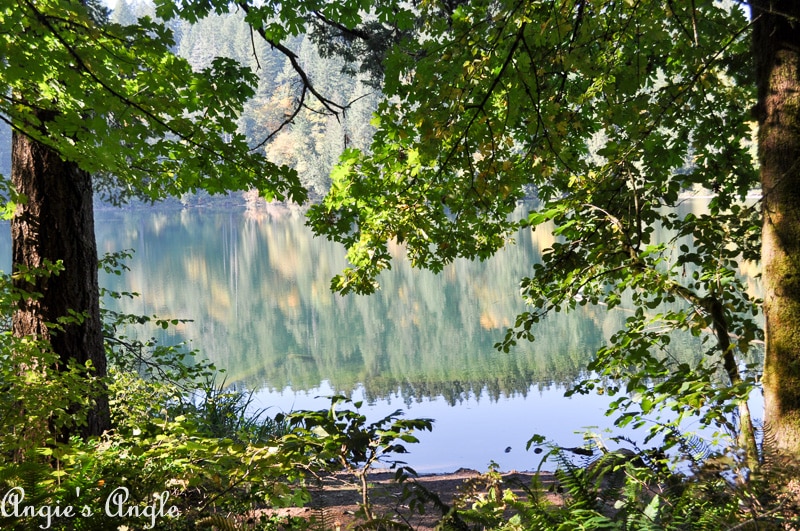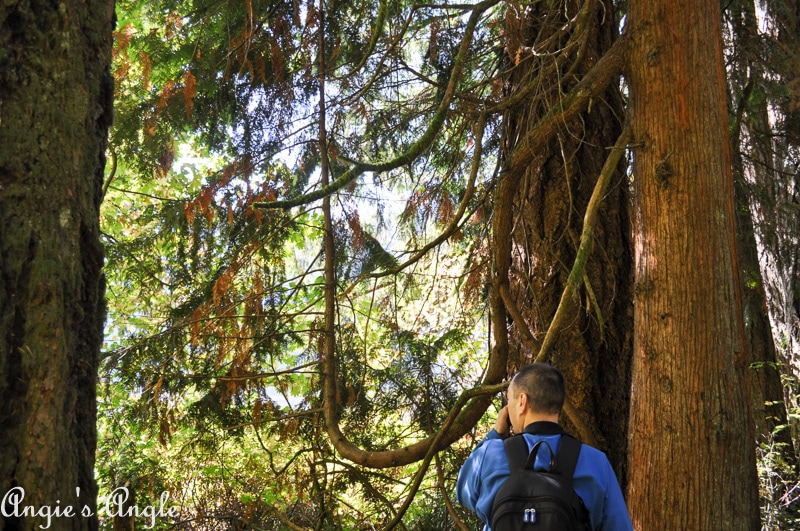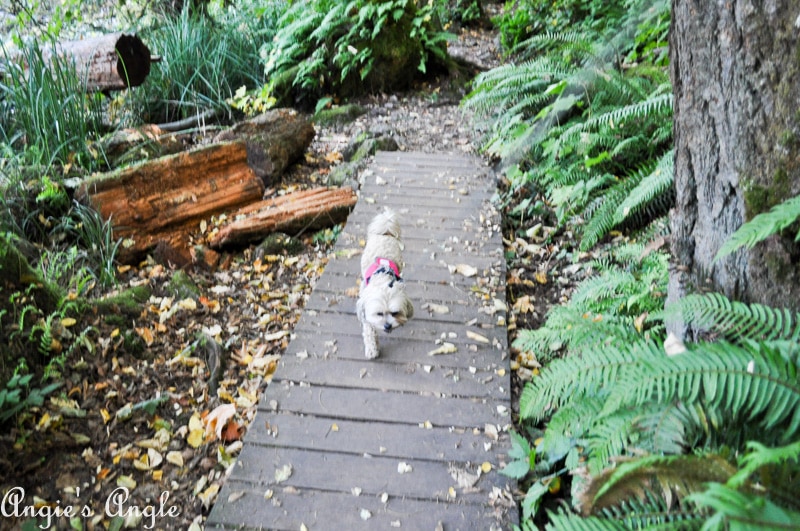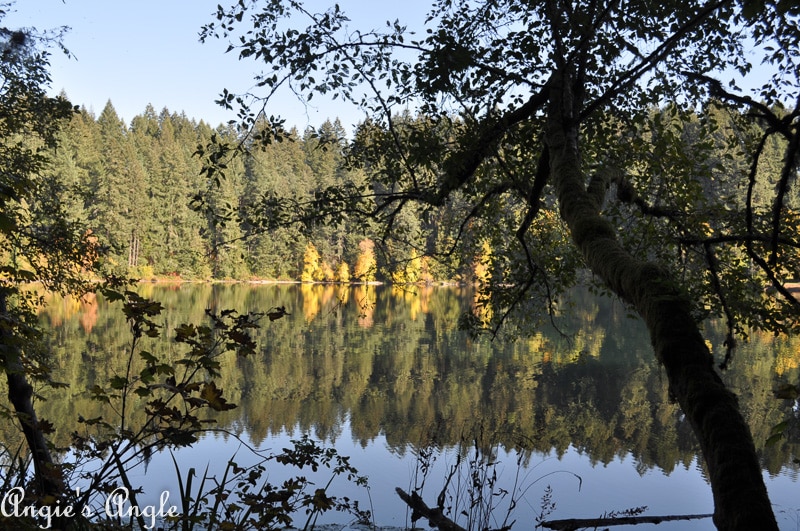 It was a fairly easy little path to follow and I think it's been said it was around 1.5 miles. We didn't personally take note of the miles we walked. Both walking trails around the lake though beginning from the right-hand side after the bathrooms. From there you can choose the lower path or upper path.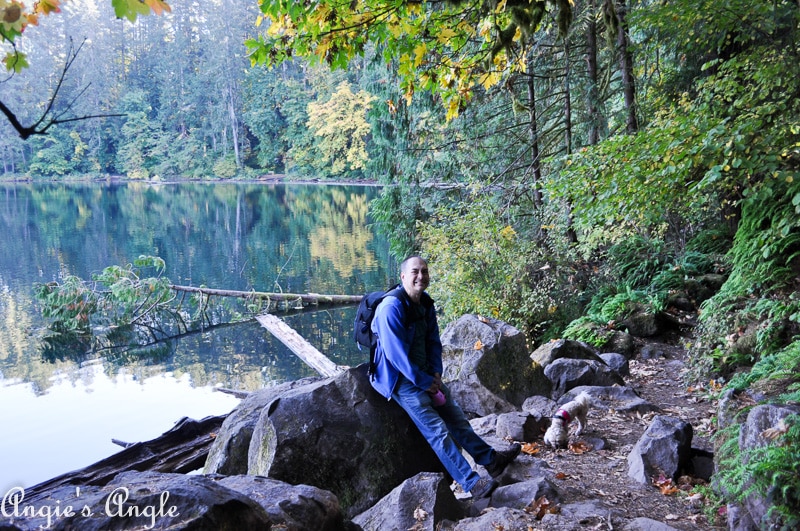 The lower path was fairly easy, but there were roots and rocks so watch where you are stepping. Before we knew it we made it back around to the dock area and I was disappointed there were still people on it, as I really wanted some pictures on it.
View from the Dock
While I couldn't get the few other pictures I was envisioning, I did get some pretty good ones on the little dock. However, the end of the dock was scary to me. If too many people got on it or put too much weight forward, it looked like it was going to pitch forward and break. Therefore, I wouldn't step on the end at all.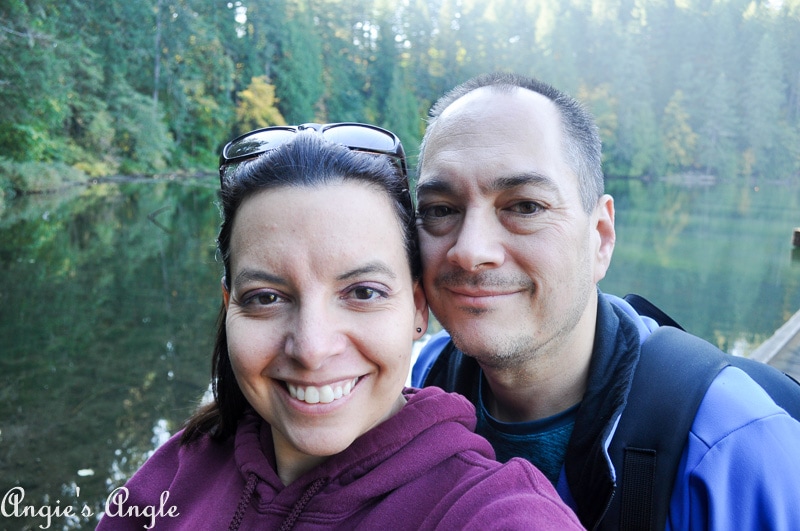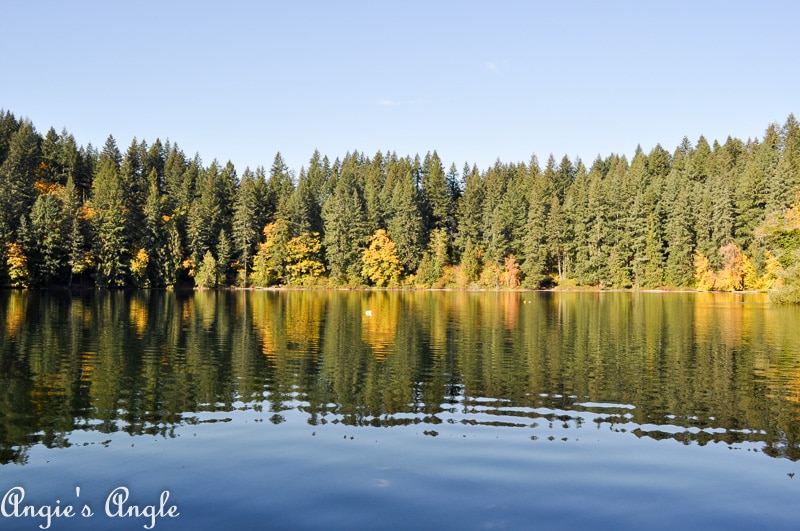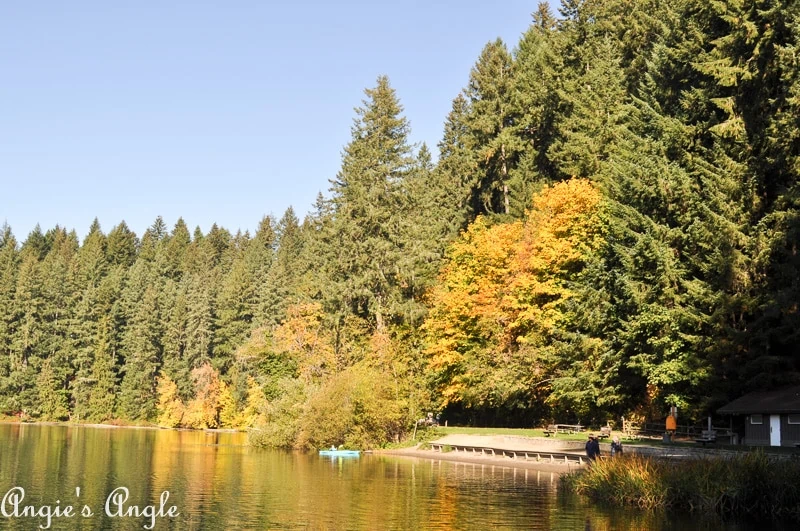 Next to the dock is the small boat launch. Boats that are non-motorized are allowed. From what I heard they supply the lake with fish from time to time.
Other things to find at Battle Ground Lake State Park
While we only did the small walking trail around the lake, there were loads more to do in and around Battle Ground Lake State Park.
Camping including cabins! – we drove around the other loop to look at the campsites and knew we'd be back another time to do a little camping trip too. Maybe even rent one of the cabins one of these days, they looked super cute.
Biking Trails
Hiking Trails
Horse Trails
A big field to use for sports such as volleyball, baseball, and badminton (my favorite),
Two kitchen shelters without electricity that are first come first serve.
One kitchen shelter with electricity that is reservable, here.
2 horseshoe pits
A fire circle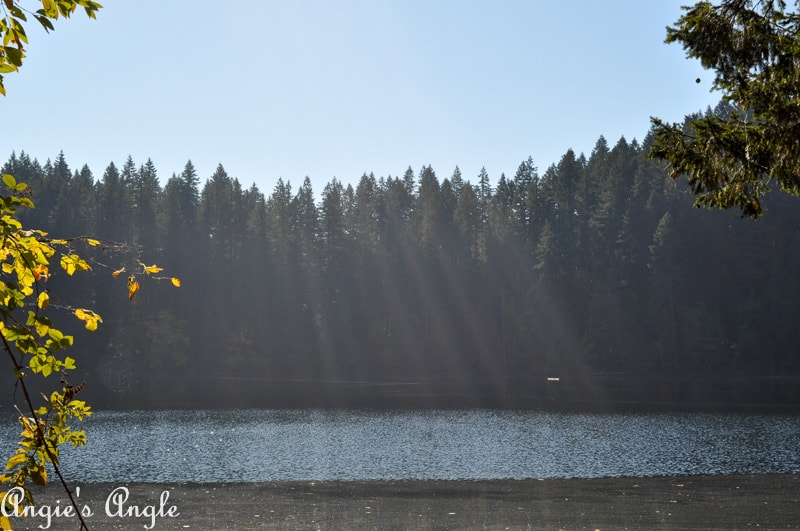 Don't you wanna visit now? Have you ever been to Battle Ground Lake State Park? If so, what did you think? If you haven't, what would be your favorite feature?
Battle Ground Lake State Park
18002 N.E. 249th St.
Battle Ground, WA 98604
(360) 687-4621
Summer Hours: 6:30 am to dusk
Winter Hours: 8 am to dusk