I received Swagbucks for posting about this promotion. If you join Swagbucks (Swagbucks Swag IQ) with any of the links provided below, you'll become my referral and I'll earn while you earn.
I've been telling you for quite some time how much Jason and I both use Swagbucks. Every day getting our daily goal at least. Most days it's fairly easy and takes us little effort and time. Cashing out at least one $25 Amazon a month, often more. All by just getting that first goal of the day.
Am here today though to tell you about Swag IQ by Swagbucks. Have you heard of it? Read about it all below.
FYI, Jason is obsessed with playing it daily because he is smart like that. He has actually won a few times. Me? I don't mind missing and have only won like once but have gotten countless extra Swagbucks just by playing along. Download the app, here – and read about it more below to understand how easy and fun it is to play along daily.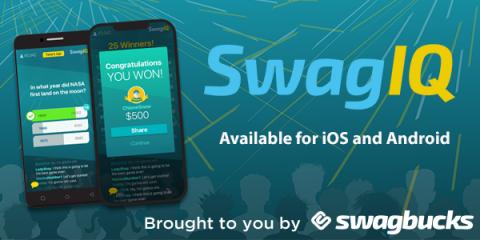 Swag IQ by Swagbucks
Have you played SwagIQ? It's a live trivia game show where you test your knowledge to win cash prizes. It's free to play, just download the app to get started. To earn money, you must be a member of SwagBucks. It's also free to sign up, and there are plenty of ways to get free gifts cards by using the site! Just click on my referral link to get started!
Here's a little more about Swag IQ:
Monday through Thursday they broadcast a live game. Simply tune-in at the appointed time by launching the SwagIQ app and log-in with your Swagbucks account credentials. The game show host will ask a series of multiple-choice trivia questions. You'll have 10 seconds to answer each one.
Get it right; you get SB (points you can use to get gift cards) and move on. Answer them all correctly and you can win a grand prize! If more than one player wins, the winners split the grand prize.
Get it wrong; still, play along. Some questions have an SB award attached to them. If you answer those questions correctly, you get SB, even if you're out of the running for the big money. And, if you're in a groove but miss a question, you'll have the option to rejoin a game by redeeming a few SB.
Have fun!
Try it 3 times this month and I bet you'll be hooked on it daily like we are!