As previously mentioned, this year is going to be all about updating the house, even with the smallest changes. And with those updates, I plan to show you all those as well. Proof that we are getting things done, finally and proof that the smallest changes can make the world of difference. Today I am showing you all how with the simple change of an update the bathroom rugs and wow, improved space!
The bathroom rugs upstairs looked fine but their bottom no grip was starting to shed. Even moving the rug the slightest would leave this dust of rug behind and it was just gross and there wasn't a lot I could do for it without updating the rugs.
As for the bathroom rugs downstairs, they were okay but the one I had bought awhile back to replace the one in front of the sink was just way to small for the space.
Time to update the bathroom rugs I said!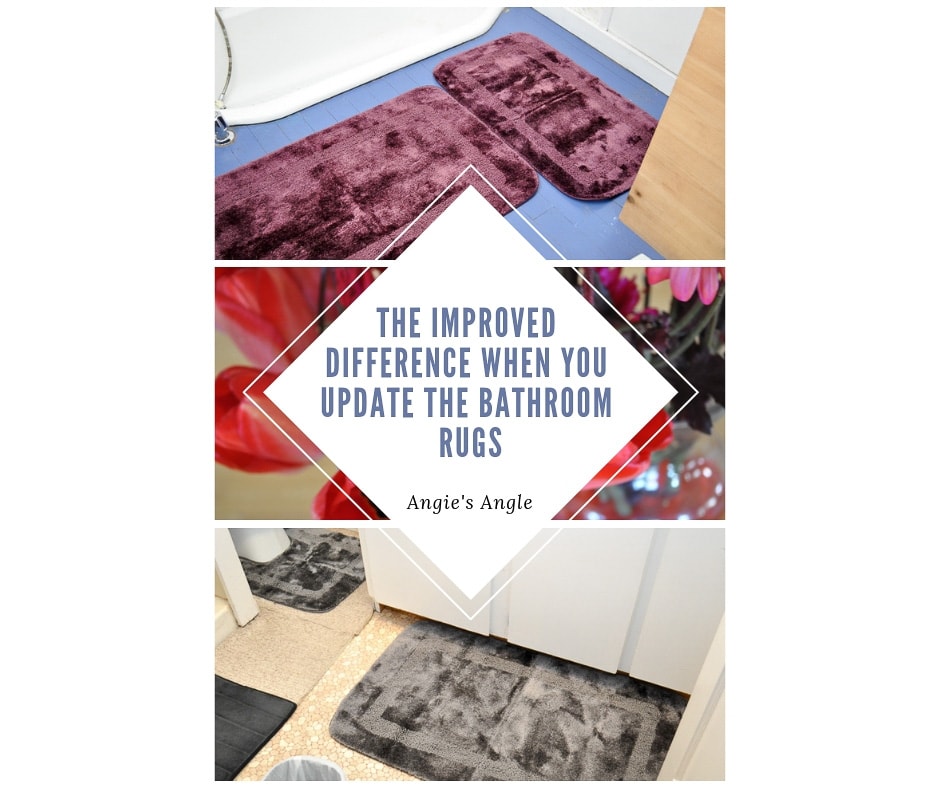 The Improved Difference When You Update the Bathroom Rugs
I recently acquired a JCPenney gift card for an extra assignment I did on their insider program I am a member of. The gift card wasn't burning a hole in my pocket or anything but then I thought, let's go see how much new rugs would be for the sizes I need.
Going online to check out prices and find out there was a deal going on. Getting a little excited but still over here being leery of buying rugs online. One you can't touch and pet them to see if they are soft enough for your liking. Two, the colors may not be the exact color you are seeing online.
The deal was to good to pass up though and I ordered two bathroom rugs for the downstairs bathroom & three for the upstairs bath. Adding in a few other things to get me past my mark for my gift card & other savings.
Trusting the reviews online for the rugs and that the color was okay for what I was wanting.
Waiting very eagerly for my package to arrive and when it finally did I couldn't contain my excitement. Who gets so excited over silly bathroom rugs? Well, this girl!
Upstairs Bathroom Rugs
I ordered the bathroom rugs in a plum and wasn't sure about the little line around the outer edge of the rugs. Figuring though they were going to be so much better than the rugs we were using now with their dust everywhere.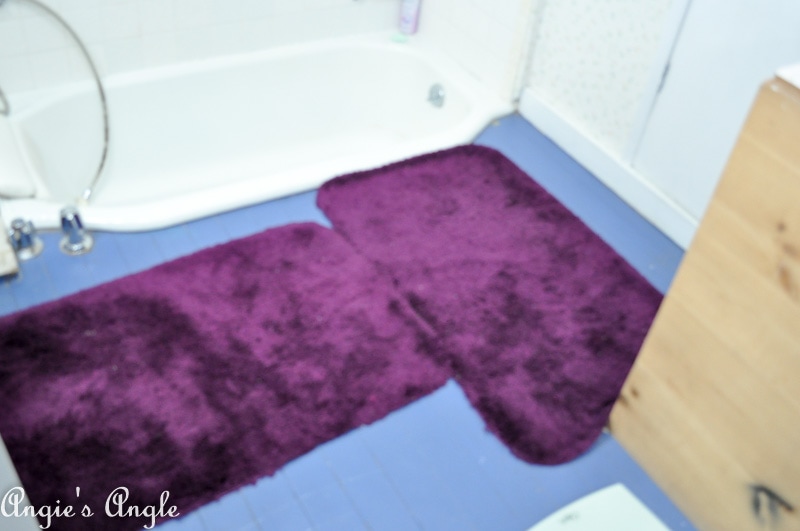 Above you'll see the older rugs but not so much the dust they were leaving behind and annoying me with. It's blurry because I didn't realize I didn't have a setting clicked on my camera.
And below you'll see the brand new rugs!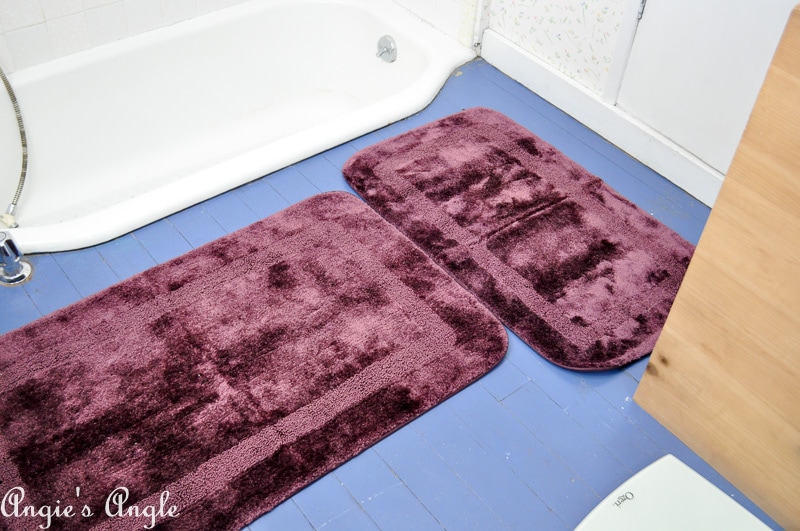 The plum probably wasn't the perfect color I would pick, but not awful either. I am pleased at least.
Downstairs Bathroom Rugs
Were bought in a gray. Didn't think much could be wrong with this color option, and was right. Perfect gray!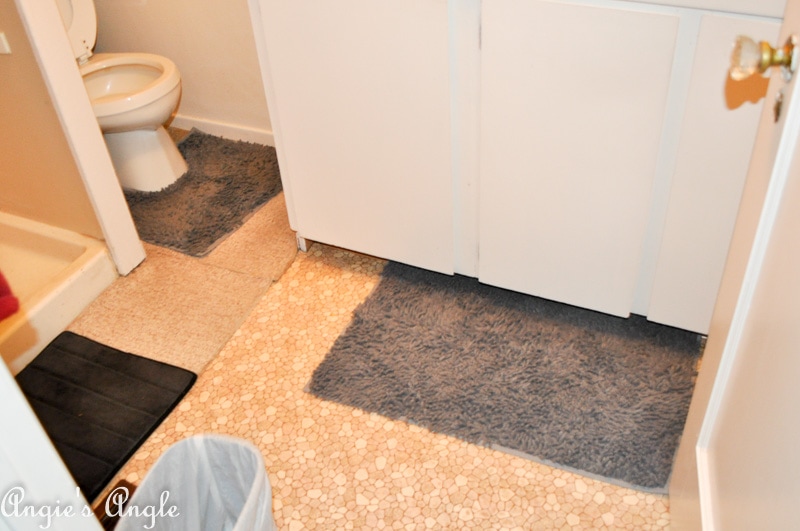 Before with way to short of rug and not as soft as I'd like.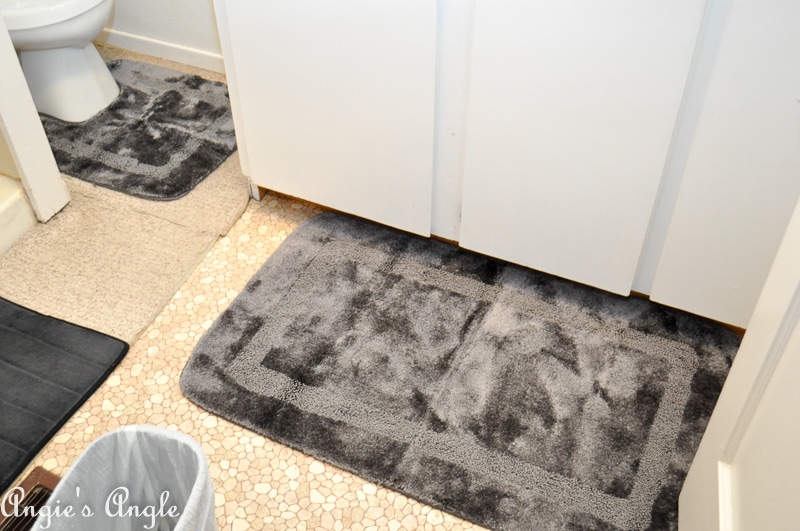 New rugs that are soft and the right length. Score!
Both sets were the Mohawk Home Collection.
Update the Bathroom Rugs
It all went well, though seriously I dread buying throw rugs because they are so darn expensive. Why? Using them for years before replacing them because I don't want to spend all this money on things we need and use but doesn't seem like worth the cost.
Anyone else have an issue with bathroom rugs prices?
Happily, I got a pretty good deal on these and am pleased. So watch out for those sales and don't lose hope that you can do these small updates like I am to make a world of difference in your home! Now to go curl my toes into these plush rugs.
What's going to be your next update for your house? I may have our next house update but you'll have to wait and see!