Whenever someone has the chance to show off a vehicle, my one thought is always but how is the cargo space? It's what I want to see and hear about. Even though we are only a family of a 2 1/2, I feel we need that cargo space. I'm a bulk shopper. We car camp. We go on vacations to house rentals. So having that space is crucial. Which is why I wanted to show you we spent the last day in the GMC Yukon XL.
This is a partially sponsored post with GMC with the use of their 2019 GMC Yukon XL. However, all thoughts and photos are 100% my own.
Knowing that we didn't use a lot of space to our trip up to Seattle, I couldn't showcase the space well during that trip. Instead, I knew I needed to go grocery shopping and ended up doing it the last day we had the GMC Yukon XL. We also did a quick trip around town in the evening with the doggies and thought I'd also show you that as well.
Curious on how we spent the last day in the GMC Yukon XL? Keep reading…
How We Spent the Last Day in the GMC Yukon XL
Honestly, I was dragging my feet on going to do the grocery shopping that last day. I knew I needed to go and would prefer to go in the Yukon vs. our old car. But parking it was scaring me, it is a long beast of a machine. Parking and I are not friends, to begin with in a regular-sized vehicle, let alone something this long.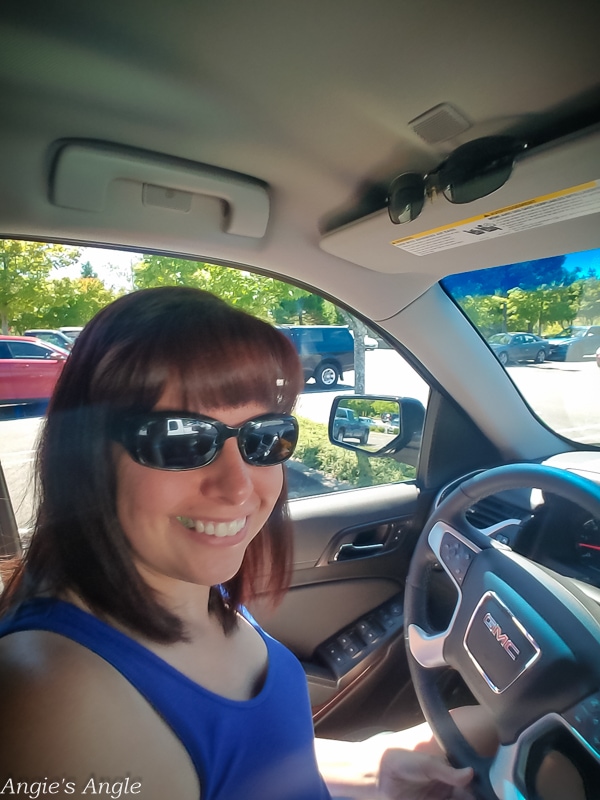 Also knew that I wanted to capture video for you all to get a good sense of the cargo space and the general inside. So I put on my big girl panties (only kind of!) and got going.
I think the above video explains my grocery shopping fairly well. Along with the whole tour before I left. And my little parking victory at Costco. I also parked well at Fred Meyer, ending my shopping. There was no way I was chancing Chucks Produce though in it, nope.
Reminder – Video is still not my favorite but I am trying and learning as I go.
Evening Drive
We were watching Turkey, our neighbor dog, for the week. He is a big furry baby. And along with Roxy, I felt bad leaving them home alone while I did my grocery shopping.
So after we ate dinner, we decided to go for one last drive in the GMC Yukon. Loading up the puppies and seeing where we could go. Originally I was hoping for a few more pictures but that didn't happen besides the few I took inside.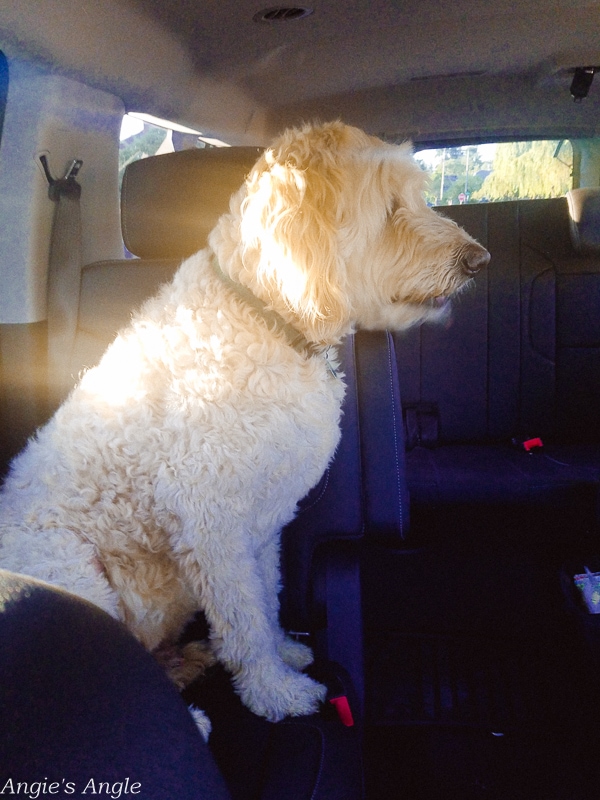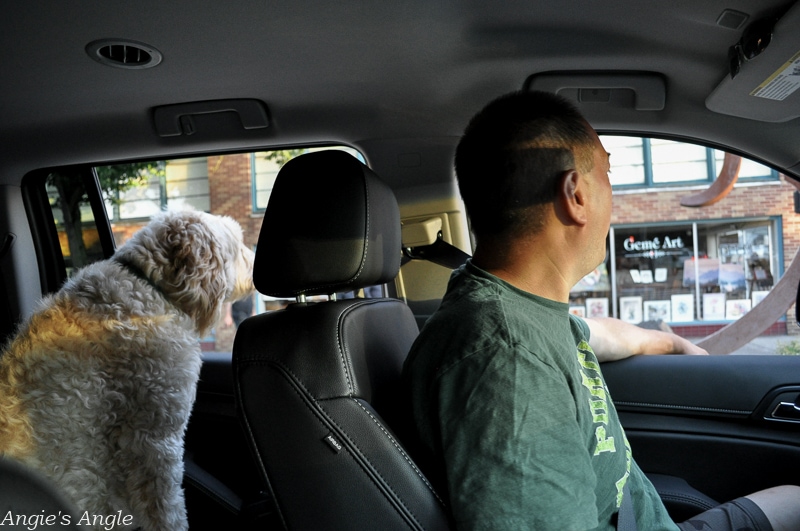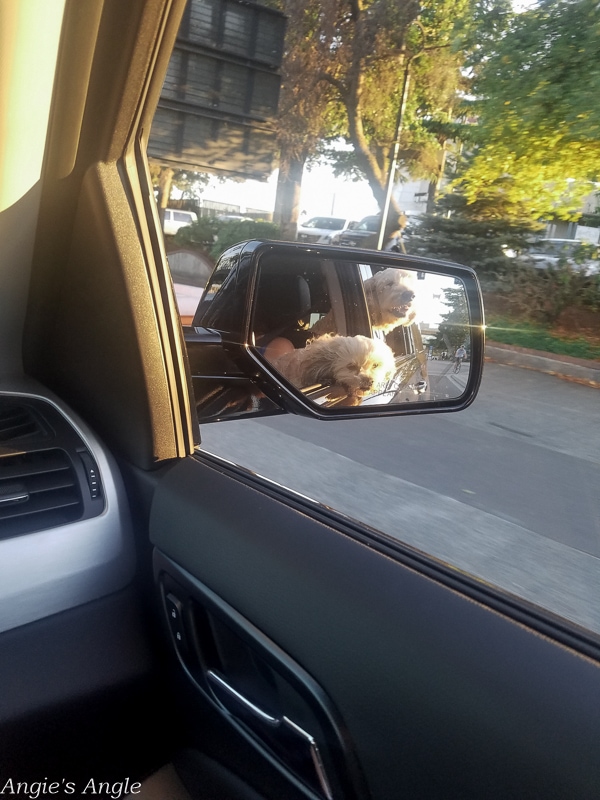 I must say though the bucket seats are not big dog-friendly. Poor Turkey kept trying to settle so he could sniff out the window and his paws kept flying off the side of the seat. We enjoyed, nonetheless, our little evening drive.
Where we found out by accident that the bucket seats also went down with a touch of a button in the back. Making laying down the seats super easy. When you lay down both sets of seats, it's like having a pickup truck back. Could be super useful!
2019 GMC Yukon SLT XL
Ending my little adventure in the Yukon. I like to leave a few extra tidbits on the vehicle itself. Giving you more an idea if this car is for you or someone you know.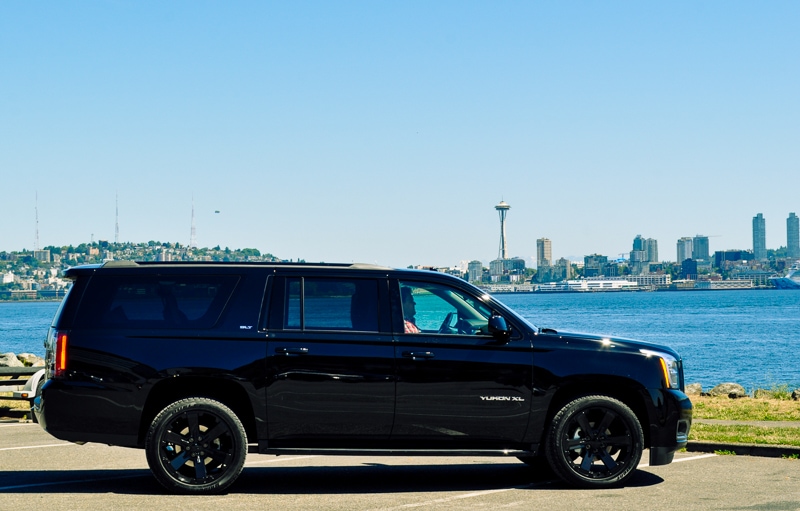 Fuel economy is always important to us as well. This model had 14 city and 20 highway with an average of 16 MPG. We personally averaged 19 on our week-long adventures. Which we thought was pretty darn good for such a big beast of a vehicle.
Memory Seats – I love when this is included. So much easier to switch between Jason and me driving without trying to find that perfect seat setting each time. This one included the driver seat, outside mirrors, steering wheel, and even the pedals!
Heated Steering Wheel – this for me is something I love too. My hands are almost always frozen. Having that heated steering wheel to warm them back up is amazing to me. Now I don't think I used them this time around, but that is rare for me.
4G LTE WI-FI Hotspot – this is a totally new feature to me (thanks to GMC) that I am in love with as well. It's so nice to use wi-fi inside the car without having to use my own data. I am still blown away this is even possible in vehicles.
Heads Up Display – not all cars have this and I wish they did. It's a favorite of mine as well. Being able to see your speed in the windshield makes life so easy to keep the right speed. This is part of the optional package but worth it, I think.
Seats – as I mentioned in the previous post, the front seats have heating and cooling. While the back also has heating, which is a pretty nice little bonus.
The base price for the 2019 GMC Yukon SLT XL is $63, 200 – while the additional features we had is an additional $10, 135.
Any questions that I can answer for you with this model? Any questions about my shopping, dog-friendly, or our previous post about Seattle? I'd be happy to answer any and all questions.