Likely you are like me and never gave Michael Jordan's Steakhouse at Ilani any passing thought. It was expensive for our taste and just didn't seem worth it. How is doing everything à la carte affordable? Why would we dine there? No, just no was our thought. Actually dining at Michael Jordan's Steakhouse changed our whole preception.
We were hosted to dine at Michael Jordan's Steakhouse for this post. However, all thoughts and opinions are 100% our own.
You might think that because it was a hosted meal we got special treatment. I will agree that yes we got some extra special attention. BUT…we watched other tables and everyone else inside and ours was not that different from theirs. And the food was just the cherry on top.
I am hoping while reading and seeing the pictures, you'll see just how great dining at Michael Jordan's Steakhouse was. And why, YES, it is a slam duck! And why we'll be back, even on our own dime.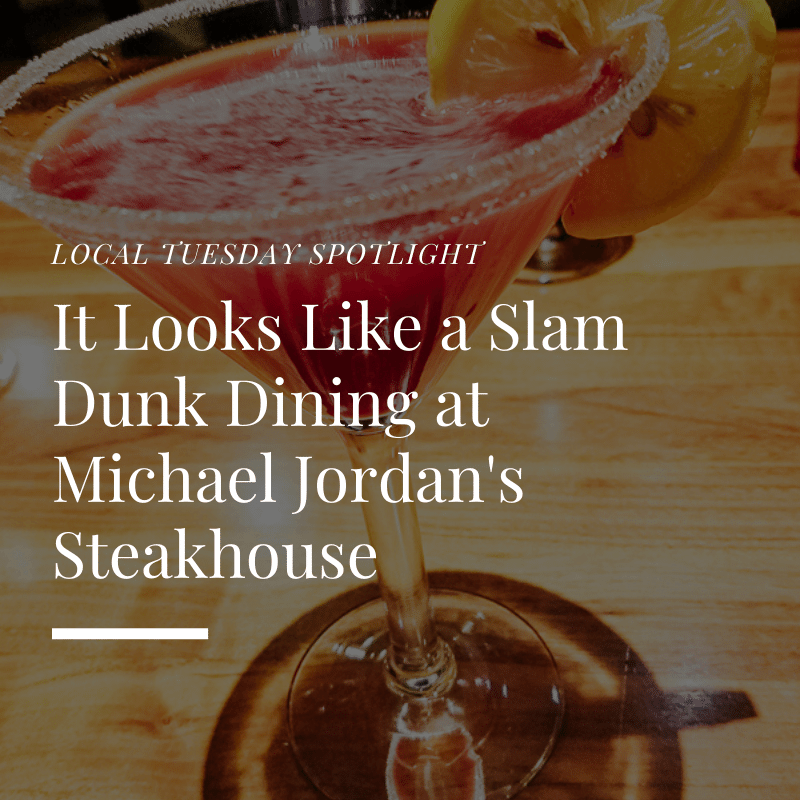 It Looks Like a Slam Dunk Dining at Michael Jordan's Steakhouse
We arrived at Ilani around 6:15 and our reservation was at 6:30, so we played a few rounds of slots and then made our way in to say we were there. The hostess readily sat us, asking us if we had been there before or if it was a special celebration. We stated no to both.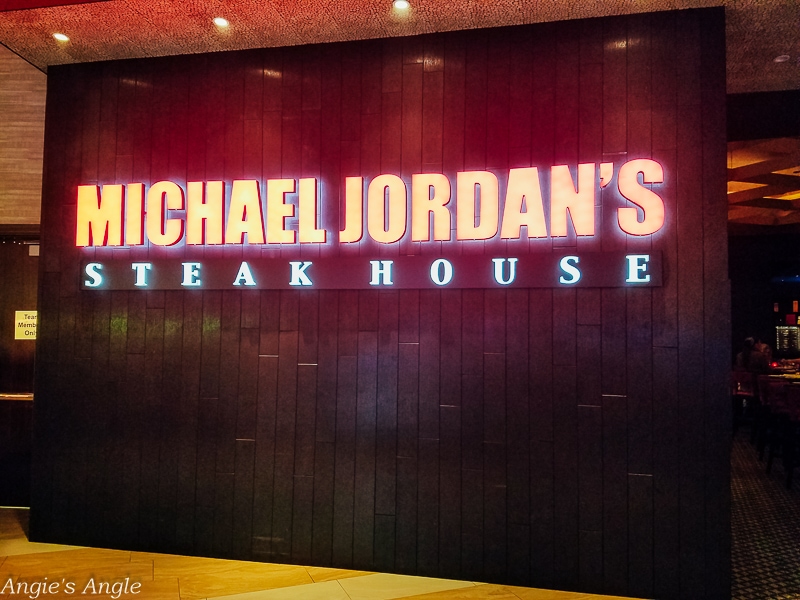 As walked to our table I tried to take in the restaurant itself. It had a dark feel to yet. Which in turn made it a warm and cozy feeling. I tried to get some photos inside but they didn't really turn out. Instead, you'll get the one of Jason and outside the front of Michael Jordan's.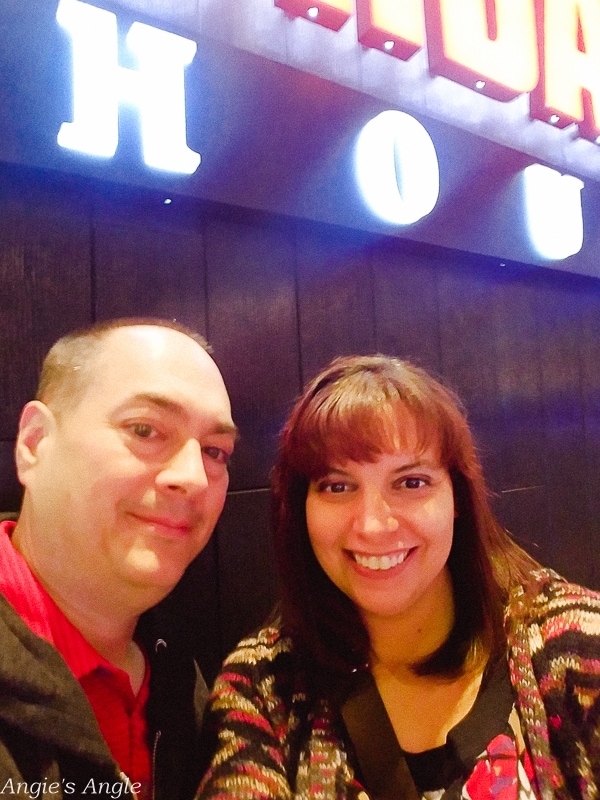 We were seated in a big circle booth, Jason and I scooted in so we were sitting in the middle facing the rest of the restaurant.
Dining at Michael Jordan's Steakhouse: Drinks & Appetizers
While we were browsing the menu, we were brought water and ordered our drinks for the evening. Where I got the marionberry lemon drop – so freakin' tasty! Jason ordered Bob Moore's Wild Ride – which he thought was darn good.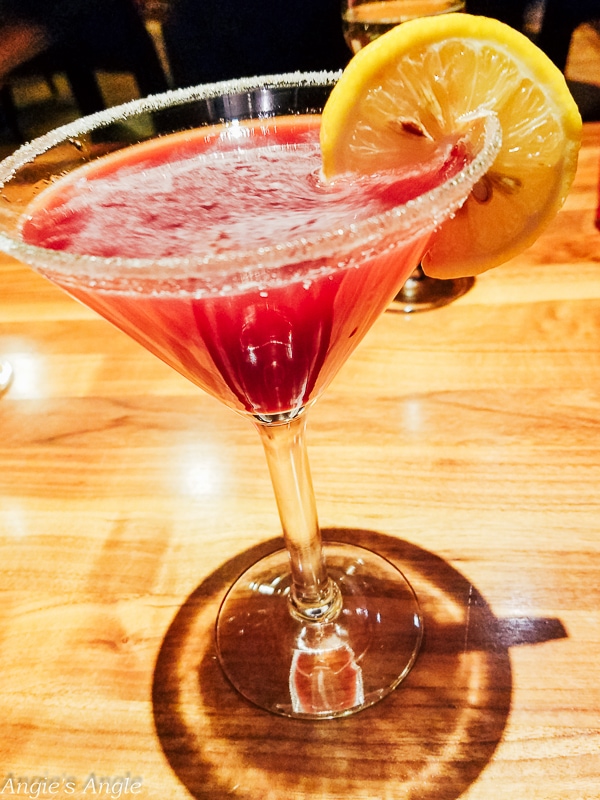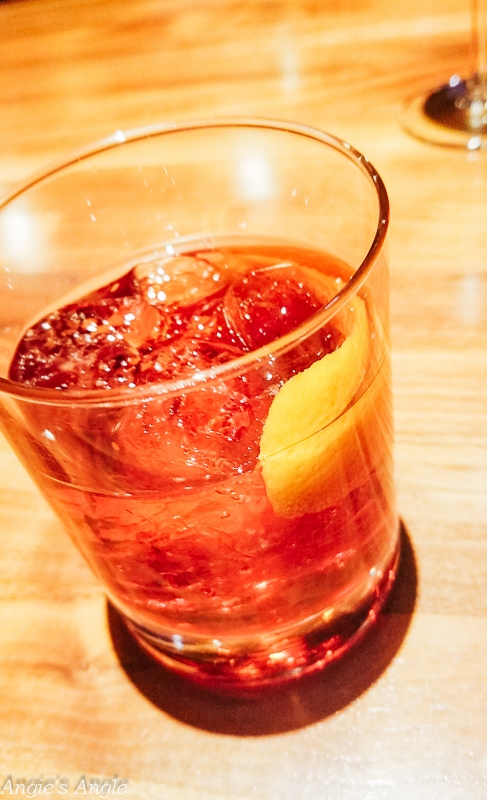 After the assistant manager, Jeff realized we were there, he brought us over a glass of champagne each – saying he didn't know about us but he likes to start off a meal with a little bubbly. It was so sweet. Now, if you know me you know I don't like bubbly drinks, especially champagne but gosh darn it I was going to drink it. And to my utter surprise, I loved it. I haven't a clue what type it was but it was really good! Coming, especially, from a non-champagne drinker.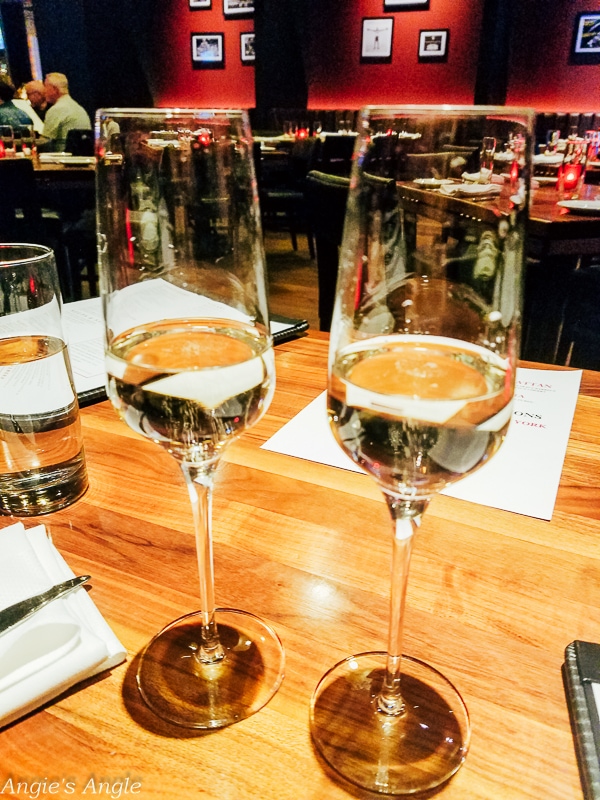 Getting our bellies filled…
Asked by Jeff if we had any allergies or aversions because they like to bring out extras to serve and we said no, none here, bring whatever you like.
We ordered the garlic bread served with a bleu cheese fondue. Being told by lovely friend, Alison, that was the thing to get.
The garlic bread arrived and we were told they also would be bringing out the double-smoked bacon, it was just finishing up.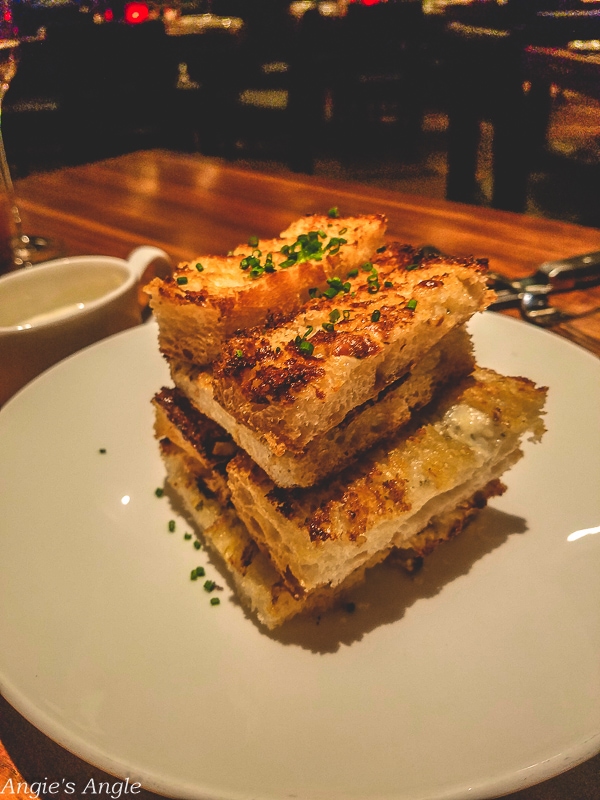 Holy smokes, that garlic bread – hands down amazing. Never knew garlic bread could be so amazing – with the bleu cheese – come to Momma. Also, if you know me you know I don't like bleu cheese but I LOVE it when it's melted. The weird gal that I am.
After we almost finished our garlic bread (where we told ourselves to stop already), they brought out the double-smoked bacon. It looked and smelled amazing. I wish I could share the smell with you all, that alone drew me in.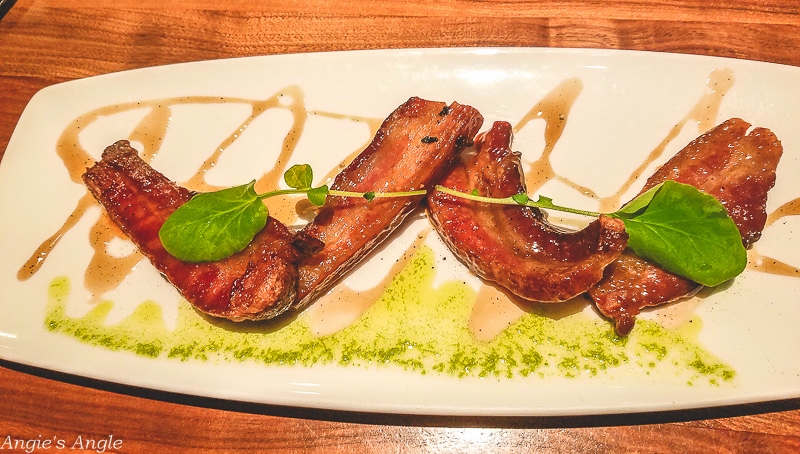 Bacon dripped in maple and having almost a candied coating to it, it was melting in your mouth amazing.
Num! All this food and we hadn't even gotten to our main courses yet and we were already on our way to being stuffed. Give it to us all the yum though we said, we can do it.
While we were having our mouth orgasm and being in pure bliss, the chef Cory & general manager Brian came out to greet us and check-in. Being that we were still over the moon with the bacon thoughts didn't come to me with questions to ask. I swear I'll get better at this as we do more of them. It was great to meet the faces behind the scenes though, the chef does amazing work!
Dining at Michael Jordan's Steakhouse: Sides & Entrees
Before ordering our sides/entrees we were told the sides were big enough to share so plan accordingly. With that in mind, we ordered the mashed potato trio and the Brussel sprouts. Coming out extra for us was the corn off the cob.
Mashed Potato Trio
The mashed potato trio was so tasty! Coming with three different varieties of mashed potatoes to enjoy in a cute little cast iron trio set. Filled with: roasted garlic, scallion and goat cheese, and last crab and old bay butter.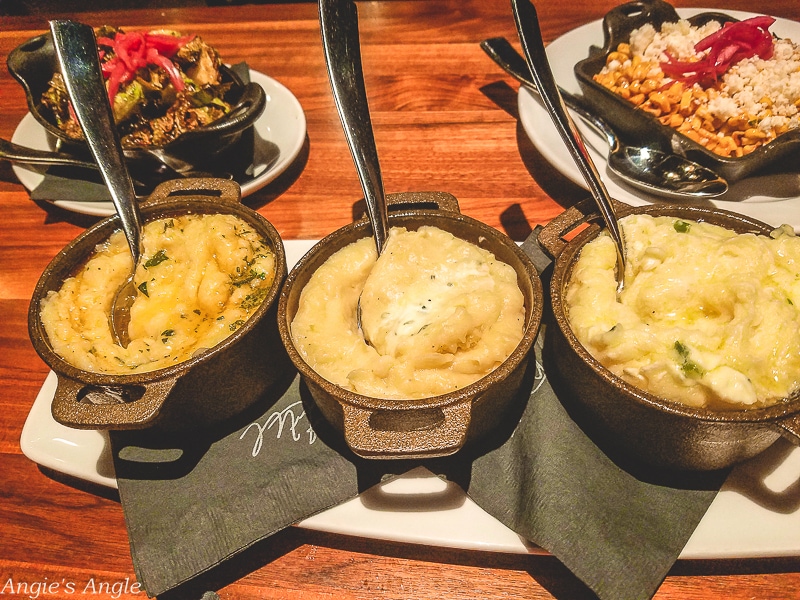 I enjoyed the roasted garlic and scallion and goat cheese which were so good. Full of flavor. Jason enjoyed the crab and old bay butter but for him was a bit salty because we use so little salt in our diet. All of them had a bit more salt then we are used to but we enjoyed them greatly.
Brussels Sprouts
Being that I am a huge lover of brussels sprouts, I knew that is one I needed to try. Though the roasted asparagus pulled me too because that is another personal favorite.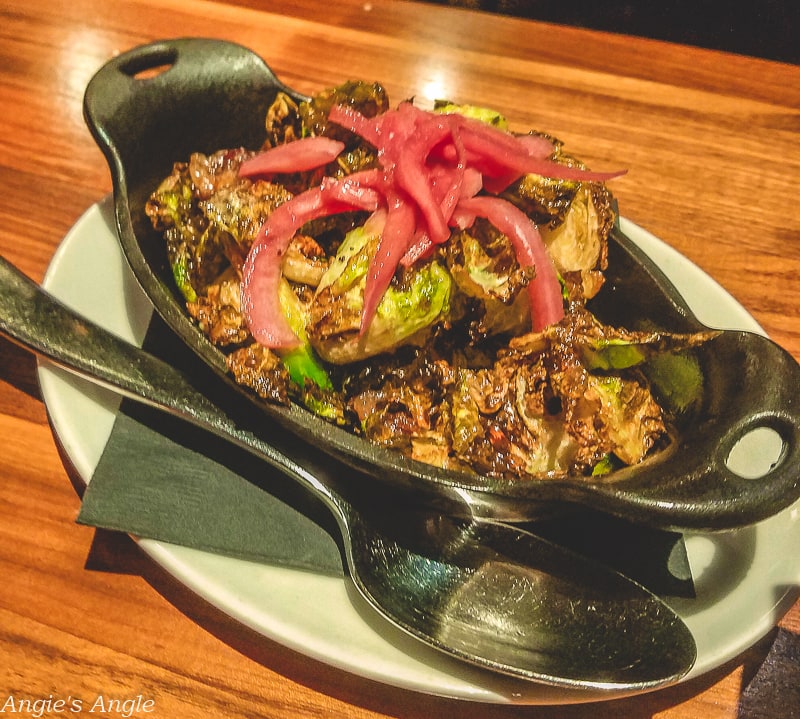 The brussels sprouts come out in another cute cast iron seasoned with bacon jam and pickled red onion. The onion pieces were a bit too big for me so I pulled those off of mine. Otherwise, it was really tasty. Some parts were a bit over-sweet but I think that is when I ended up just with the bacon jam and no sprout to counteract it.
Corn off the Cob
Our extra side was the corn off the cob and I was pretty giddy about that little surprise since I had been eying that one as well. Coming seasoned with chile-lime butter, queso fresco, and red onion. The perfect flavor variety and tasty!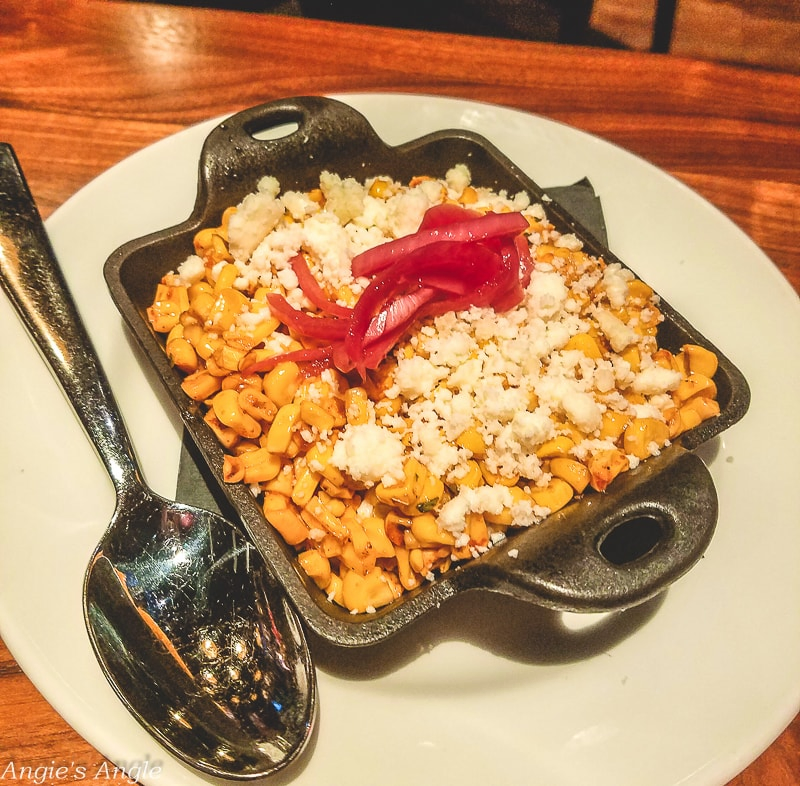 Steak Frites
Steak Frites was what I ordered as my main entree and little did I know at the time that frites meant it came with fries.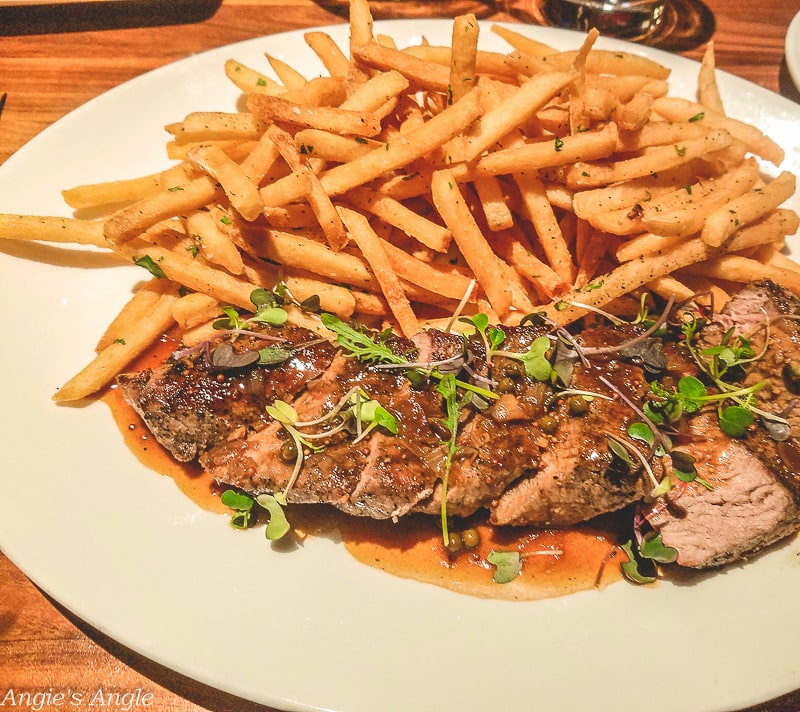 I like my steak VERY VERY well done, almost burnt and make cooks cringe. And while this was not cooked that way it was very well done like I like it and melted in my mouth. The steak frites was USDA prime seasoned in green peppercorn sauce. Mouthwatering!
Steak Diablo
Jason picked a steak from the Chef's Private Selection menu of the steak diablo. Which was a 10 oz. New York Strip, sauteed shrimp, with spicy diablo sauce.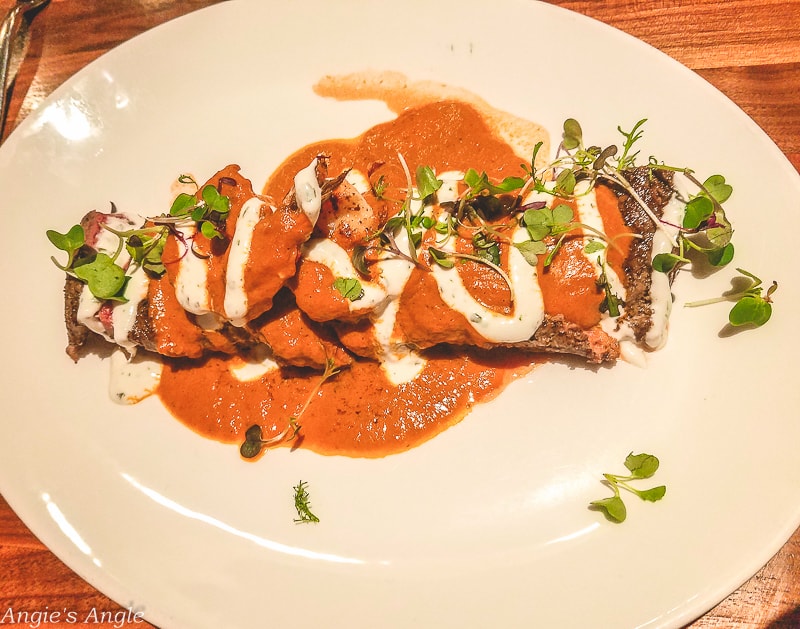 Jason said it was delicious! That it was steak was well-done to his liking (of medium), almost melt in your mouth steak. The diablo sauce was spicy and great, made perfectly for a diablo. As for the shrimp, it too was tasty and perfect!
Desserts
The two dessert choices we were given while winding down our evening was the 23 layer chocolate cake and the warm peach cobbler. Jason and I couldn't decide what we wanted, so Jeff just brought us out both to enjoy.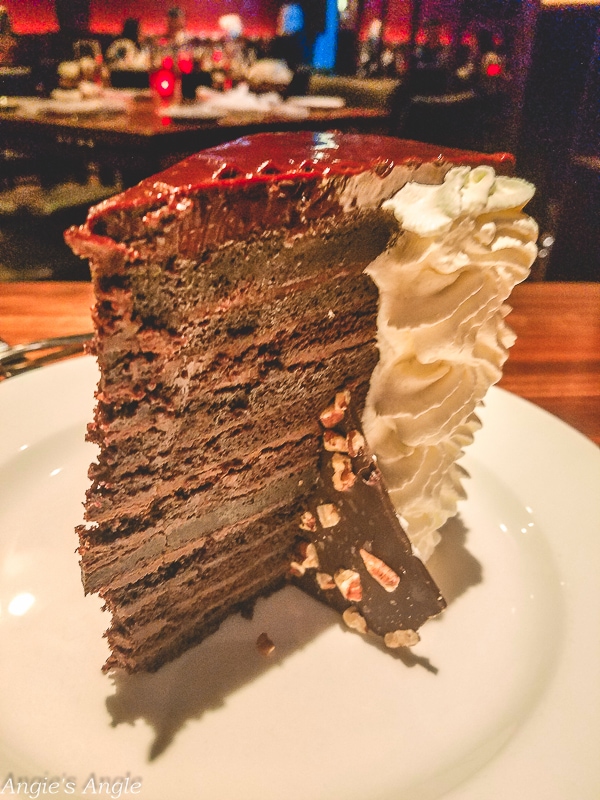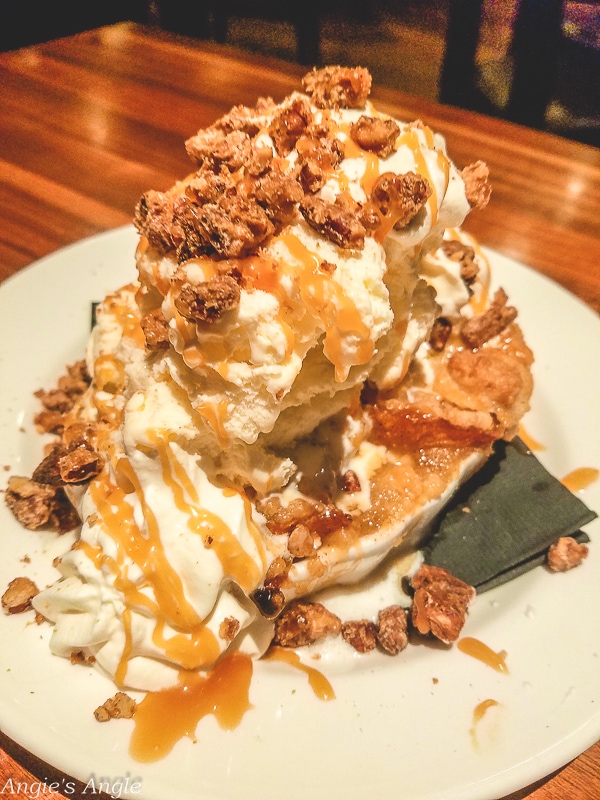 Jason ate the peach cobbler and said it was amazing. And I enjoyed the 23 layer cake which was very chocolatey and rich. Good but very chocolatey for me. So only a little bit at a time was enjoyed.
Final Thoughts
As you hopefully saw and felt while reading our night out at Michael Jordan's Steakhouse, it was truly an amazing experience. As I mentioned, yes we got a little extra attention but I saw that attention at every other table that was full while we were there.
The food was some of the best we have ever tasted. The drinks were well-made and tasty.
Everything just totally blew us away. It helped greatly that the sides were so huge that they are shareable, makes that à la carte a little easier to handle.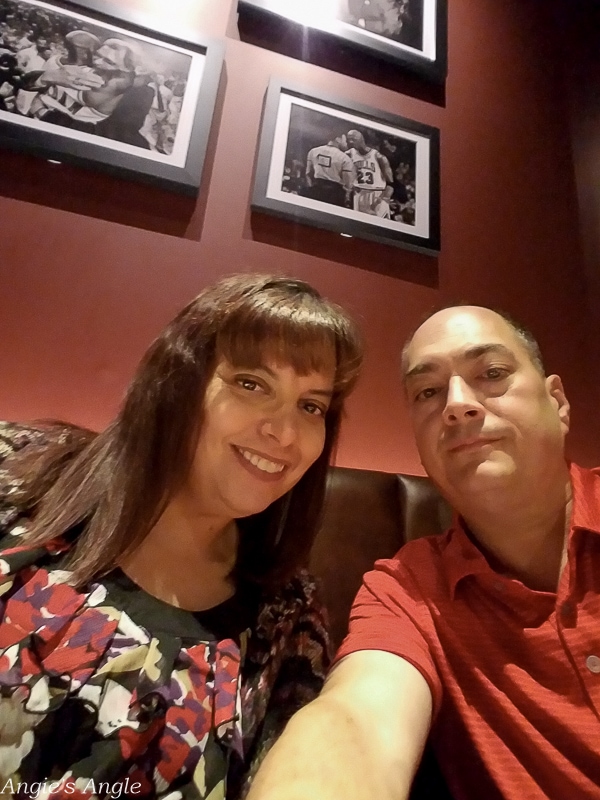 We had so much food that we also had a full Micheal Jordan's Steakhouse meal the following night.
Thank you Micheal Jordan's Steakhouse for being so amazing. We'll be back and hopefully, now you'll try it out yourself!
It is suggested you make a reservation if you are wanting to dine at Michael Jordan's Steakhouse – you can do so, here.
Michael Jordan Steakhouse at Ilani
1 Cowlitz Way
Ridgefield, Washington 98642
Facebook
Instagram