These 100 ways for genuine random acts of kindness have been rolling in my head for quite some time but I never got off my butt to make it happen. Today it is finally happening in honor of Angie's birthday!
I have a dear close friend, Angie, whom I call my twiny twin. Because we are both Angie's and have very similar likes and dislikes. And because today is her birthday and one of the things she is big on is doing random acts of kindness. In fact, I nominated her several years back for the Jolly Time popcorn kindness award and she won!
I hope that you read a few of these and do one or two today in honors of Angie's birthday. It's one of the things she always asks in honor of birthday each year so you'd be doing her a HUGE favor. What a better way to celebrate than 100 ways to genuine random acts of kindness!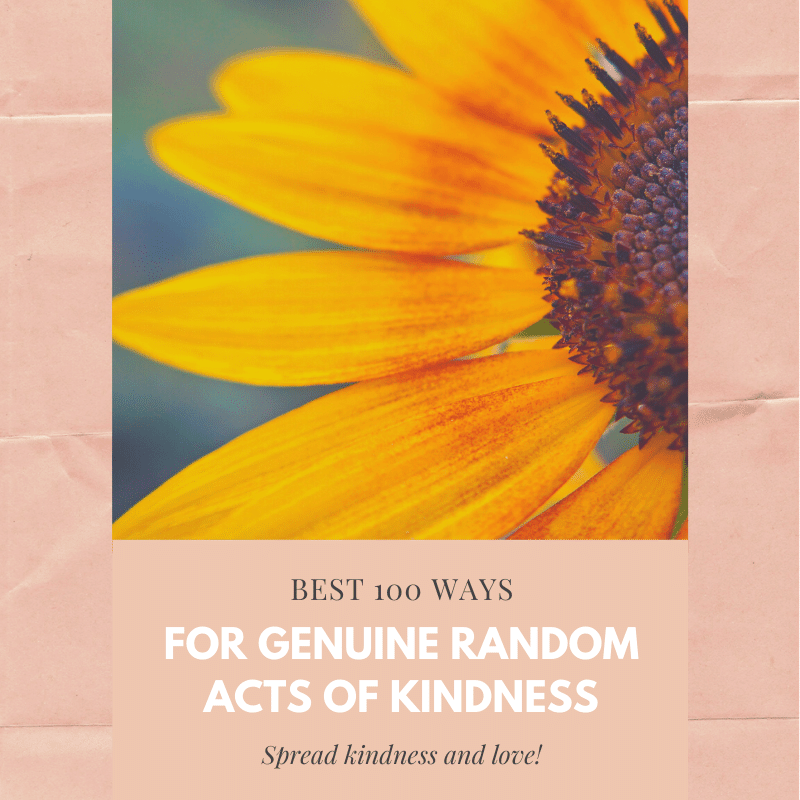 100 Ways for Genuine Random Acts of Kindness
Angie wrote just over 50 of these ideas for genuine Random Acts of Kindness, while I wrote the rest with help from my friends. I am sure there are a million other ways that I didn't think to add to this list to spread kindness though.
Swedish Fish Candy: I O-FISH-ALLY hope you have a great day!
Tootsie Roll Candy: I hope this helps you ROLL through your day!
Extra Gum: Thank you for always giving EXTRA in all that you do!
Gummy Bear Candy: hope you have a BEARY great day!
Peach Ring Candy: I hope you have a PEACHY day!
Now & Later Candy: Have a great day NOW, and LATER!
Kit Kat Candy: You deserve a break today!
Flowers to a nursing home, reception area or ask them to give them to a resident who could use them.
Thank You for a Hospital Volunteer. (You can find Volunteer related items by searching Google, or just put together a cute basket of items)
Volunteer.
Candy Canes on cars in parking lots with a small note
Trick or Treat, Smell my Feet with a cute pair of soft, fuzzy socks
TWIZZ the Season to be JOLLY note with Twizzler and Jolly Rancher Candies
Search www.checkiday.com – Every day has multiple holidays listed, celebrate accordingly
Leave your mailman a small Starbucks Gift Card on National Mail Persons Day
Leave your mailman a bottle of water in the mailbox with a flavored powder packet on hot days
Mini Hostess Donut pack: Donut what I would do without you
Leave a cute note on a public bathroom mirror: You are beautiful / You look amazing
Leave a positive post-it note around Disneyland (or another theme park) throughout your day for others to find
Take coloring books and packs of crayons to doctors offices that you know have children who may be bored
Leave new packs of sidewalk chalk at public parks
Send a card to a friend you haven't spoken to in a while
Take a care package to a fire station – I always buy a red basket at Dollar Tree and fill it with red hot treats like Red Hots, Hot Tamales, Hot Cheetos, and some $5 Starbucks Gift cards
If you are in line to purchase food in front of a police officer or firefighter, offer to pay for their lunch
Pay for the person behind you in the drive-thru line
Donate your old towels to a veterinarian or animal shelter
Purchase small fleece blankets at Walmart (cheapest) and donate them to your veterinarian or animal shelter
Carry bags of snacks in your trunk for homeless people – something easy for them to open and eat
Compliment a stranger on their outfit
Thank a service member in uniform
Leave a welcome basket for a new neighbor – with a whisk, box of pancake mix, etc.
Donate to a food bank
Leave quarters or a dollar taped to a vending machine in a hospital
Search Facebook for a local Kindness Rock Group in your local area. Paint and "hide" Kindness Rocks
Small hand sanitizer and a small pack of tissues "I TISSUE a Healthy New Year"
Put together a little bucket of Halloween items from your local Dollar Store and Google "You've Been Boo'd" and Boo a neighbor, friend, or coworker
Research a local home for the elderly, and make cards for the holidays and deliver them to be given to residents
Create a gift with all yellow items, and send to someone who needs some sunshine
Gift a friend one of the "Chicken Soup for the _____ Soul" that applies to something they are going through, or that could get them through a tough time (Teenage Soul, Prisoners Soul, Adopted Soul, Pet Lovers Soul, Kids Soul, African American Soul, Cancer Survivors Soul, Volunteers Soul, Veterans Soul, Etc)
Travel Size Homeless Kits – Fit toiletries and small snack items into a new pair of socks, and hand them out to homeless
Leave dollar bills in the toy section of the dollar tree with a cute note to treat yourself to a toy
Bring PRE PACKAGED muffins, cookies, Danish to a Firehouse, Emergency Room, Police Station with a Thank You note. I say pre-packaged because a lot of places where you drop off homemade food, it will not be eaten, as they do not know you. Sealed, packaged food is what I recommend.
Give a gift card to any first responders you see in Starbucks if you are not able to purchase their drink
Send your kid to school with a Thank You note for their teacher, just because. Or a small denomination gift card on a random day, not a holiday or end of year
Purchase toys for animals in shelters and drop them off
Leave a bucket of tennis balls with a cute note at a dog park
Leave a bucket of snacks at a vacation home for the next guest arriving after you
Offer to help clean a friends house if they are going through Chemo or a treatment that wears them out
Take a box of donuts somewhere you frequent, I often do this for the parking attendants at Disneyland (Preferably somewhere you are known, so the food is trusted)
Leave positive notes on coworker's desks. Dollar Tree often has packages of cute paper cut-outs, that I will leave notes on and leave them around places


and 50 more…

Leave coupons on items in grocery stores if you are not going to use them
During the extremely busy holiday season, leave a bucket or shelf out with snacks and waters with a note for your Fed Ex, UPS, Etc drivers to help themselves
Let someone merge in front of you on the road
Donate your clothes you no longer want to a women's or men's shelter, or the work clothes you can no longer wear to an organization that helps battered women or men find jobs
Buy a small denomination gift card wherever you are, and hand it to someone in line on your way out
Give a Thank You note or flower to your kid's bus driver, just because
Leave a gift card in a book store up against your favorite book
Leave a $20 (or more if you are able) cash tip for an amazing server in a restaurant
Purchase stuffed animals (Dollar Tree / Kohl's $5) and donate them to a local police station. They keep them in their trunks for hard calls for children.
Leave a Lucky Penny around town – Hi Stranger, this lucky penny is for you! Hope it makes you smile. Rainbow thought…
If your area/state has lottery machines, leave a few dollars in the machine for the next person.
Leave a thinking of you message/picture on a friend's wall/DM/message/text.
Fill books in Little Libraries around your town/neighborhood.
Leave a small gift card in those little free libraries.
Leave flowers at someone's door or have them sent.
Hold open the door for people behind you.
Smile at strangers.
Shovel someone's driveway or mow their lawn.
Offer to watch someone's kid for free for an hour or two.
Send a regular snail mail card.
Simply listen to someone.
Give up your seat or parking space for someone else.
Take the neighbor's trash/recycling to the curb or back from the curb on trash day.
Pay a stranger's parking meter.
Take the free turkey you can sometimes earn down to a shelter.
Donate warm fluffy socks to shelters.
Pay the adoption fee for a pet.
Put happy notes where people in your household will find them (lunch, coffee, bathroom).
Offer to cover a shift for a co-worker.
Bring food to another household.
Pay off someone's layaway.
Buy flowers at the grocery with a separate receipt and then bring them back into your cashier so they have the receipt to show they were paid for.
Pay for someone's coffee (this often starts a chain, which is amazing and brightens everyone's day).
Make your spouse's coffee for them.
Take someone to get their nails done.
Give someone a massage or a gift card for one.
Send someone a random gift from their wish list.
Buy roses and randomly give them to people in street one by one.
Fill gifts for the Giving Tree during the Holiday season.
Leave a small denomination gift card on the baby formula aisle of your local grocery store
Buy a gift card for a Mom or Dad and tell them to only spend it on themselves.
Share a friend's business on social media and tag them.
Bring dog food, blankets, and toys to a dog shelter.
Let people know how much you care about them.
Warm-up or cool down the car for someone in your household before they have to leave.
Donate money to a local charity.
Participate in Small Business Saturday, the Saturday after Thanksgiving.
Donate on Giving Tuesday, the Tuesday after Thanksgiving.
Do a chore that someone else normally does in your household for them.
Just in general, be kind and thoughtful!
Spread love, not hate. Make someone's day by taking a tiny portion out of your own day. It doesn't matter if they can already afford it or not, we all need kindness in our day to lift spirits and believe in the human race again. Spread genuine random acts of kindness today.