National Game and Puzzle Week couldn't have come at a better time. Which is probably why they did it the week before Thanksgiving. Just in time to enjoy the family game time during Thanksgiving and Christmas. Now on the fourth day of this week-long event, I am sharing our favorite games list.
The post below may contain affiliate links. Buying through provided links may provide me with a kickback for you doing so, at no extra cost to you.
I think it's safe to assume that most households have a few games that they always pull out to play. Everyone knows how to play, it's fun, and it's easy because you already know it. Right? So today I am going through and sharing our favorite game list and maybe you'll find a couple to add to yours!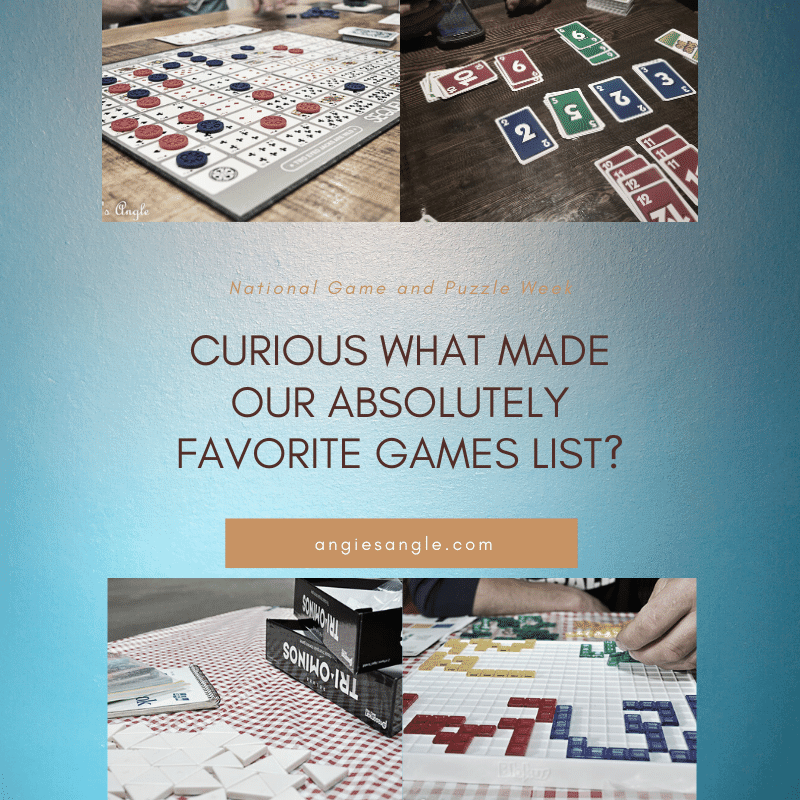 Curious What Made Our Absolutely Favorite Games List?
[pdf id=15753]
Yahtzee – this has been a family favorite for as long as I can remember. We only play triple Yahtzee though and instead of doing it in multiple as it says, we'd just add the three together. So just playing 3 games at once basically. I remember my Grandma and Mom playing it growing up, then I slowly started as I grew. Every Christmas it was the game that was played around the table. And it's now the ONLY game Mom will play. Jason and I play it though too at home and Kris and I play it often when we are together.
Skip-Bo – another life long favorite. Plus I am pretty sure the box we have is the original one. We've added decks to ours to make it bigger and be able to play more people and not shuffle as much.
Sequence – this is a newer favorite. Easy to learn but hard to master. Can you get five in a row and not get stopped?
Boggle – find all the words in the messed up dice as fast as possible. I tend to find smaller words and win that way. Every once a while I'll find a big word and be proud of myself. Not as easy though anymore as my finger/hands ache when writing so I can't write as fast.
Blokus – a fun puzzle for the brain. It doesn't take up too much room to take with us, which I like. And it takes me a few turns to get the pattern back into my head.
Canasta – we go through streaks with this game. Easy and fun. Our style.
Tri-Ominos – a newer favorite as well.
The Logo Game – where does this logo come from? An easier trivia like game that is fun.
Rummy – easy to play with a deck of cards and paper with a pen.
That's it for my go-to games. What is on your list of go-to favorite games list? I'd love to hear them. Who knows maybe they'll appear our next round-up!
Happy Gaming!