There is no secret, I am an avid reader. Yet, you'll rarely hear me actually talk about the books I read. It's not that I don't enjoy them or want more people to read them. I am just clueless on what to say about them. Even if I absolutely loved it and gave it five stars. Which is why I rarely talk about books on here. Today though I thought it would be fun to at least list my favorite books in 2019.
Post below may contain affiliate links, which I may receive a kickback on if you order through the provided link, at no extra cost to you.
With no real talk about the books I read, you'll at least see lots of pictures of the covers of the books I am reading and sometimes even the inside. Pictured on Instagram and my Catch the Moment series, you'll get a good sense of what I am reading.
But what were my favorites? What ones do I think you'd enjoy if you like the genre of the book? That is why I am here today to list my favorite books in 2019!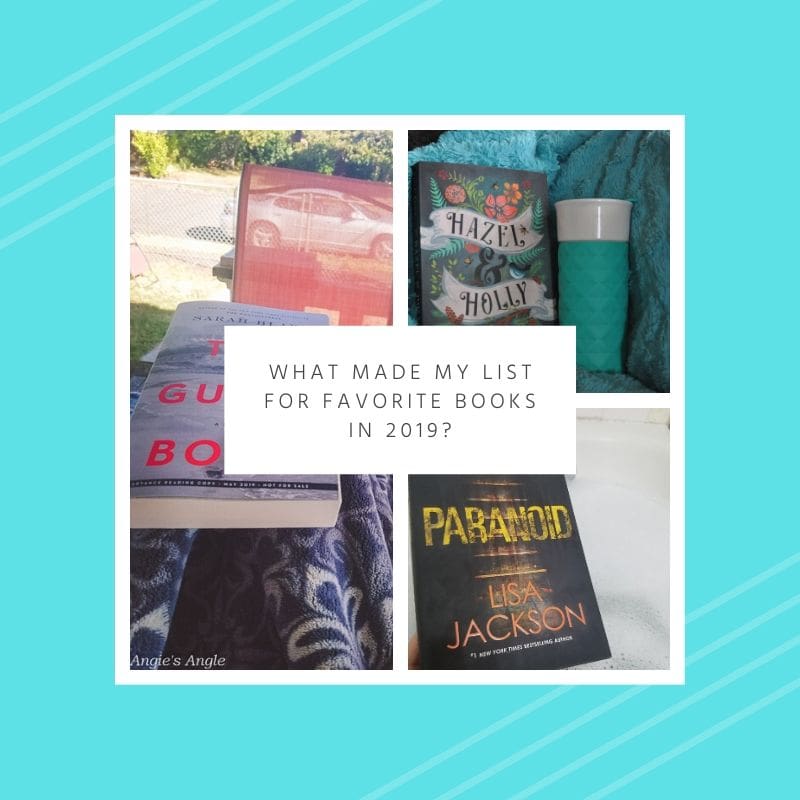 What Made My List For Favorite Books in 2019?
Now I read mostly older books, it's rare I buy or receive a new book and read it right away. I love collecting books and have them waiting for me to pick out for the next time I am starting to pick a book. A lot of these books will be older, so you may have already read them. Which, if that is the case, yay!
Hopefully, though a few of these will be new to you and you can add them to your to-be-read/wish list.
Starting from December 2019 and working my way backward to January 2019. These are my favorite books of the year! Five stars being the highest rank, while some maybe a few three-star ones.
My List 2019
read on…
The Guest Book by Sarah Blake – four stars – An exquisitely written, poignant family saga that illuminates the great divide, the gulf that separates the rich and poor, black and white, Protestant and Jew. Spanning three generations. The Guest Book deftly examines the life and legacy of one unforgettable family as they navigate the evolving social and political landscape from Crockett's Island, their family retreat off the coast of Maine. Blake masterfully lays bare the memories and mistakes each generation makes while coming to terms with what it means to inherit the past.

The Perfect Couple by Elin Hilderbrand – five stars – It's Nantucket wedding season, also known as summer-the sight of a bride racing down Main Street is as common as the sun setting at Madaket Beach. The Otis-Winbury wedding promises to be an event to remember: the groom's wealthy parents have spared no expense to host a lavish ceremony at their oceanfront estate. But it's going to be memorable for all the wrong reasons.
still a bit more…
The End
That was my favorite books in 2019. Did you see one that caught your interest? If so which one? Any that you already read and have an opinion on? I'd love to hear it all.
Happy reading!