Isn't it a shame when you have to getaway for a night? Why go messing with my regular routine people? HA! Just kidding. We love getaways, even for a night. But let's be honest I am itching for a full week away in a beach house, so let me know if you want to collab to make that happen. This one had to happen before February 1st to keep our Choice Rewards active. So why not do a quick overnight to Astoria, Oregon?
Honestly, though, a single overnight visit never feels like enough. Yes, it is better than nothing at all. But give me at least two nights to explore and recharge. Do you agree? How many nights do you prefer on a getaway?
While this little getaway was super short to my liking, we did get some good exploring it before we headed back home and that is what I am most excited to share with you all.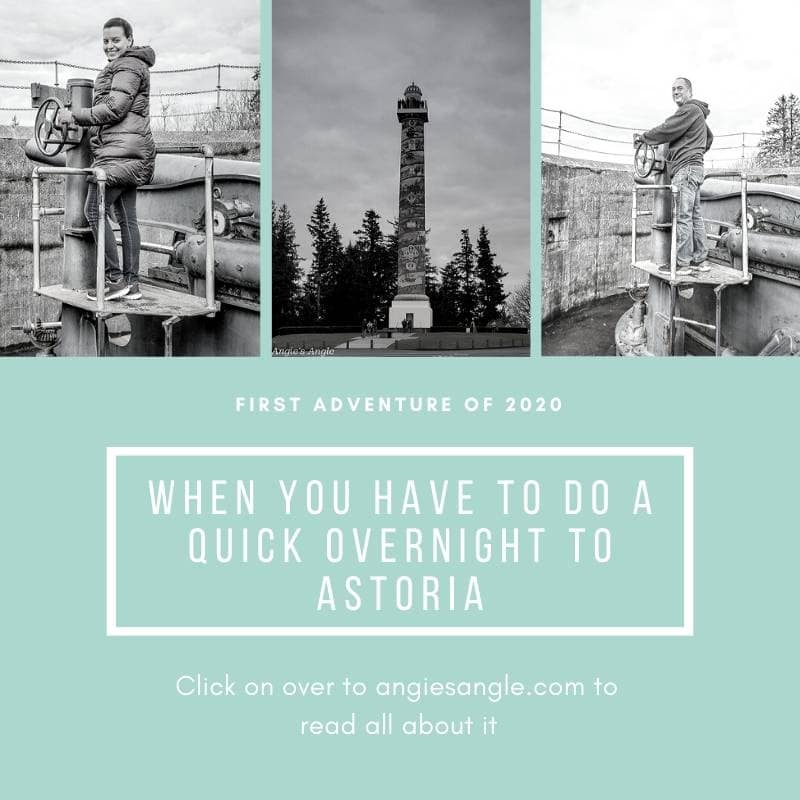 When You Have to do a Quick Overnight to Astoria
This trip was kind of quickly planned but not really. I kept getting emails that if I didn't say with a Choice Hotel before February 1st, all my past points would be wiped. Now we didn't want that! Funds are short though, so what could we do real quick and easy like? I hopped on Choice Hotels site and browsed near us and landed at Astoria after seeing one it was on the river and two it was pet-friendly! Win-Win. Plus Astoria is only an hour and a half away from us making it easy for just a single night.
Seeing that Jason had a paid Holiday for Martin Lurther King Jr. Day made it the perfect opportunity to plan our quick getaway!
Sunday, January 19th – Arriving at Comfort Suites Columbia River
We ended up getting a slightly later start than we meant to leave the house to head to Astoria. I think because we didn't have any real plans for this trip, just basically our overnight stay was on our minds.
It was dusk by the time we arrived at Comfort Suites Columbia River for our quick overnight to Astoria. Check-in was a breeze, they verified we still had a dog traveling us. I filled out a short sheet detailing what type of dog we had with us and to charge us the extra $10 for traveling with a dog.
Our room was much bigger than I was expecting it to be. And the view was great. I didn't think to get photos of the room itself. But we picked a king bed with a river view. Our room also had a couch, which was a nice addition. You can see the view we had below.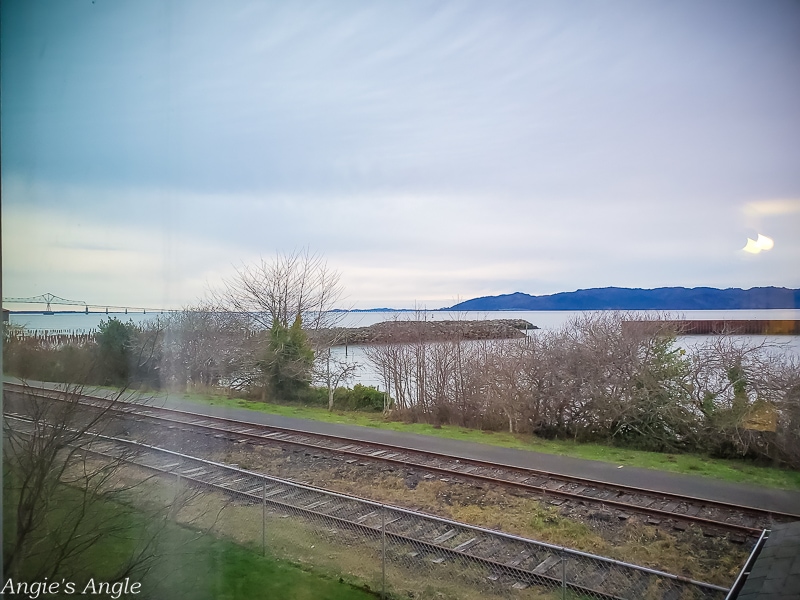 We unpacked and relaxed in the room while we tried to figure out what we wanted to do for dinner. The only real plans for the evening. After some rest, we decided we'd head to Buoy Beer for dinner.
Buoy Beer
It ended up being a great choice. There was a bit of a wait for a table. Which kind of surprised for me for a Sunday evening in the off-season. I found the glass floor and saw one big sea lion laying down below. He was a big guy and I fell in love. The photo below doesn't do it justice.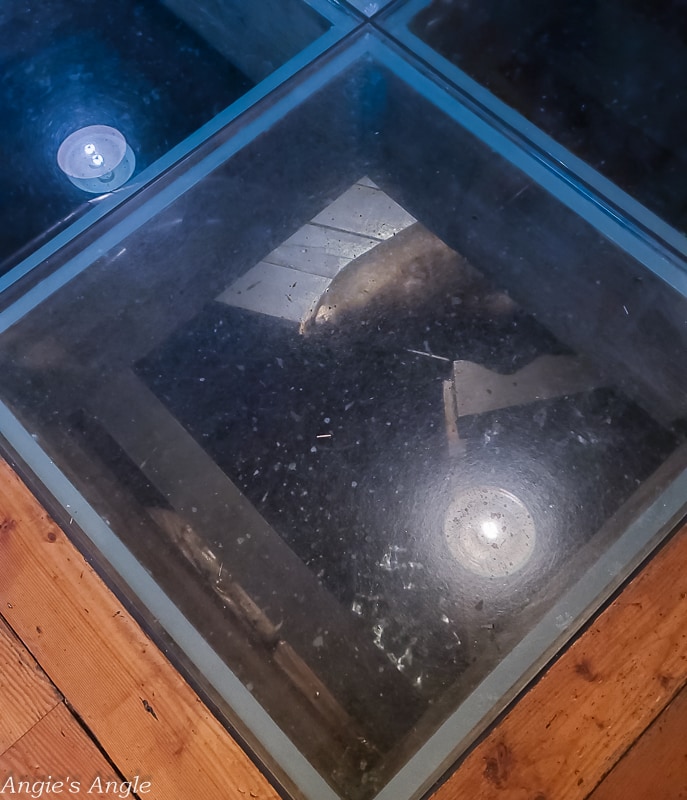 The inside of Buoy Beer is beautiful though. I can't imagine the beauty if it was still light and you could see all that amazing Columbia River with those big windows. I have to go back during the daylight just for that fact alone!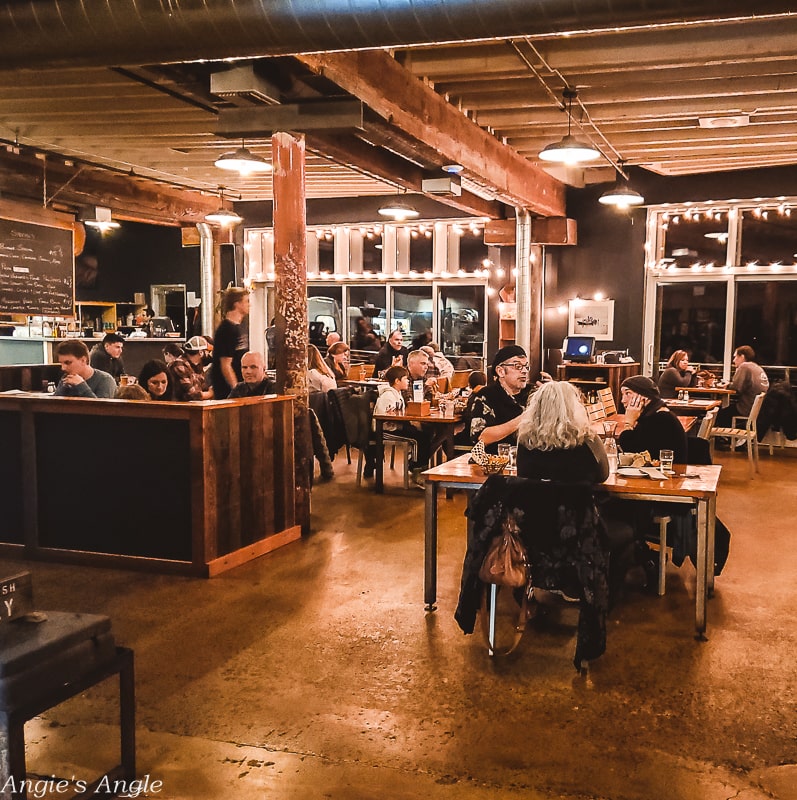 While there were no ciders on tap that I wanted to try, they did also have a full bar so I went with my personal favorite the lemon drop. Which I have to tell you was one of the BEST Lemon Drops I've had anywhere. Surprising for a beer place. Jason had the Teddy Bear Stout and quite enjoyed that one too.
My eyes quickly found that they had cheese curds on their menu and I had to have those. Yum. One of the best cheese curds we've had too.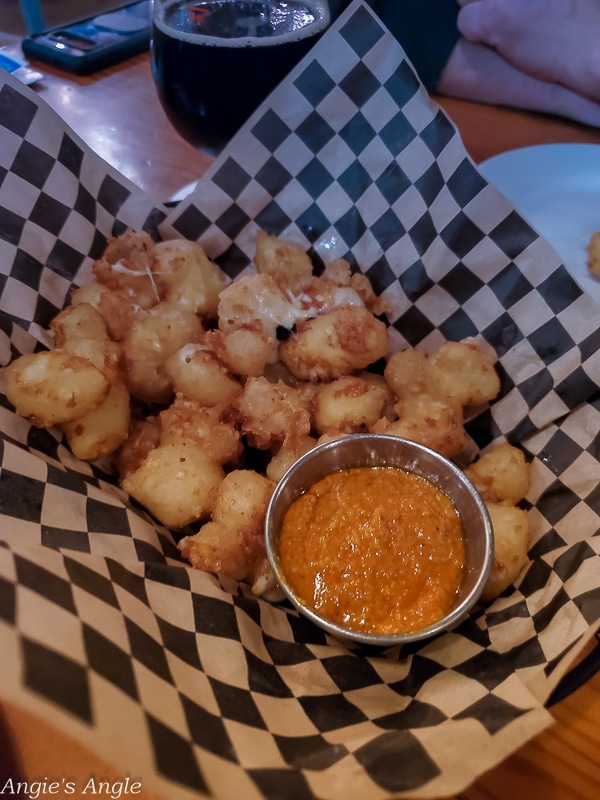 For dinner, we just went with the hamburger special. Which was fine, the average for a hamburger.
Overall, we enjoyed the place. Good beer, good vibe, decent food, and I imagine the views were 100%.
After we had our slow dinner, we just headed back to our room to relax and play a game. We ended up playing Tally Ho, which was a two-player game I got us for Christmas. It seemed like a decent two-player game. I am going to be working on a new two-player game post soon and that one may be included! Stay tuned for that.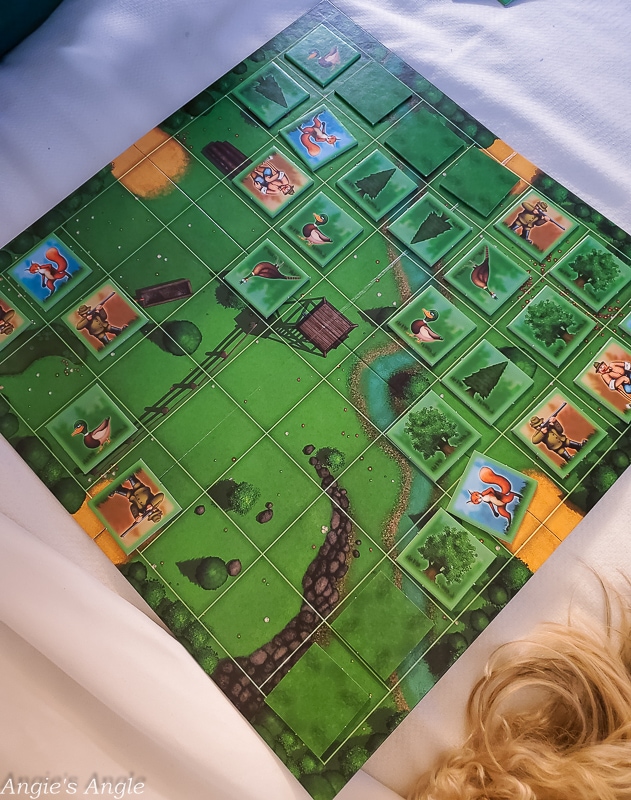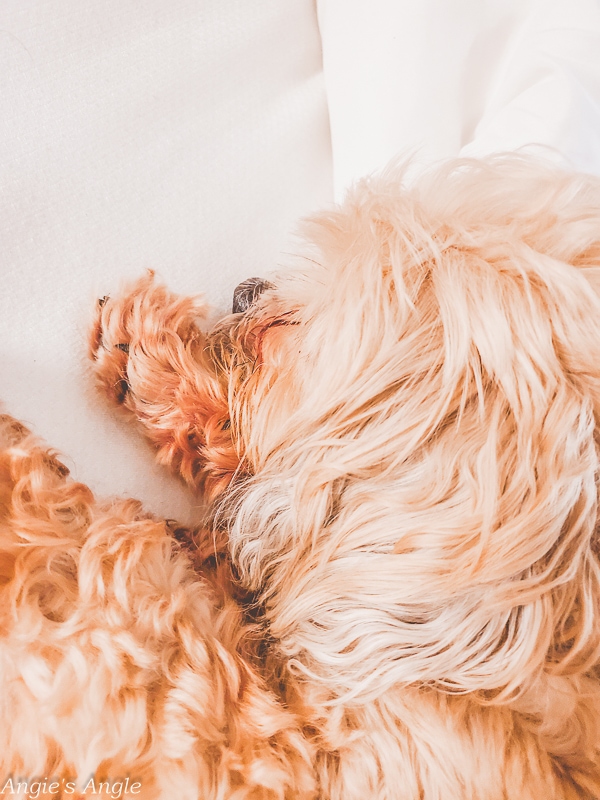 Monday, January 20th – Exploring Astoria Area
Lucky for us, Comfort Suites Columbia River provided a nice free breakfast to start our day. Since it was vacation, Roxy got up bright and early to start the adventure of the day. Breakfast was served from 6 to 10 am. Jason brought me up breakfast and he had breakfast down in the buffet room. It was tasty and easy.
While I was eating, Roxy enjoyed the view. I moved one of the stools in front of the couch to in front of the window and she thought that was pretty grand.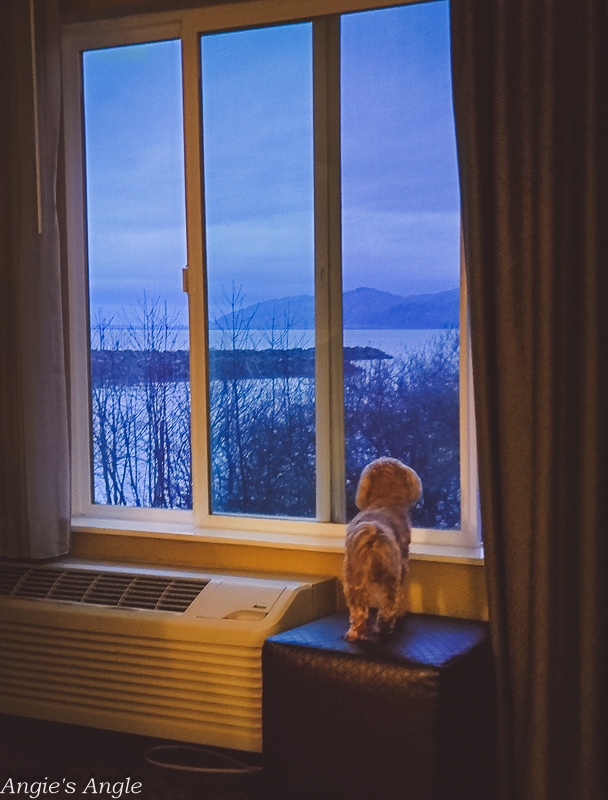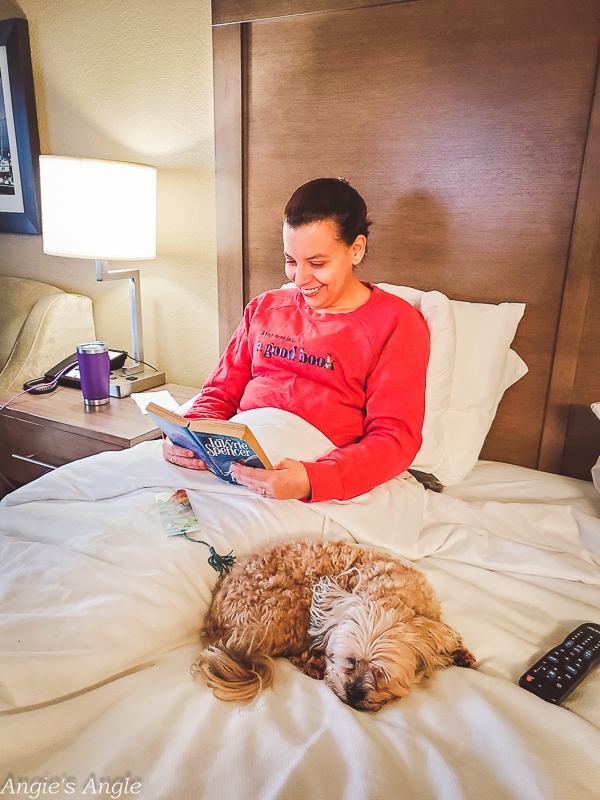 We lounged around in the room until it was checkout time and then tried to figure out what we were going to do for a bit of the day before heading home. Driving around town before making our way up to the Astoria Column. Finding out there was now a fee to enter the area, which there hadn't been before that we could remember. Five dollars got us in and later I realized it was for the whole year of entry at least. Or as it reads it should be.
I completely forgot how breathtaking the view is from the Astoria Column.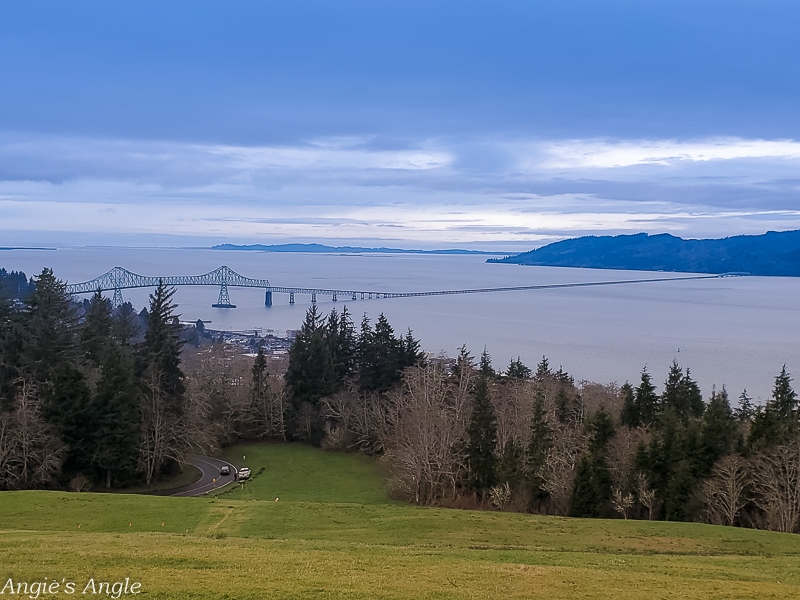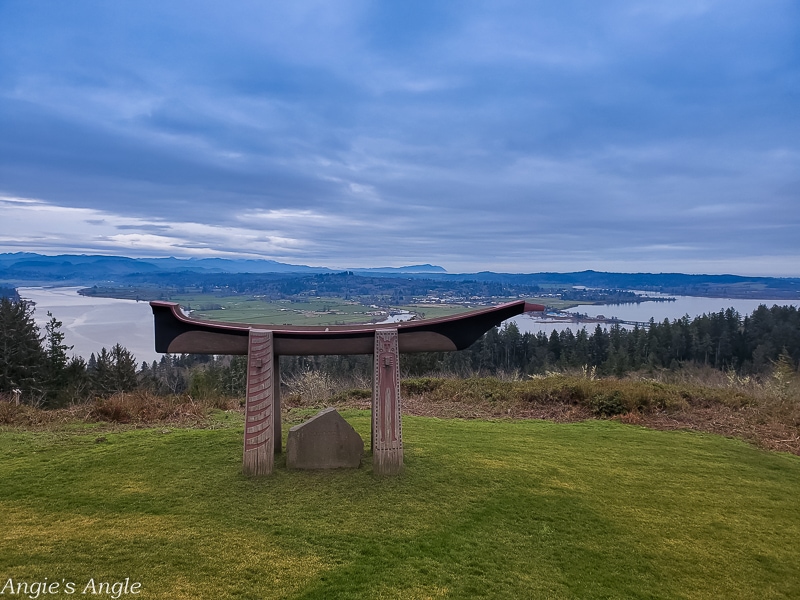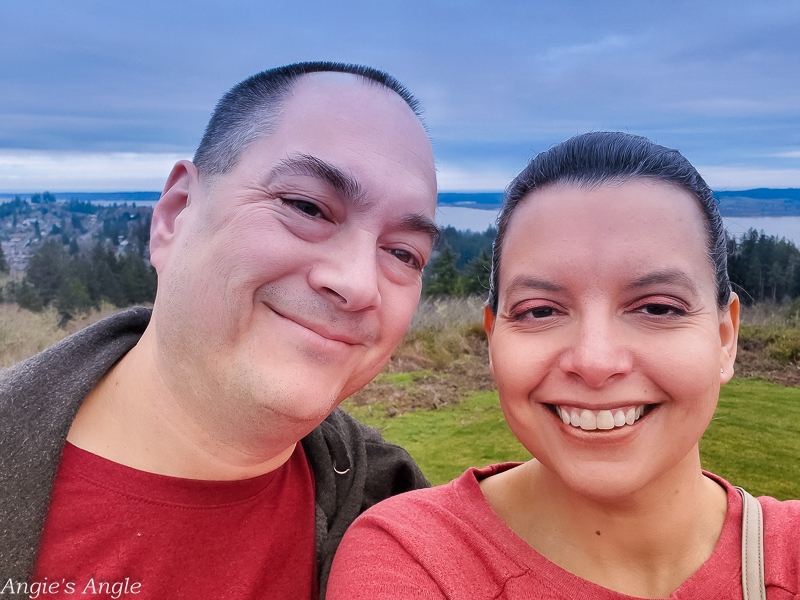 Beautiful, right? Inspiring.
We didn't walk up the column this day as we didn't really feel like it and Roxy wasn't allowed anyway.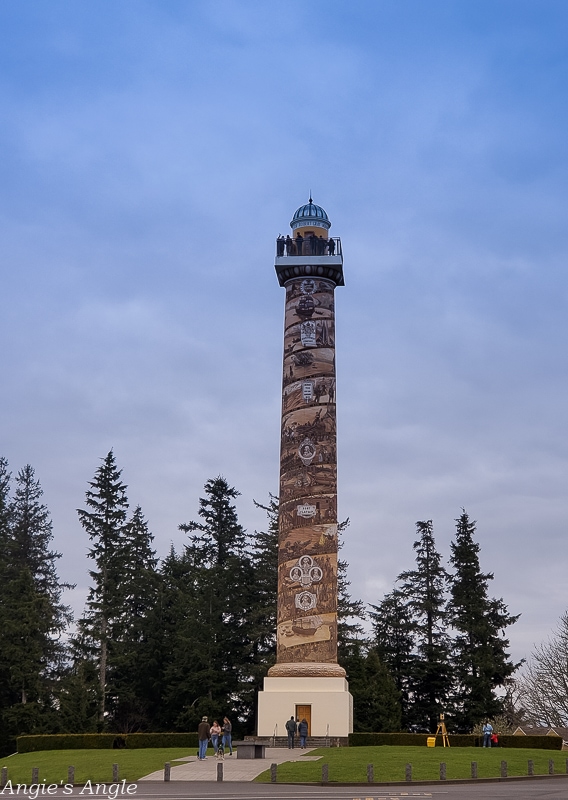 Lunch – South Jetty
After leaving the Astoria Column area, we decided we were both getting quite hungry, so a spot for lunch was needed. We talked about heading over to Long Beach area and going to North Jetty Brewery but found out they only had the taco truck. Instead, we ended up at South Jetty Dining Room and Bar in Hammond, Oregon. Which ended up being tasty enough and the inside was so pretty. The tables are made of wrecked ships and were gorgeous. The history that the tables could tell was amazing.
It was pretty empty being a Monday. We enjoyed our lunch and a drink each talking a bit about what we'd like to do after we eat. We each took small turns at the slot machines before heading back to the car and our Roxy girl for our final adventure.
Fort Stevens – Battery Russell
I was so excited when I realized that we were really close to Battery Russell. I am fantasized about these batteries around the Northwest. Built and used during WWII, it provided defense from incoming attacks from the sea. Made from cement and build underground and into hills, it's a mystery to me how they even thought to make such a thing. Even how they ended up building them.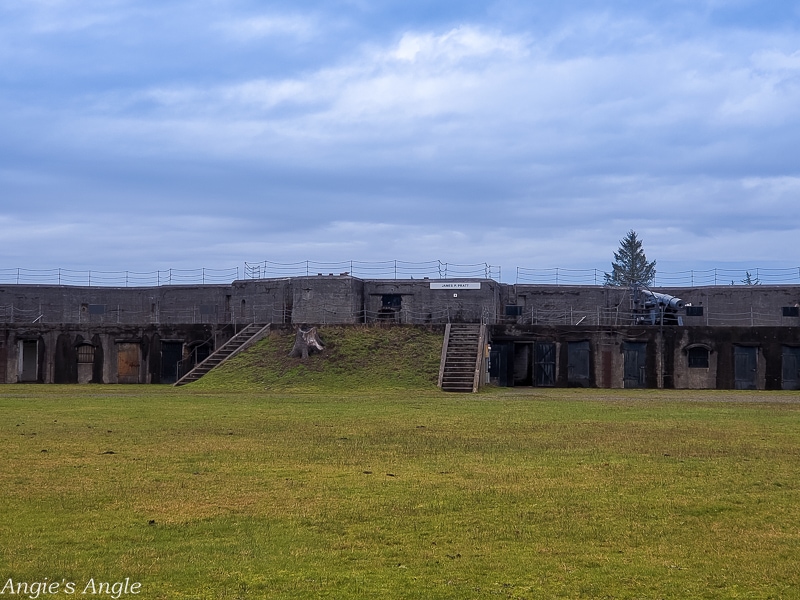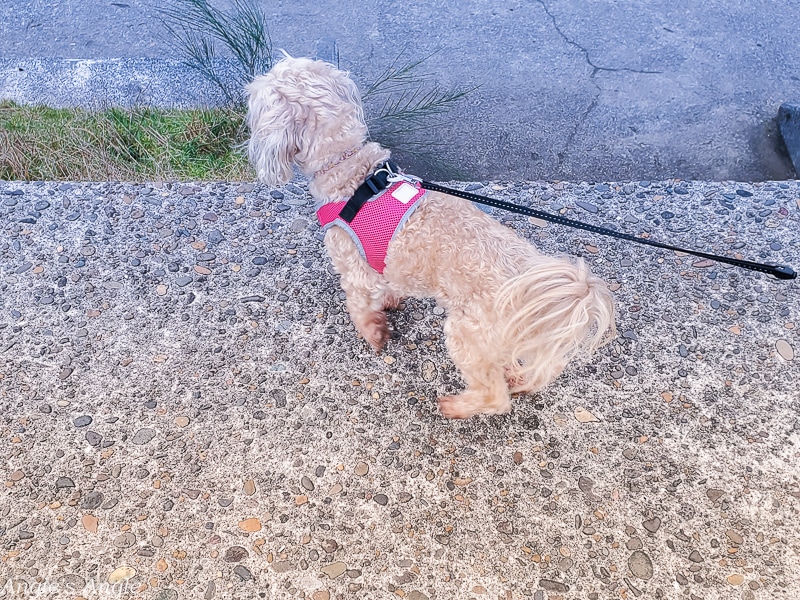 I am in awe each time we explore one, even one has before. There is always something new to see and take in. A lot of Battery Russell is now closed up for exploring but some of it is still open to explore and imagine how things used to be. This is actually one of nine batteries at Fort Stevens itself. There is so much more to explore at Fort Stevens that we have to go back soon!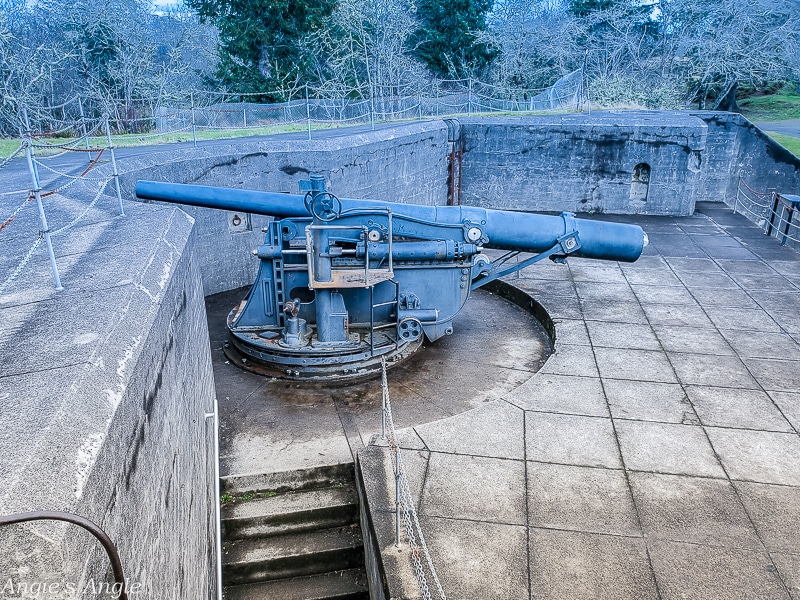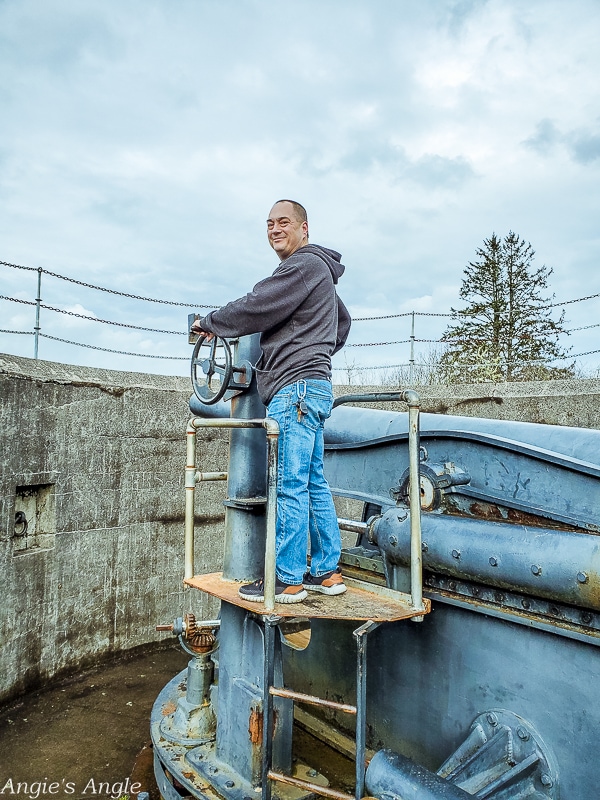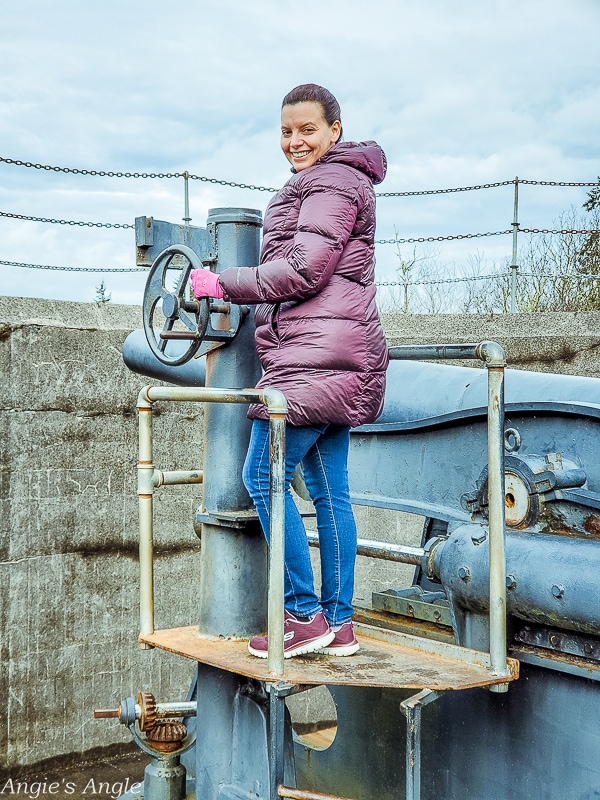 We didn't walk around as much as we normally have since we still had to drive home and it was pretty windy out. But we had a great time exploring the area and the battery.
While that was the end of our time for our quick overnight to Astoria but we made the most if I think. And only the start of our 2020 adventures.
Together we'll share many!
Your turn…
What some of your favorite places in Astoria, Oregon? Ever been to Battery Russell? Is there somewhere you want us to explore next time we are in the area? Let us know in the comments below!