The major hubbub that comes with the Holidays, basically all November and December, is finally past us. And with that all out of the way, it's time to recharge those batteries. Which is why it's the perfect time for an Mt Adams Getaway House stay.
We were hosted to stay one evening with Getaway House of Mt. Adams. However, all thoughts and photos are 100% our own.
We had the pleasure of staying with the Getaway House at Mt. Adams back in December for one quick overnighter. It was an enjoyable experience and I think you all need to experience it. There is something so settling about completely disconnecting from the world and allowing yourself to recharge your own batteries. Now that all the stress and fun of the Holidays are behind us, wouldn't it be grand to go and recharge yourself?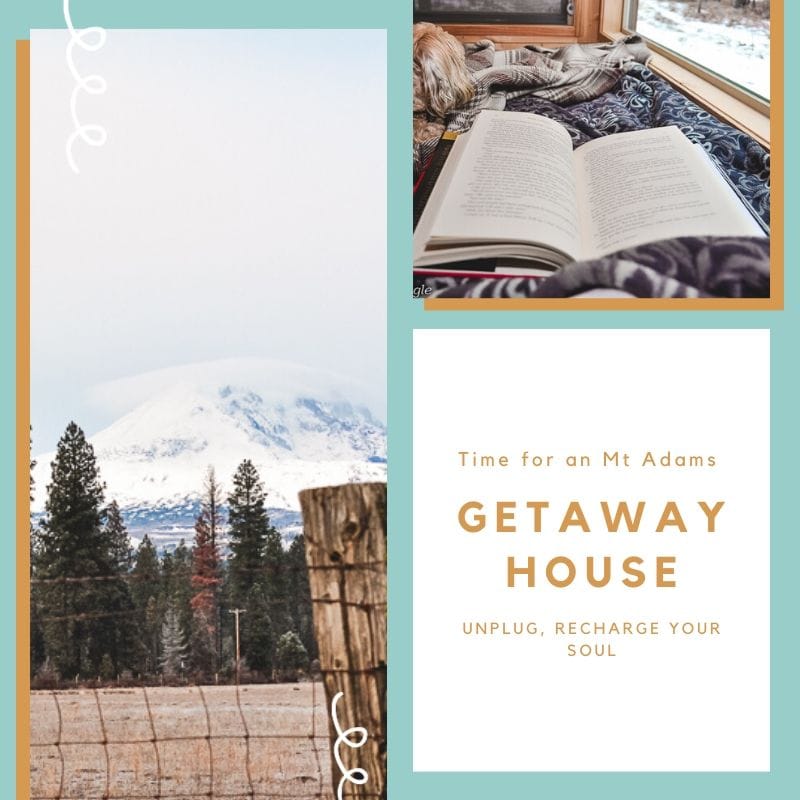 Why Now Is the Perfect Time for an Mt Adams Getaway House
Our quick overnighter with the getaway house was back in December right in the middle of the Holiday rush. I am so glad we were able to squeeze in a stay even during this time of year. It was relaxing and recharging.
Nicely, the Mt. Adams Getaway House is only about two hours from the Portland area. Making it an easy escape without having to go somewhere long-distance.
Sadly we didn't arrive until it was dusk, therefore, we didn't get much daylight with this trip. Plus it was so super cold the idea of starting a fire didn't sound appealing either. Because of that we just gathered in the house, ours was named Laura, and settled in until we left the next morning.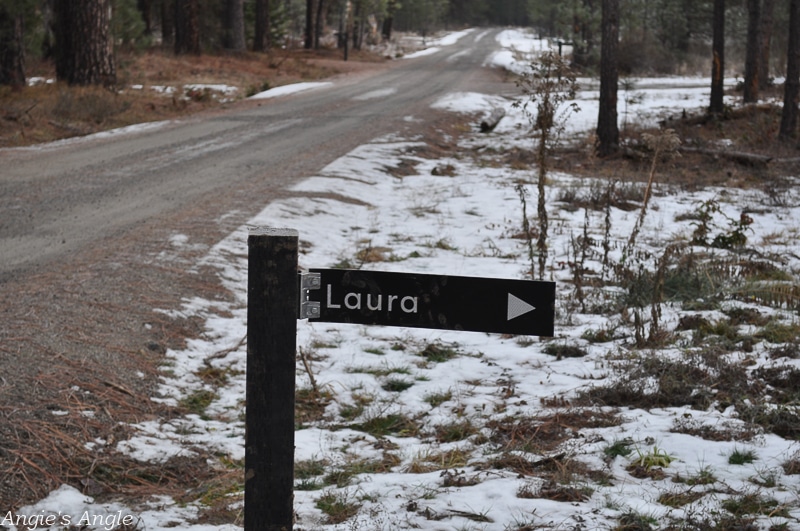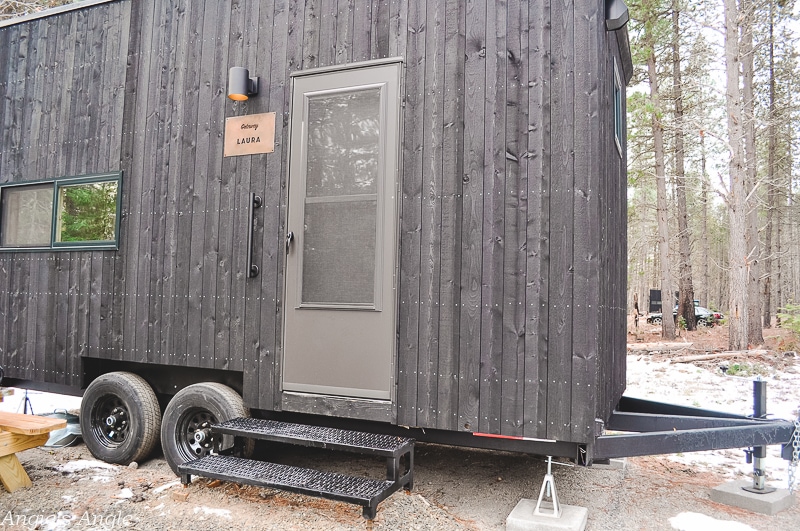 Laura was very nicely stocked to make us comfortable and enjoy our evening. With a nice cozy bed, a table, pots and pans, a kettle, sink, bathroom, heat!, cards with dice, a few books, a little radio, utensils, and other little odds and ends. It's nice to be able to get away and not have to bring as much as you would as normal camping. Or even go when it's cold like it was for us.
Jason, Roxy, and I had a little photo shoot in our Christmas jammies. With the big window closed because I am weird and don't like windows open once it gets dark, no matter where we are.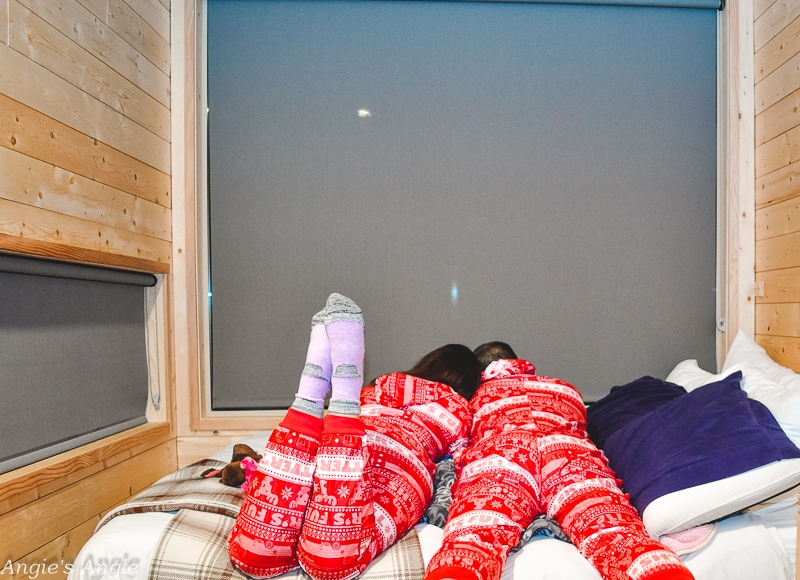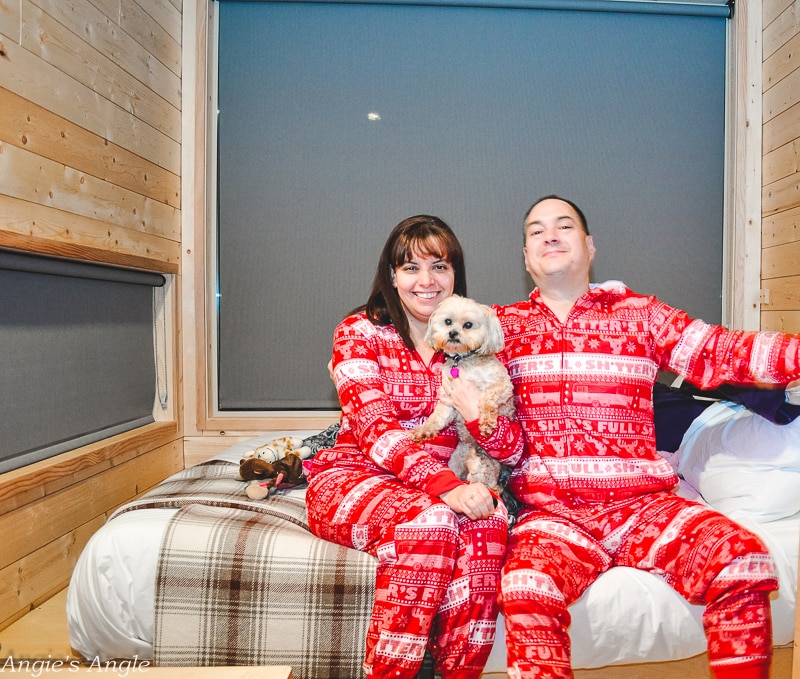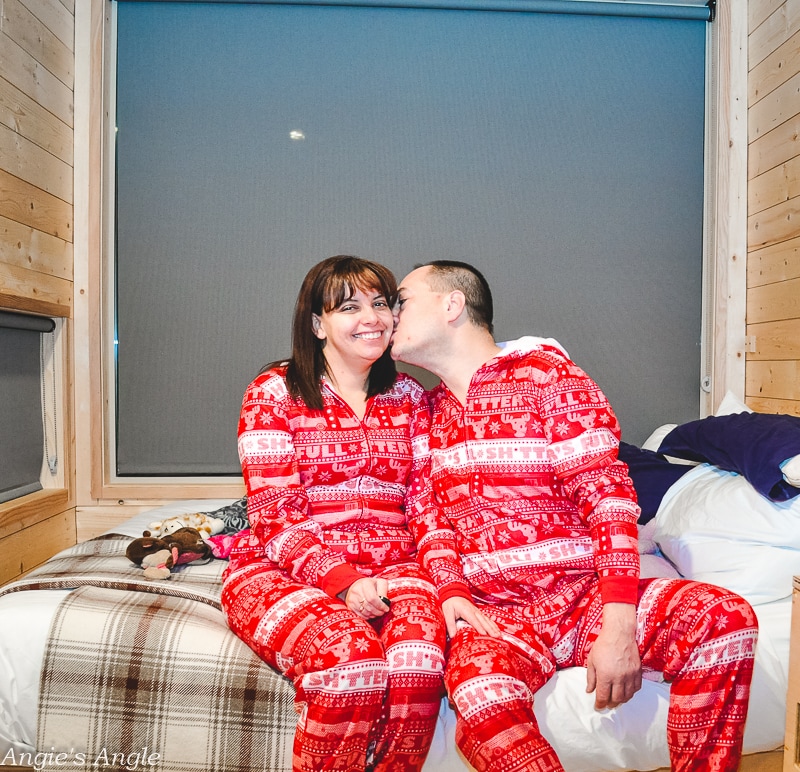 Then we played a little MoMo's Shangai Rummy. Ate a dinner of chili dogs (Yum!) and ending the evening with Sequence Dice. All before crawling into the cozy bed to read some before we went to sleep.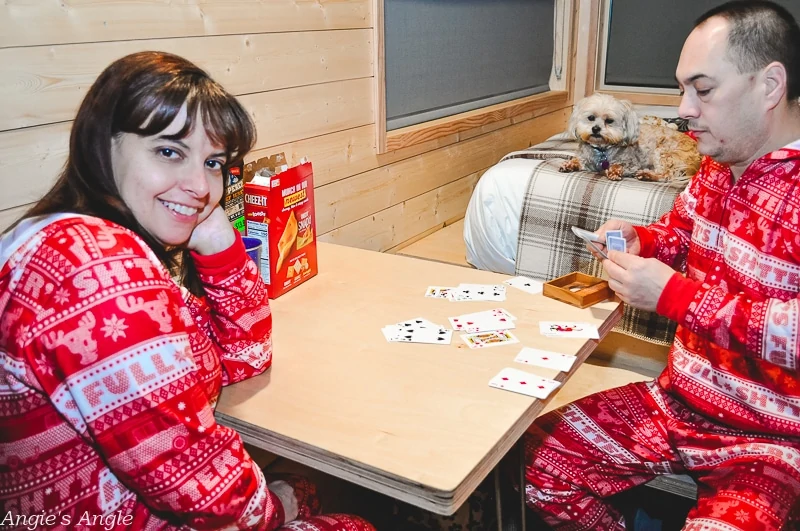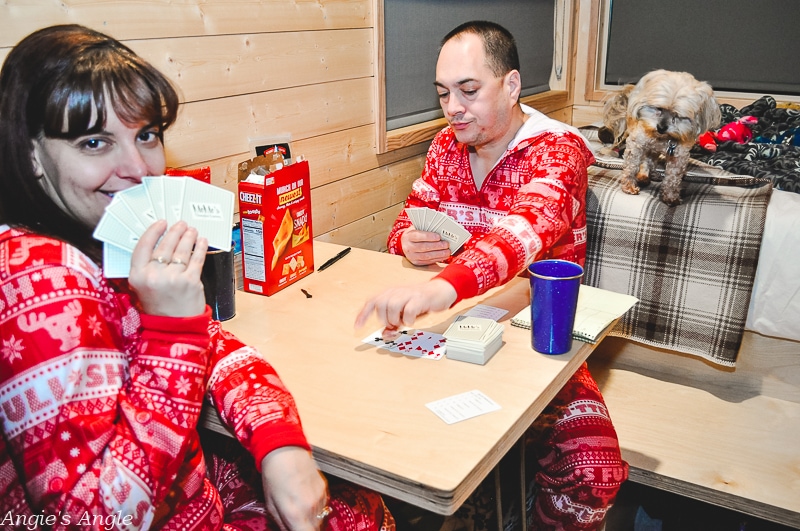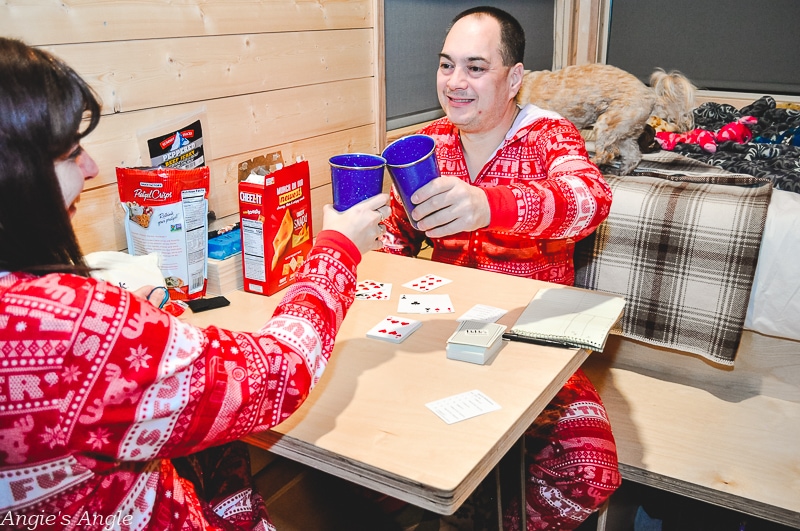 It was a pleasant relaxing evening I'd say.
The Morning…
When on vacations, Roxy likes to get up super duper early. Why this is we are not exactly sure. The excitement of being somewhere new and a full day of mystery adventure, maybe? She did sleep a little later than a normal vacation morning but still had us up earlier than I'd get up normally.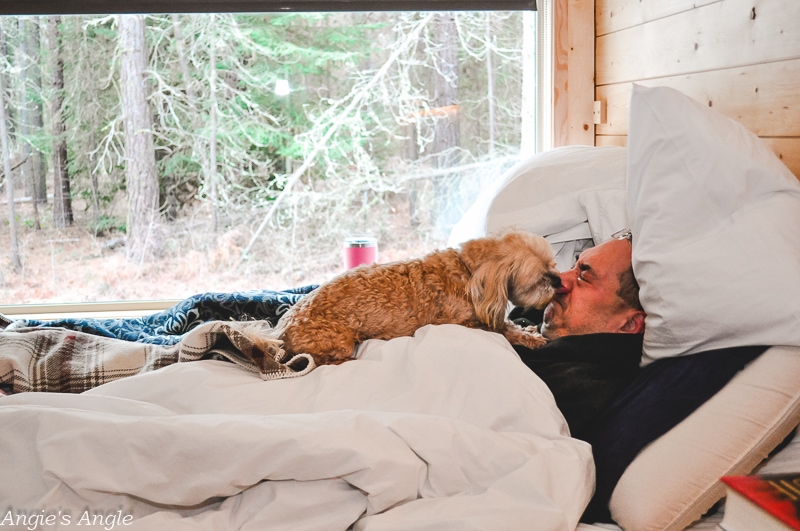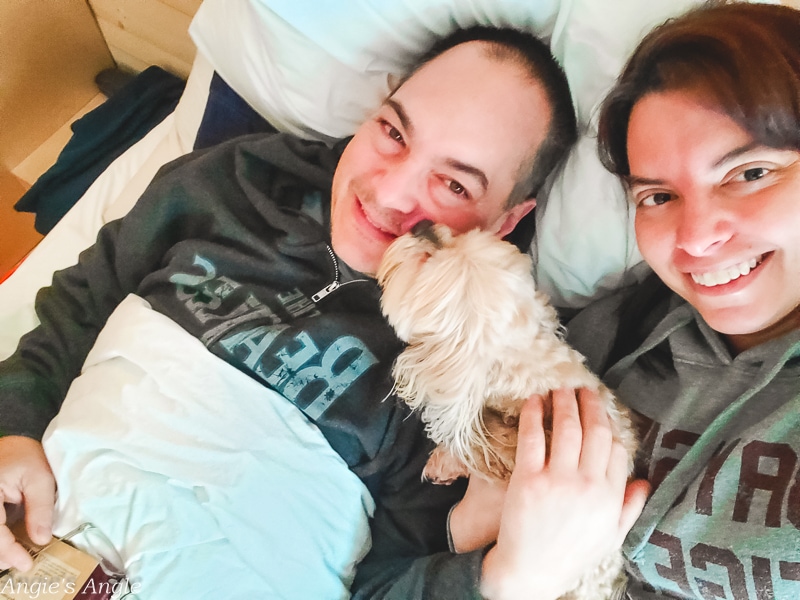 We lounged in bed and slowly started opening up the blind on the window little by little as it got more daylight out. Jason made us up a filling breakfast and we lounged and read our books. While I also tried to get some fun photos.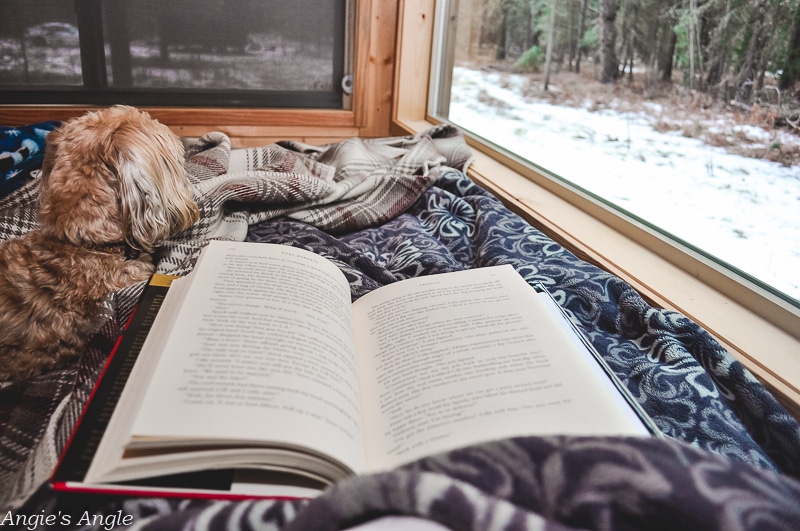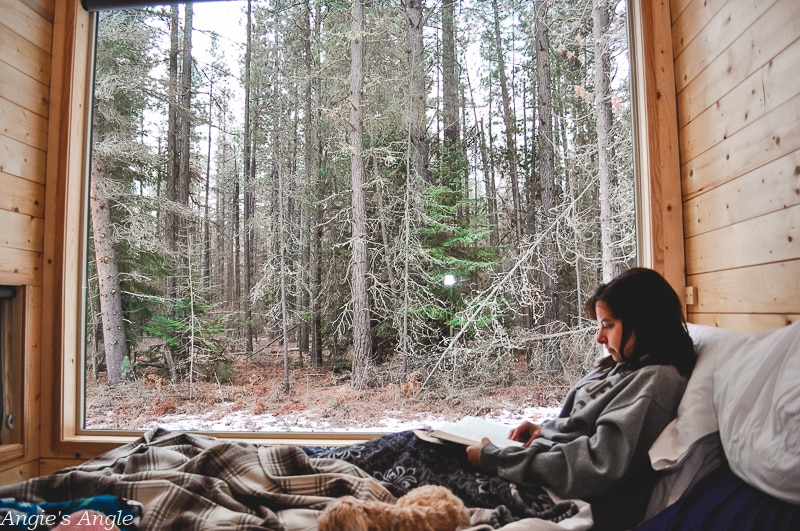 I could have happily stayed cozied up in that bed all day watching the woods and reading my book. Gotta love big old picture windows!
FYI – don't leave your dog inside while you go outside to try and get photos of her from outside in the big picture window. She will yell and scream at you that she needs to be outside too.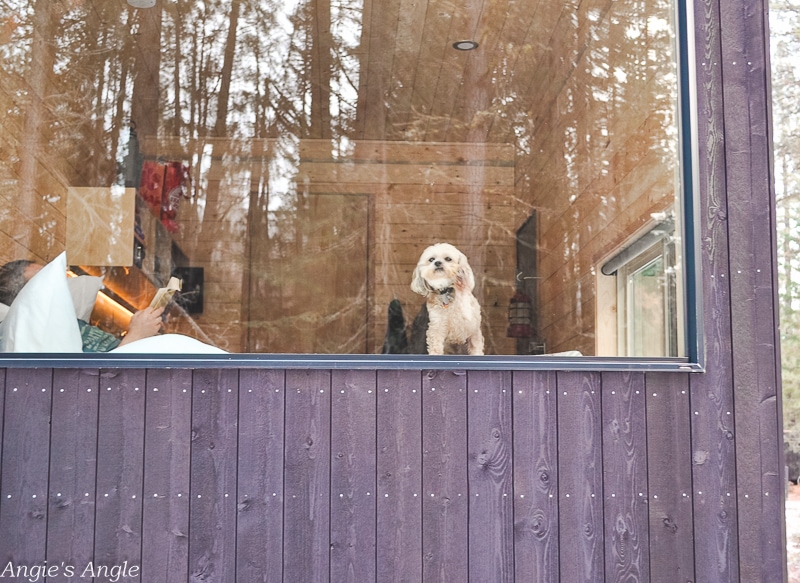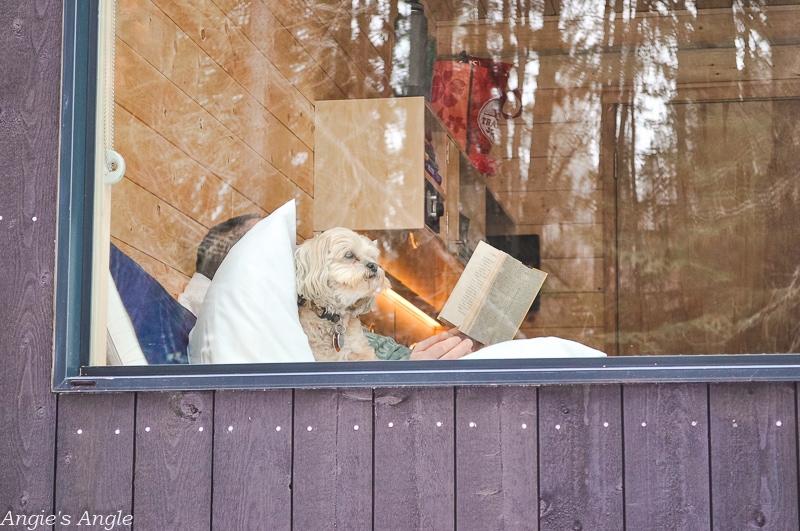 The morning got away from us and we ended up leaving the getaway house a little after checkout time. Especially because I wanted to get a full video again of the getaway house before we left in full daylight. I felt bad but it ended up being okay I think.
Reasons Now Is the Time for an Mt Adams Getaway House
We enjoyed our stay though and now for the reasons, it's your time for an Mt Adams Getaway House experience of your own…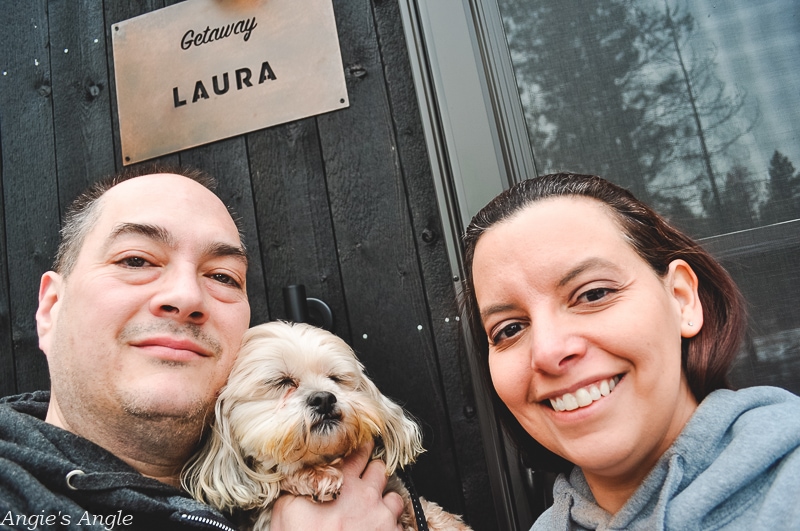 De-stress – as I mentioned in the beginning. Holidays can stress us all out and make us overtaxed. Those are all behind us and it's time to let your body heal from all that.
Weather – yes its cold and maybe even snowy, but that means it's the perfect time to stay nice and cozy in the Getaway House and watch the world from inside the cozy warm house.
The Blues – even if we love the Holidays and even a new year. All that can leave us with a little of the winter blues. So what a better way to cure that than heading to a little getaway at the Getaway House?
Now, what are you waiting for? Book yourself a stay.
We hope to be able to go back in a different season and spend more than one night so we can give you more of an experience around the area too.