Roxy and I have a pretty set morning routine that we both truly enjoy. Now our morning routine only really sticks during the week while Jason is at work. The weekends are a little less routine but not by a lot. I thought it would be enjoyable to let you all in on how Roxy and I treat ourselves in the mornings. What our morning routine looks like? How are we treating ourselves?
This post is sponsored by WellPet but the content and opinions expressed here are my own.
I should note that our routine does slightly change depending on the weather outside. This time around we'll be talking about the warmer season, where we move to the front porch for our treats.
It should also be noted that Roxy and I are both creatures of habits and love our routines. If I don't follow through on our regular routine, Roxy gives me the stink eye and tries to make it happen.
Now without further ado…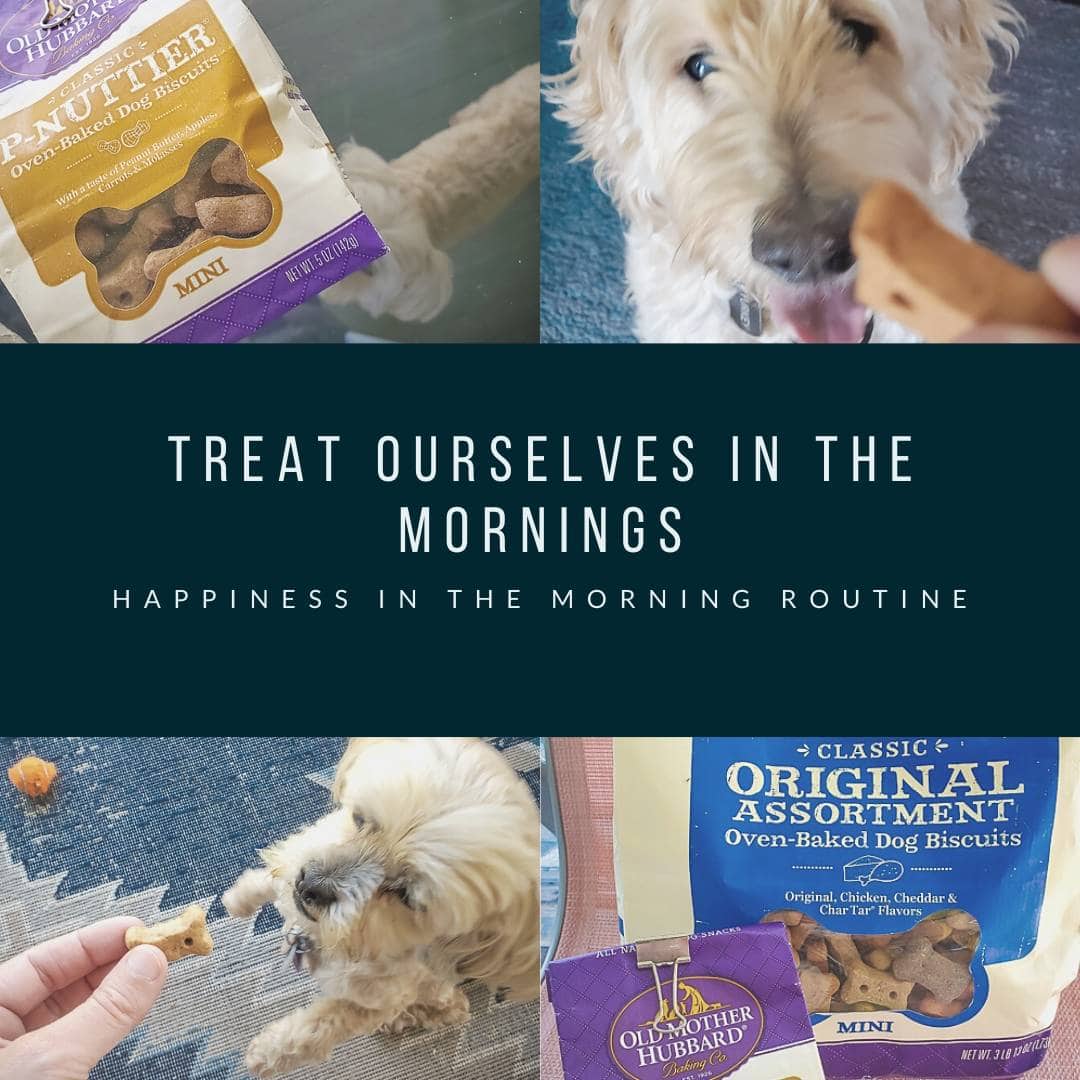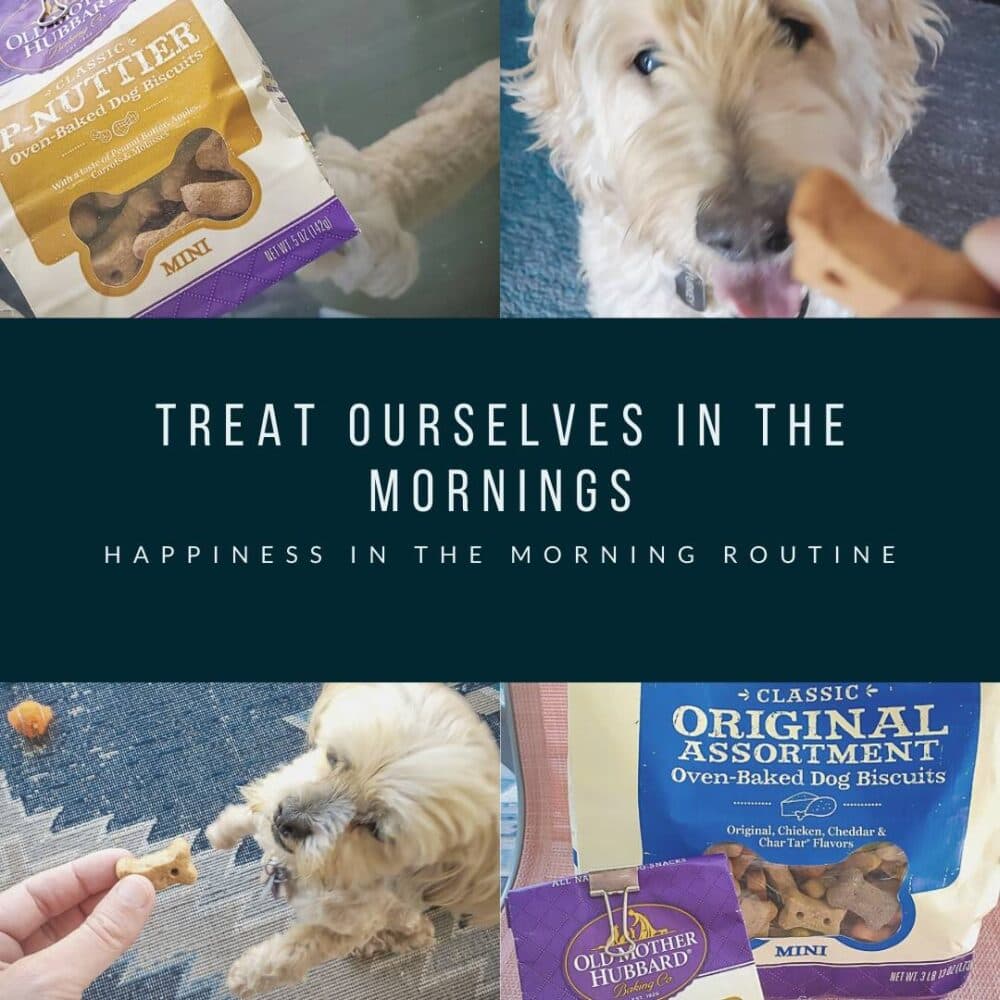 How Roxy and I Treat Ourselves in the Mornings
Roxy and I get up after Jason leaves for work. So it's just us, stretching to make our routine happen during the week. Waking up between 8:30 and 9:30 am usually – sometimes I can go downstairs before taking Roxy down (she won't go down the stairs) and often anymore I need to take her down with me first thing. She is like, sunny day Momma! And she is itching to get out there and do it.
After we do our inside things, we get ready to head outside. Roxy can barely contain her excitement. I slowly take outside the things we enjoy to treat ourselves for the next hour of the morning (or so).
The last thing I take out is the thing that Roxy gets most excited over and the treating is about to start…
How Roxy Treats Herself in the Mornings
Hi guys, Roxy here while I tell you how my mornings go with Mommy.
She grabs my magical outside dish and I know that the treating is about to happen. I push her along as she takes my dish outside to the porch. Barely able to contain excitement because GUYS…we are going outside and getting some treats! Can you blame me?? TREATS!!!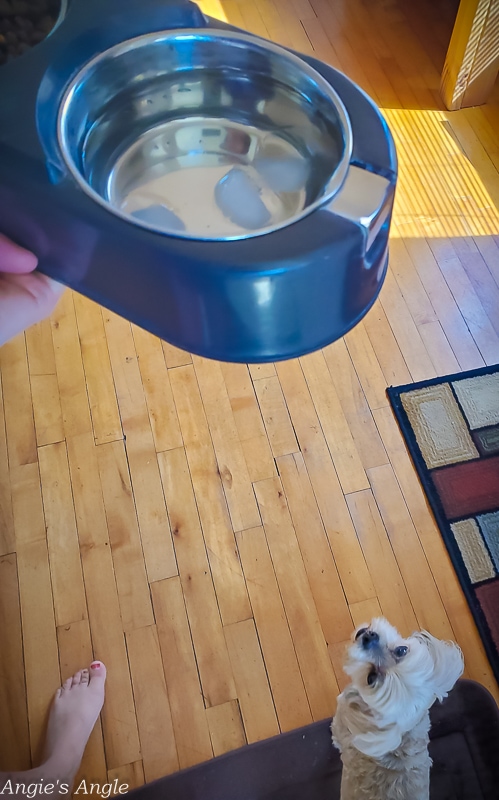 Oh and don't worry, I already threw my ball outside so I had that when the treat happening. Did you really enjoy your treats if you didn't have your ball with you? I don't think so!
Lately, Mommy has been giving me these nummy biscuits by Old Mother Hubbard. Which has been around since 1926, based in Massachusetts – but now available at Walmart. Yay! They are so good.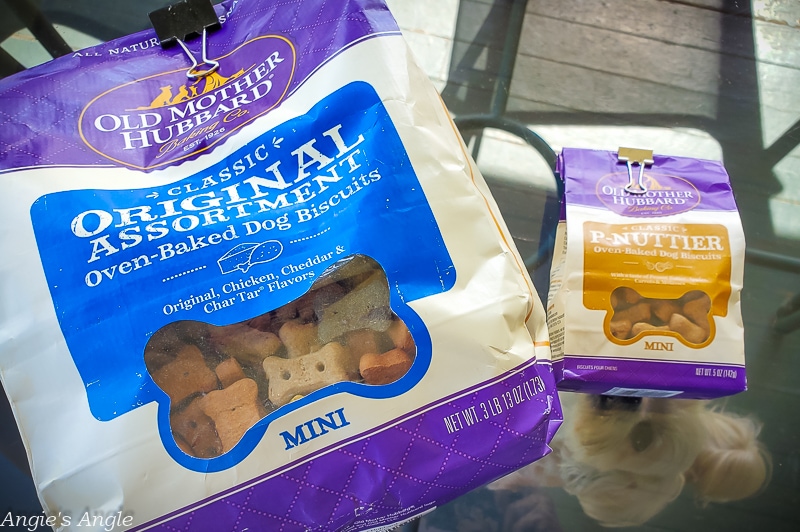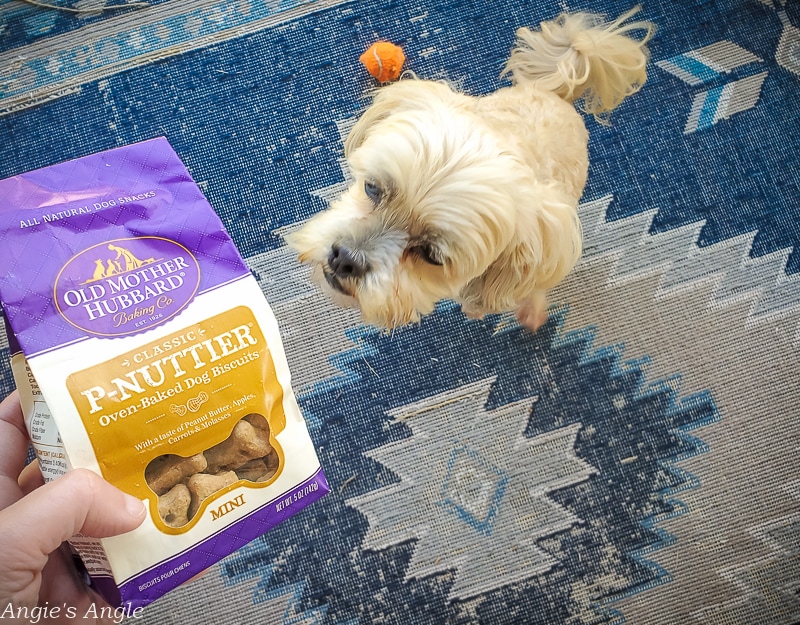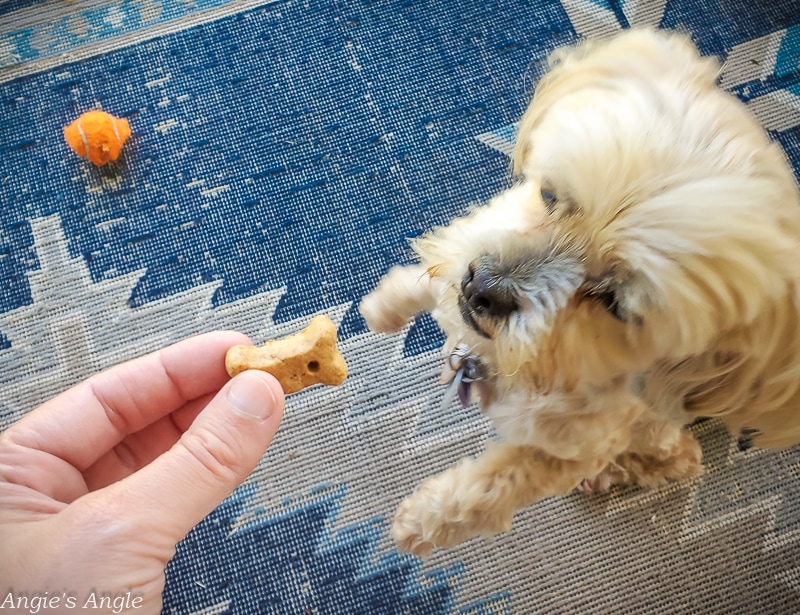 My favorite is the P-Nuttier Dog Biscuits in mini – after all, I am only a 9 lb dog with a small mouth. I need those little tiny treats. Num Num. We also have the Original assortment dog biscuits, which are just fine and dandy but nothing like those p-nuttier ones…okay must stop, it's making me all sorts of hungry for them and it's not my morning treat time as I paw this.
Okay, Mommy has placed my dish down and now it's time for those yummy treats. Give me, give me, Mommy – NOW. Please!!
Excuse me, it's time to eat while Mommy shares her morning treat time!
How Angie Treats Herself in the Mornings
Roxy is happily chowing down on her treats, my treating can start. Roxy is not a morning eater, so we have found giving her some treats in the morning at least helps get her some more food in her belly and sometimes will eat hard food too while she seeks out the treats. Yay, Mom win.
Now…we shall settle into my chair on the porch. Putting my legs up on the chair across of me. Often needing a blanket over me cause it can get chilly on the porch.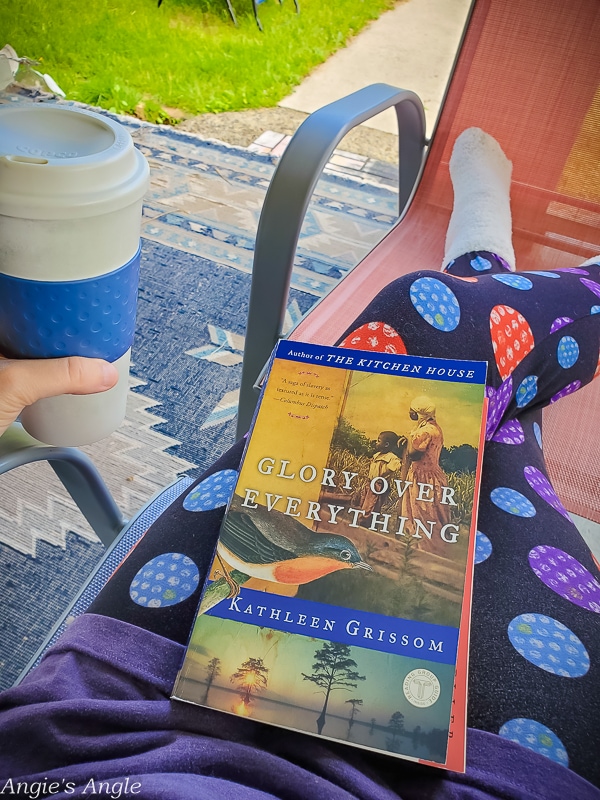 Looking at my phone a bit, then taking a nice long sip of my coffee & diving into my current book.
Oh the simple heaven of making sure you are treating yourself. A good book, the smell of the outdoors, and nice hot coffee make the perfect way to treat oneself in the morning before the rest of the day goes on.
Buying & Sharing Old Mother Hubbard Dog Treats
Don't forget to treat yourself & your dog. This is how we treat ourselves in the mornings but you can treat any time. And don't forget as well that sharing is also caring. Make sure to share with other puppies in your life, as we did.
Turkey loved the Old Mother Hubbard treats in the original and was such a good boy sitting and waiting.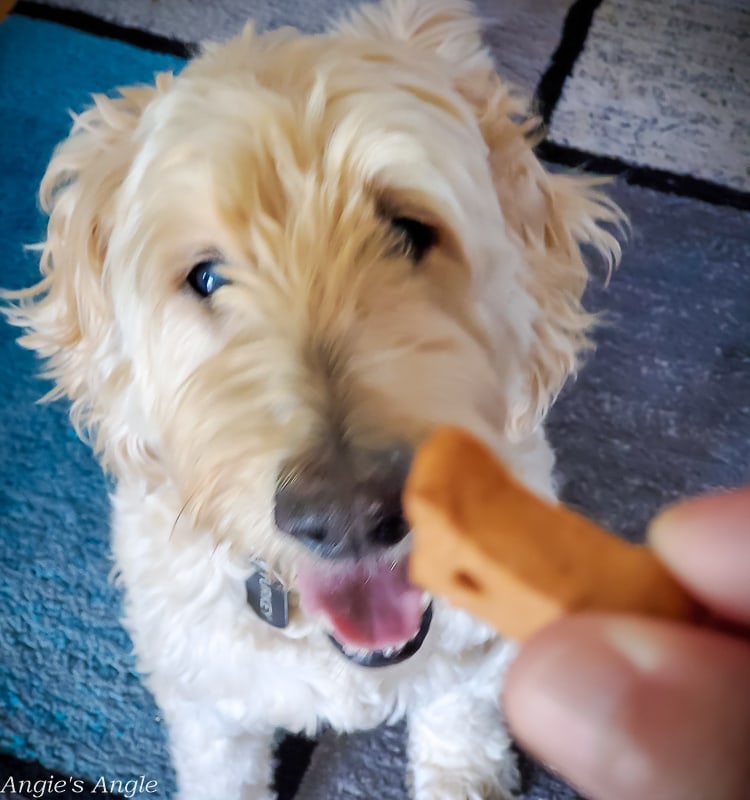 Buy your own for your dog today, right now, at Walmart. The ones we showcased today (the p-nuttier & original) or other flavor varieties of extra tasty & p-nuttier n' nanners! Just click and it goes right into your cart – couldn't be easier.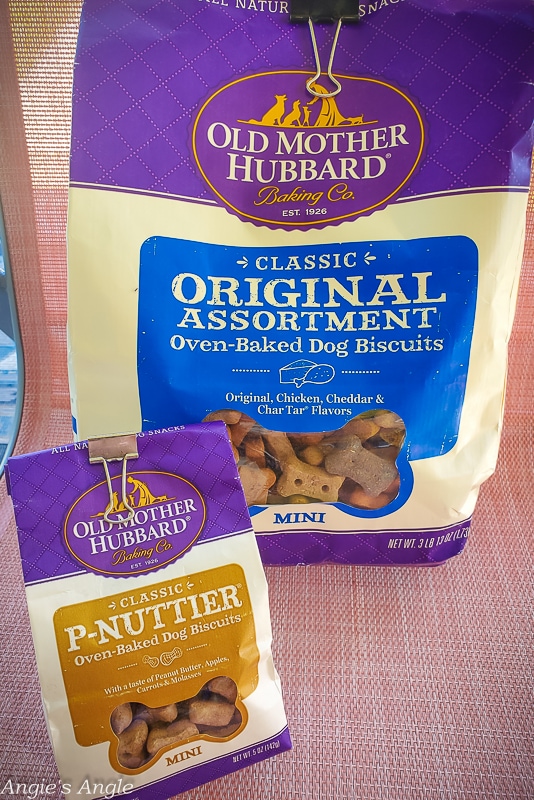 Enjoy the mornings & everyday!