Roxy travels with us almost everywhere we go. She can be pretty picky about how she eats, so its usually just easier to take her with us. Plus, we all know Roxy loves to go on adventures and is the best adventure buddy. Roxy has had the same travel bag since we got her, and she knows her bag. Which is what got me to thinking why not share the items we include in a dogs travel bag? Plus, a few different packs to choose from to start.
Post below may contain affiliate links, which I may receive a kickback if you order through them, at no extra cost to you.
If you have a dog in the family, likely you enjoy taking them on your trips and including them on vacations. They are family, after all, right? Why not make it a bit easier by having a bag that is just theirs and having a few things stored in that bag to make it even better come packing and leaving time.
Idea sprouted!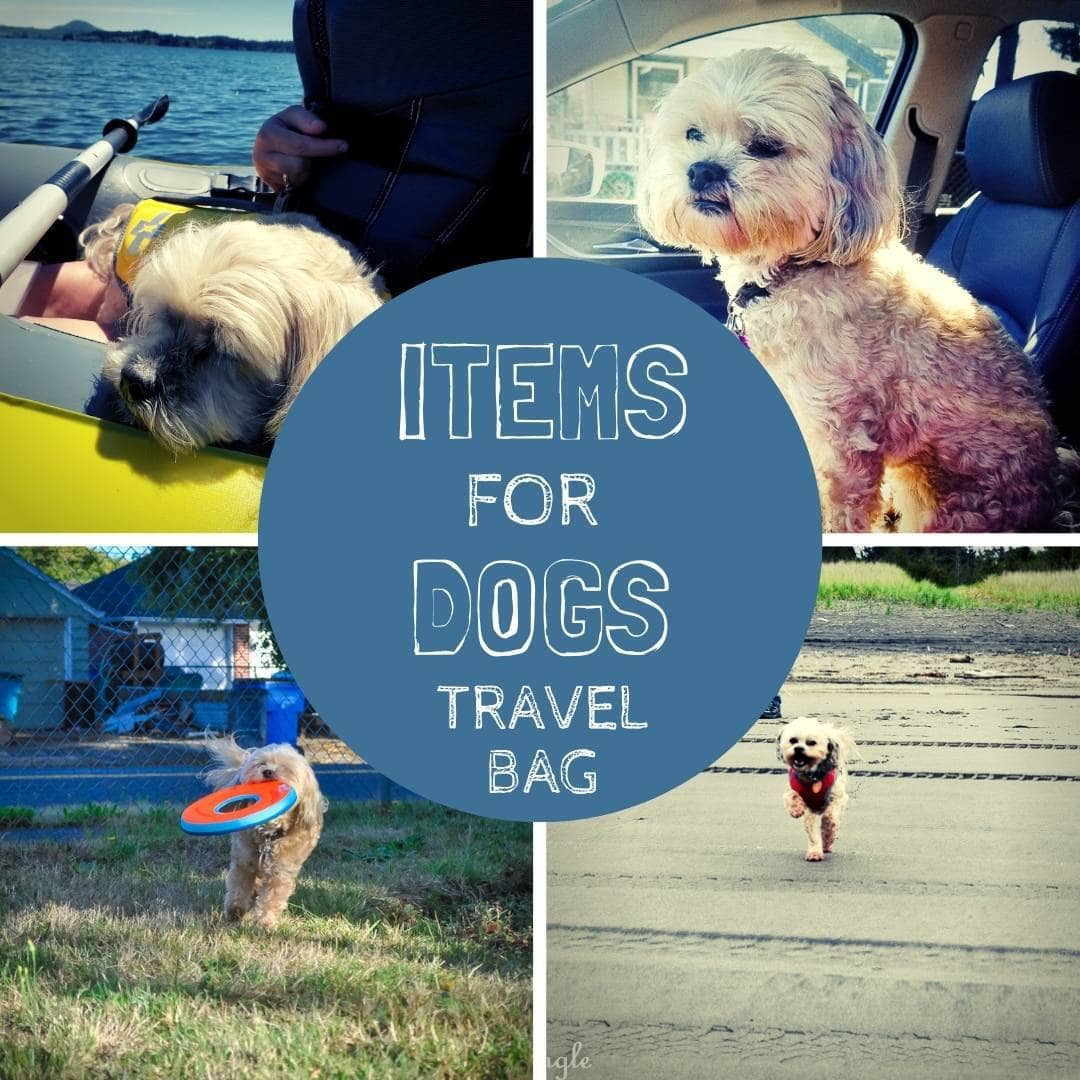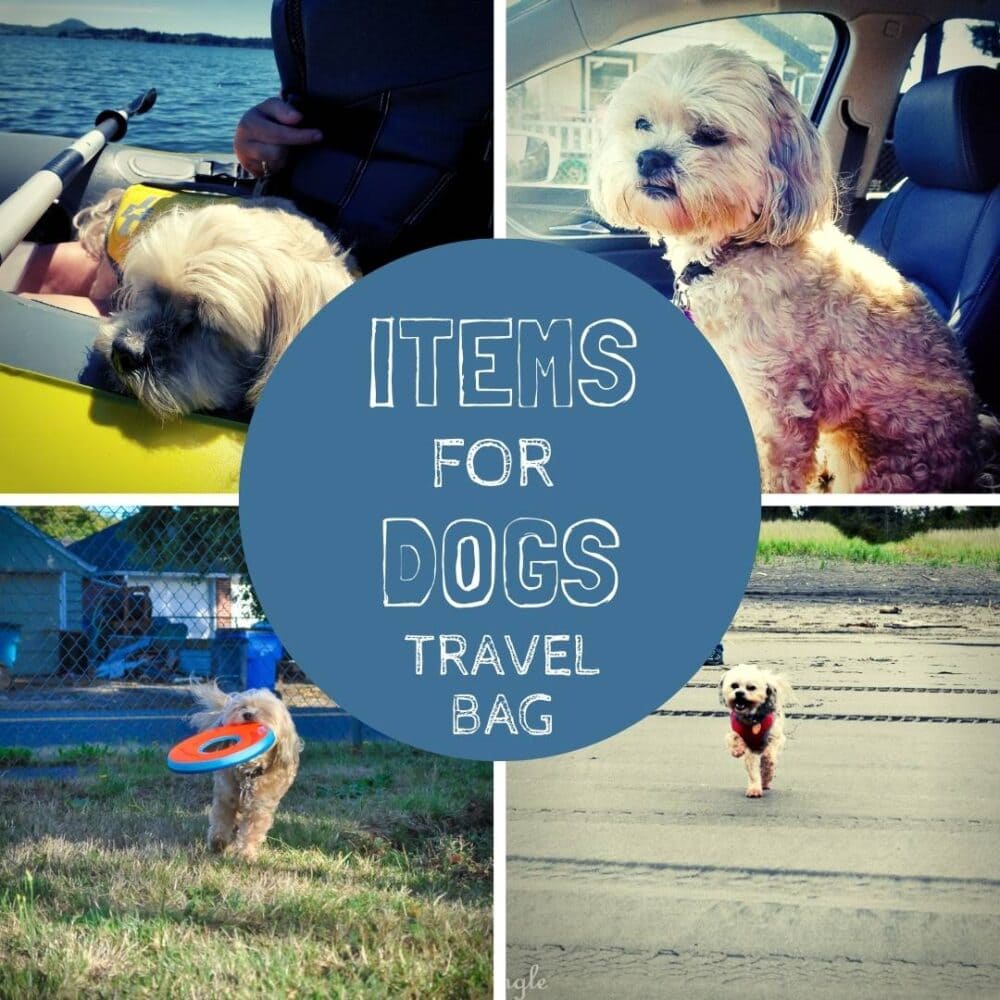 Dogs Travel Bag List
A good dog bag
As I said one of the most important steps of getting a dog travel bag together, is of course the bag. You'll dog will start to realize that is their bag and seeing their bag will let them know they are coming along on the adventure.
Pictured below is the one Roxy has since we got her, and she 100% knows it's hers. It could be a bit bigger, but I can't change it now since she has had it for eight years. Our first dog, Rascal, also had a bag he knew was his. See the theme there? An essential step in getting that personalized bag that is their very own.
Other ideas for perfect dog bags are below.
A Food and Water Dish
Some bags come with the dog dishes already, which is excellent. But just in case yours doesn't, you'll want to grab some. For Roxy, we have one regular dog dish that has the stand and two bowls. Plus, a couple of those collapsing bowls. All of which stay in her bag, always ready to go.
The stand one we have is pictured below. It lays low enough to fit easily in the bag with all her other goodies.
In addition we keep two collapsing bowls in her bag for wet food and other times when the big dish just won't work for where we are staying.
A helpful tip we also keep one of these in each car. And often on the outside of my purse. Always in reach when we need them with ease because they collapse & have the carabiner on them.
Got to Have the Toys
Of course, the travel bag wouldn't be complete without some toys in there. For us, we throw them in before we go. The emergency bag that is always in the car still has toys in them, just in case. But for travel, I know she'll want her regular and loved toys.
Every dog will have different toys they'll want to take, of course. These are some of Roxy's though.
Kong Fetch Balls in small – which are hard to find and usually only at Target can I get them. They are different colors and just right for her little mouth. She doesn't tend to like the blue or green ones though.
She also has a monkey, elephant, and hippo she loves. Of course, Amazon doesn't have those right now. So grab toys your doggy will love!
Medicine, Shampoos, and Such
I like to keep a few different things in the dogs travel bag that we may need. These are just a few of ours.
Eye wash is high on my list because of us going to the beach often. That sand can get in their eyes and doing a quick eye wash helps so much.
Never know when they'll get a wound, bite, or just an itch.
Also, one of our favorite itch be gone products.
Soft Things
For the bag itself, you'll want to throw in a towel or two. Along with maybe a blanket that is all their own. You may travel with a dog bed as well, but Roxy doesn't for the most part.
Food and Treats
Last but of course, not least is food. Their regular food, of course, but don't forget those treats. These are a few of Roxy's favorite treats.
Don't forget!
Your dogs leash, maybe even an extra one, just in case. Along with poop bags, their harness, and life jacket if you are going somewhere with water. Oh! And please, don't forget your dog! hehe
Did I forget anything that should be included in your dog's travel bag? Listed something you didn't think of before?