It's no secret around here that I am a cider girl. I only go to breweries for the people, the food, and the hopeful cider that will be there. Cider "sightings" are sometimes hard to come by at regular breweries, and it makes me sad when we go, and there are no ciders on tap, which is why I was thrilled when Locust Cider and Brewing moved into downtown Vancouver right before the pandemic. Today I have the pleasure of sharing that it's time to head to Locust Cider.
I got an invite back in February through a DM on Instagram inviting me in to try Locust Cider and Brewing (and get a flatbread pizza on them!) in their new establishment in downtown Vancouver, Washington, that just opened. Our February was busy, and then Jason got sick, so we never got in until September. And boy, I am kicking myself for not getting in there sooner. They are good, so good, you guys. I am thrilled to be sharing all about them in today's Local Tuesday.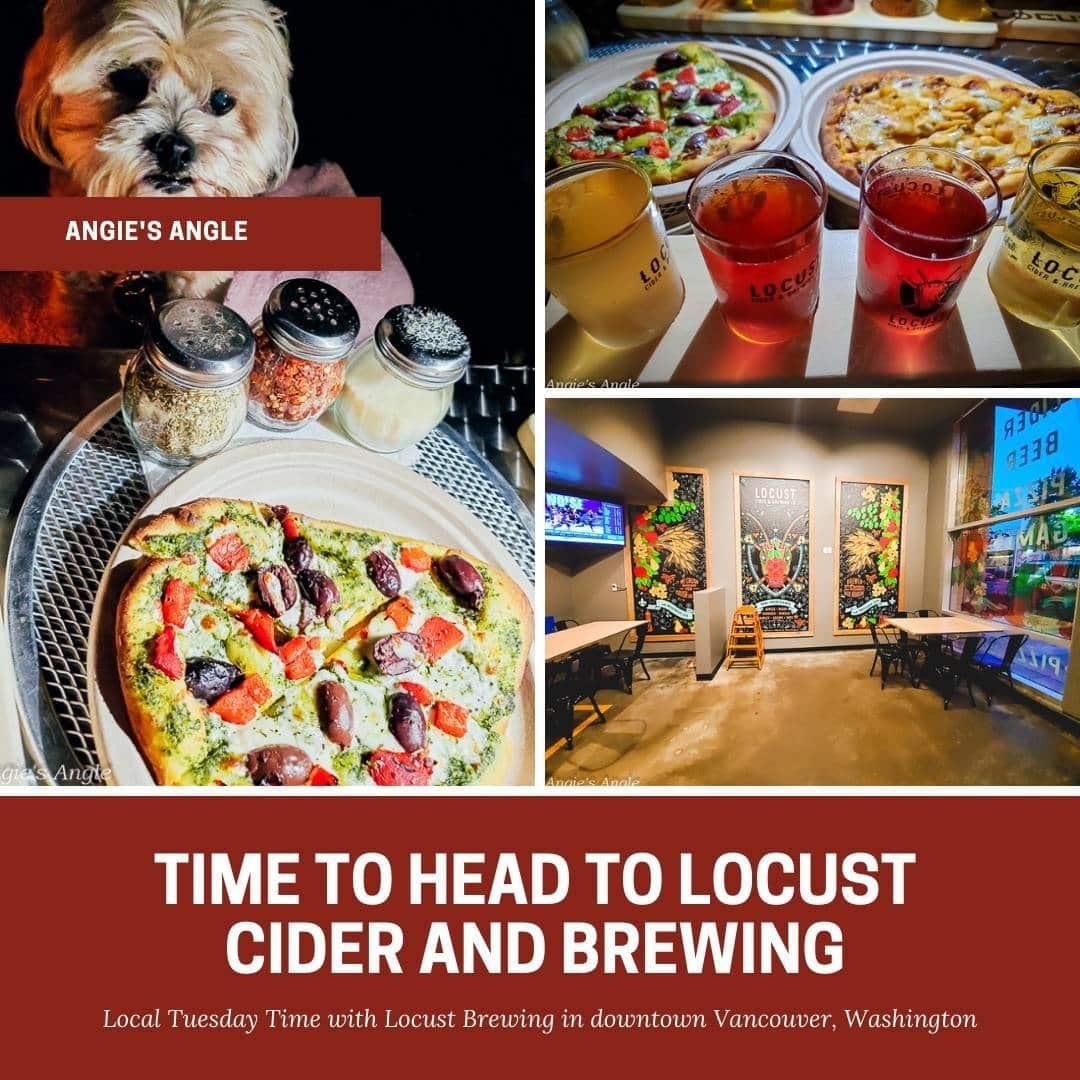 Time to Head to Locust Cider and Brewing
Guess what time it is? It's cider time! And I couldn't be more excited. We all know I love a good cider; it's no secret. So when we can go to a place that caters to something I personally enjoy with many flavor varieties, bonus points. Plus, they have a few beers on tap as well, so that if you are a beer lover, they'll have something for you too.
I had bought Locust cider at Costco before and enjoyed it greatly, so I knew I was going to love the cider itself when we finally ventured down to Locust. And I was 100% correct.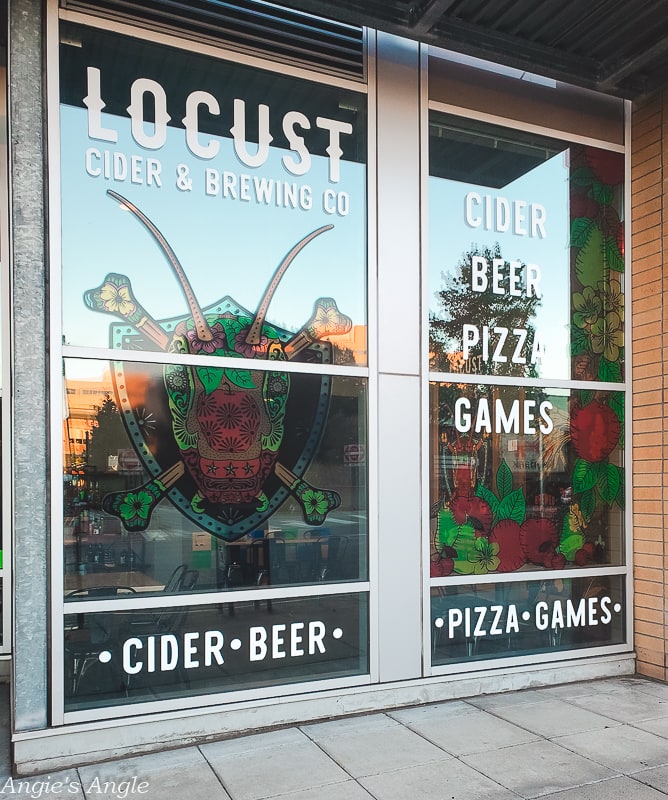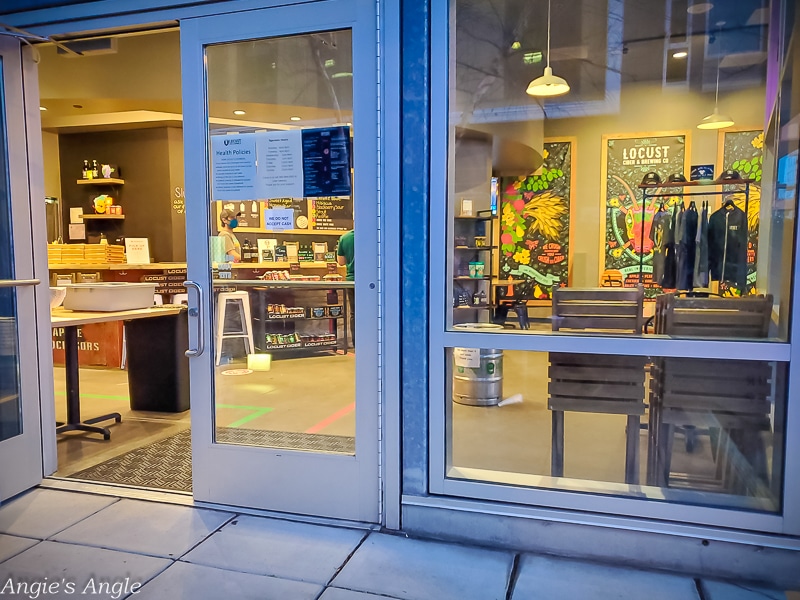 We've gone twice now and have enjoyed each visit greatly. Today I'll give you a bit about each visit and why I think you'll want to head to Locust Cider as soon as possible.
September 20th Visit
Late this Sunday evening, we were trying to figure out what we wanted to eat. The weather was still nice, and so we wanted to sit outside somewhere so Roxy could go too. We had talked earlier about going to Locust to redeem my free flatbread finally but were not that is where we'd end up. And we did. We left Roxy in the car first, but as soon as I turned and saw their outside sitting area had dog dishes, I knew she was welcome. I then told Jason to get her, and I went in to look at the menu.
Matt was working that evening. He was warm and welcoming and super friendly. I felt at ease and welcome as soon as we stepped inside. And even more so later, I braved going back inside to get a few more photos for this upcoming post. We know that kind of spotlight makes me nervous. I was even braver to say why I was taking the photos. Big moves for me.
Cider Choices
Were plenty, so refreshing. The first part of their board is the regular core ciders that they always have on tap. Another part is their seasonal ones that come and go. And the last few are the few craft beers they have on tap.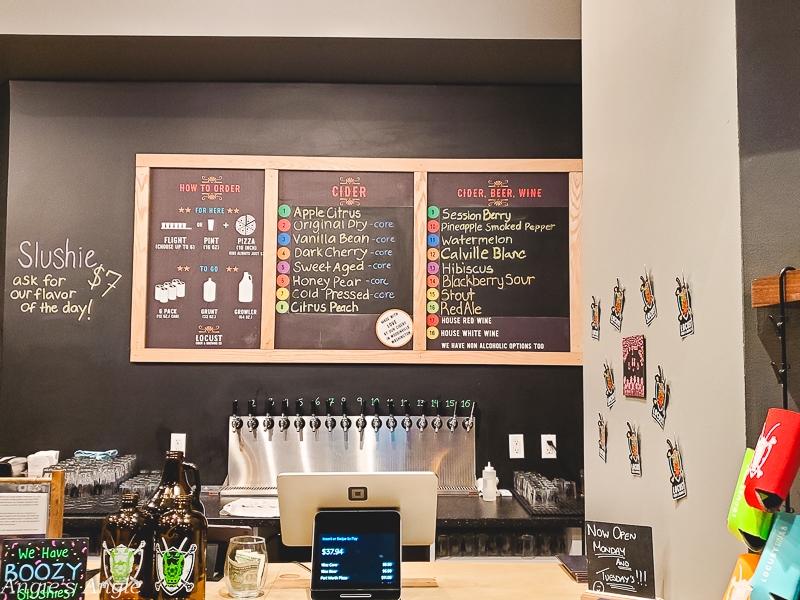 Jason and I opted to have a pint each. I don't recall what we got, but they were both reddish in color. And both were super tasty, as expected.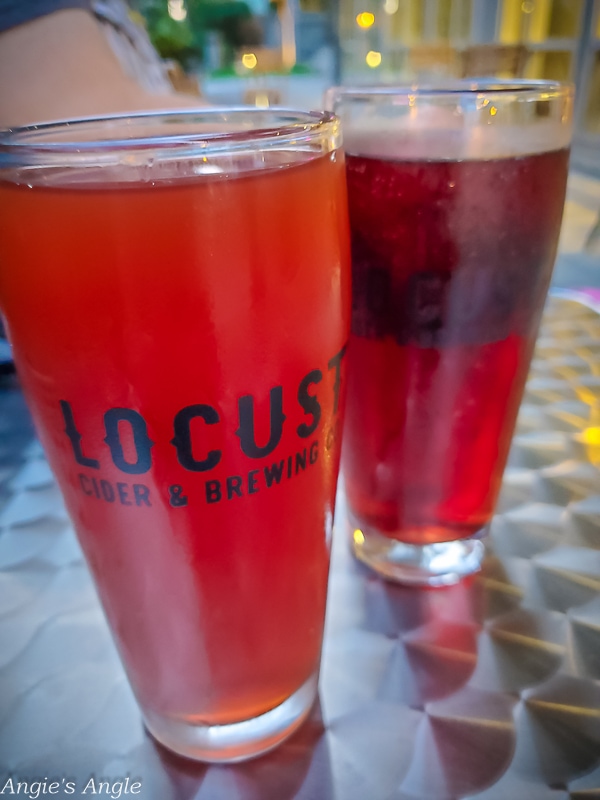 Flatbreads
Now let's talk a bit about their flatbreads. They are not, at all, your average pizza toppings. Some will likely sound very odd as pizza toppings but trust them; they are delicious.
This time around, I opted, for my free flatbread, for the Colorado Frito Pie. The Colorado Frito Pie is made by putting Fritos on beef and bison chili topped with Tillamook cheddar cheese on a 10″ flatbread. Delicious, seriously. My favorite.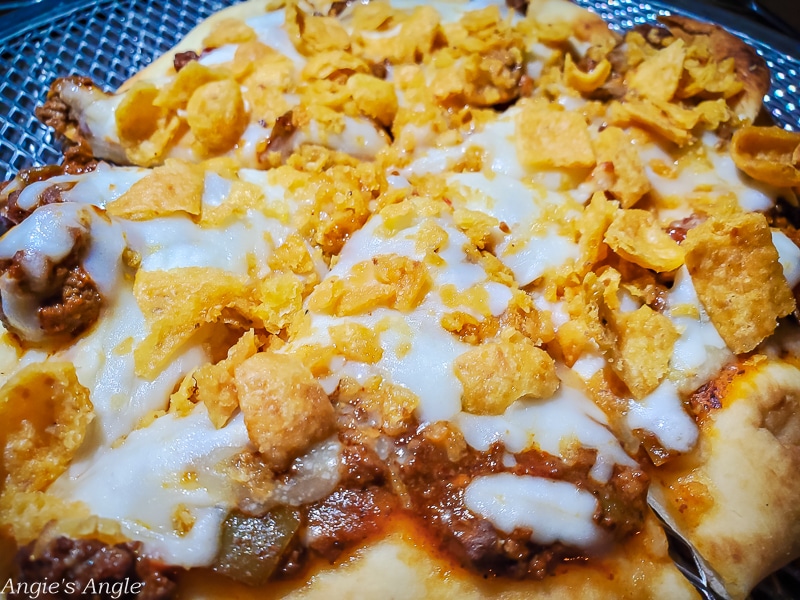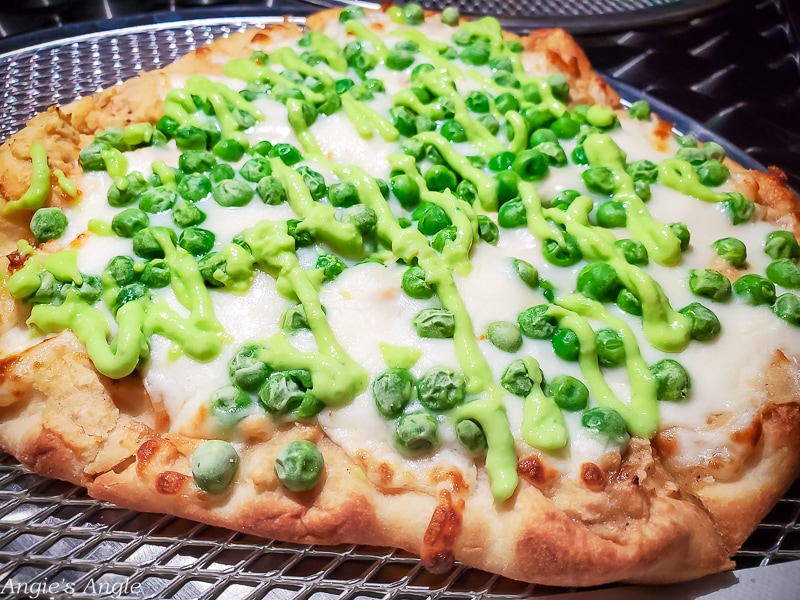 Jason went with the Tacoma, which consisted of olive oil, roasted garlic, hummus, mozzarella, peas, and wasabi sauce. Jason loved this pizza, but it's not my cup of tea at all. I don't care for hummus or wasabi sauce, but Jason was a huge fan.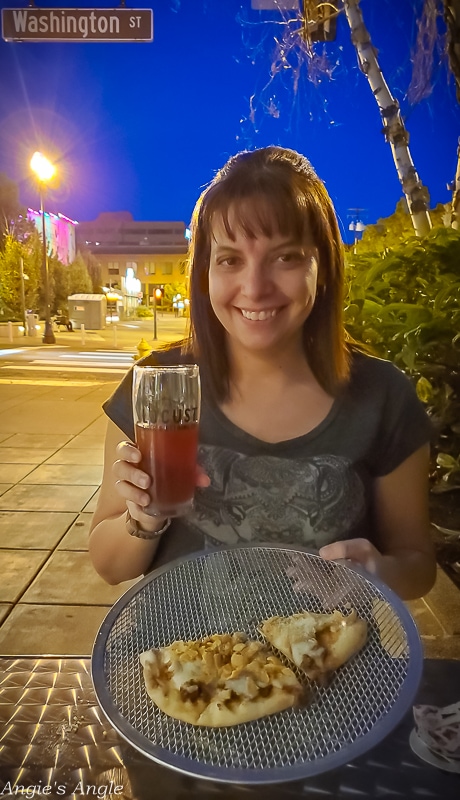 October 1st Visit
The second time we found ourselves at Locust Cider and Brewing was the kickoff of Dine the Couve. Where select restaurants have set deals of 3 for $25 selections through the full month of October. Locust had two 4 flights & a flatbread pizza for their $25, and it was quite the deal. It's over now; I meant to get this up before it was. But well life.
This time around, we also sat outside with Roxy, and Gemma was working, who loved Roxy so very much. She was quite the dog lover and gave major love to the other dog that was visiting the same time as us. She was lively and upbeat and just amazing.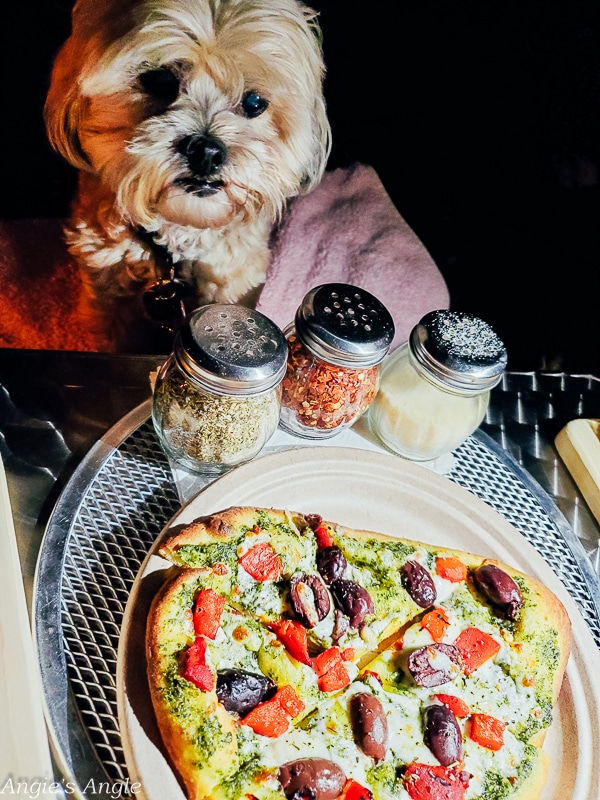 Both people working the two times we went in were amazing and made us want to stay and come in often. Once again, major bonus points.
We picked out our two 4 taster flights and ended up with three pizzas this go around. Because the 10″ isn't quite enough a full meal to fill Jason up and sometimes me too. So we got another to share.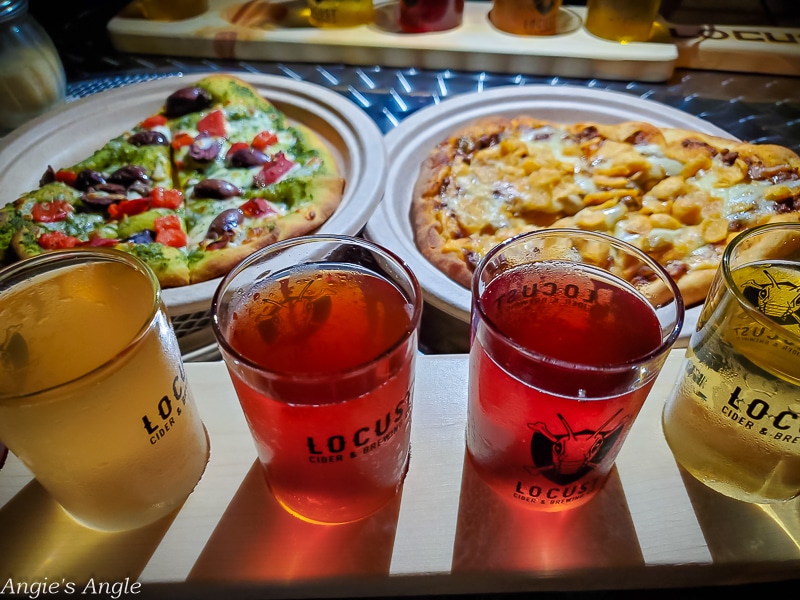 We got the same two like last time because I told you we loved them. And added in the Spokane. Which we also very much enjoyed. The Spokane has pesto, Kalamata olives, roasted red pepper, and light mozzarella. So good, you guys, so darn good. Yum!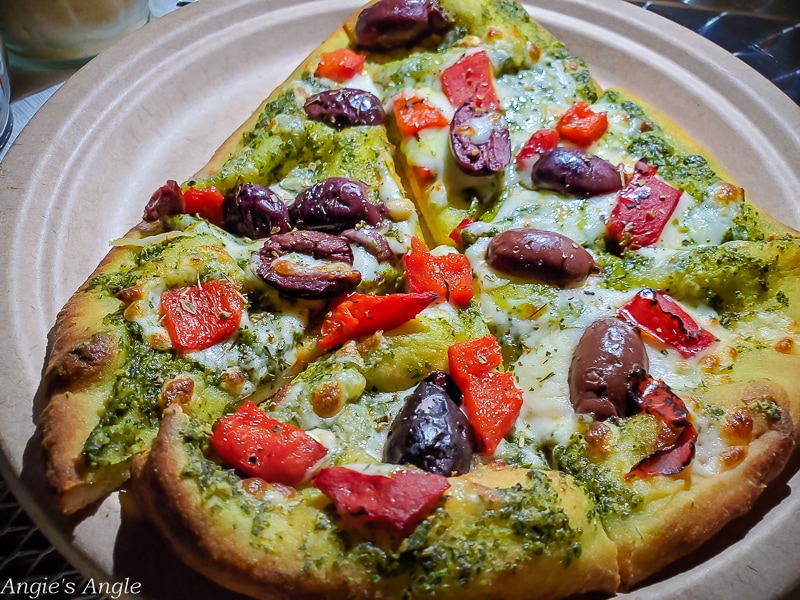 Atmosphere
As I mentioned above, both times we went, we sat outside because we had Roxy. And we ended up picking the same seat because I liked it was right by the cement border, and Roxy could use it as a perch.
There isn't a lot of sitting outside, but there was plenty each time we went. Was a comfortable outside space.
Inside was quite roomy too. And in better times (i.e., non-covid times), there would be board and card games, a kid area filled with legos (so yes, it's child friendly), and gaming systems set up. Plenty to keep you entertained while you enjoy the cider and food.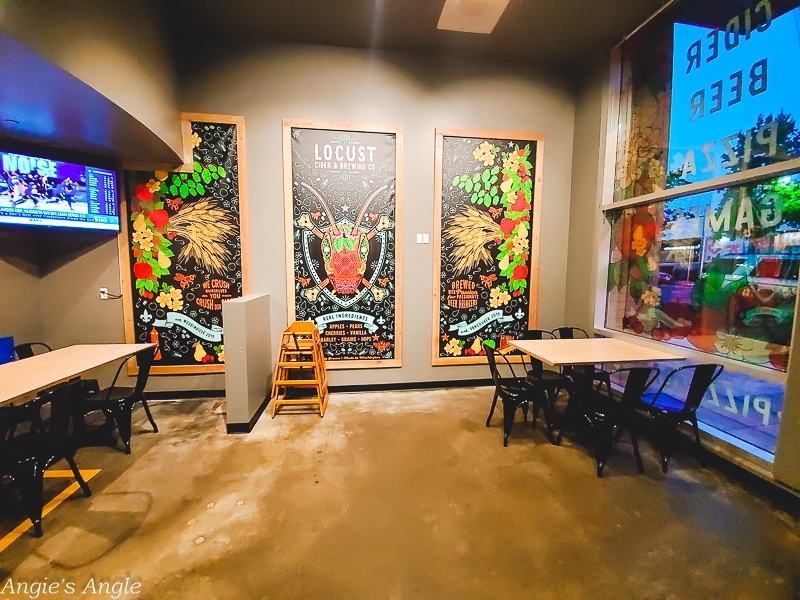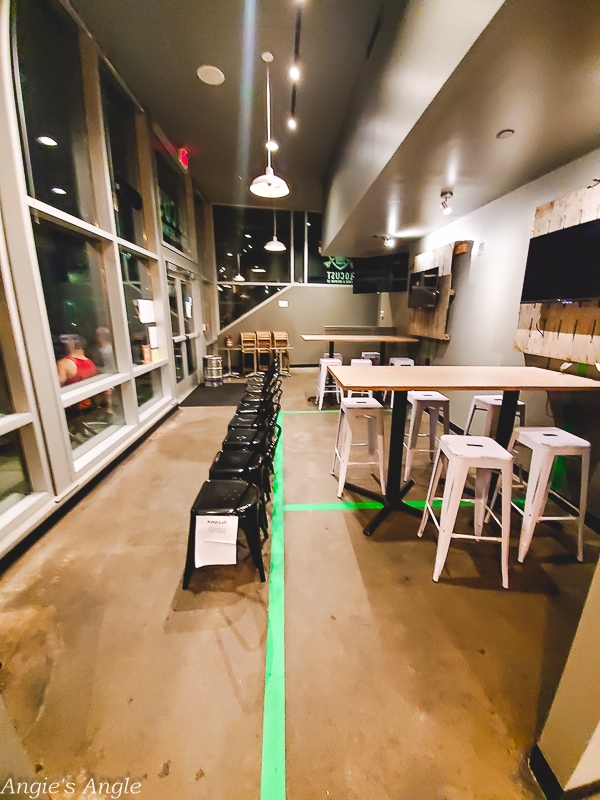 To be noted: They also have other snacks to fill your tummy while you visit besides the flatbread. Also, there are other drinks to have besides cider & craft beer. See the full menu here.
Time to Head to Locust Cider
Now that you've read about our truly great visits, it's your time to head on over to Locust Cider and try them out yourself. You will not regret it; I can bet.
And in case you love them as much as we do, they also have the club you can join called The Swarm, a yearly club that gives you amazing deals on each visit. In fact, we are very tempted to join ourselves.
Is there anything I missed that I can try to answer for you? Do you love hard cider like me? Do you have a favorite cider type? I would love to talk all about cider and Locust in general.
Locust Cider and Brewing
700 Washington St.
Vancouver, WA 98660

Follow Them On:
Facebook
Twitter
YouTube
Instagram

Current Hours:
Monday & Tuesday: 4 pm to 8 pm
Wednesday & Thursday: 2 pm to 8 pm
Friday & Saturday: 12 pm to 9 pm
Sunday: 12 pm to 8 pm
*check Locust for actual times*