All of us get that afternoon slump, where you don't think you can go on for the rest of the day. Afternoon slumps have been a pretty routine thing for me lately, so I was thinking, why don't I give you 5 ways to overcome that midday collapse we all feel at times.
Thanks to ProsperaTea for helping sponsor this post. However, all thoughts and photos are 100% my own.
Days are sometimes long, too long, but we have to power through and get things done. How do we keep moving forward on all the things we have to do in a single day? This is why I am here today to help you out just a tiny bit; it's time to kick that afternoon slump to the curb and power through your day with new energy!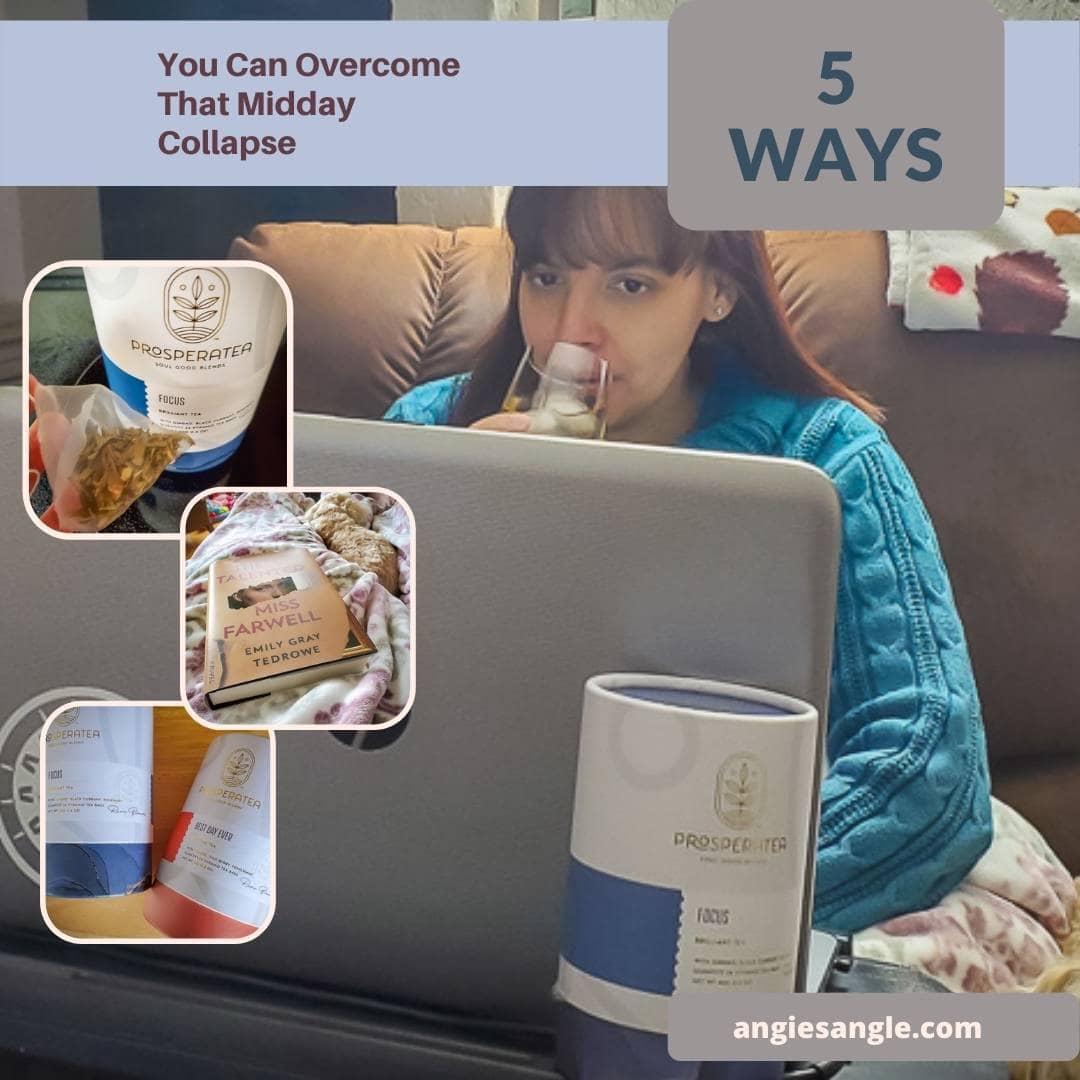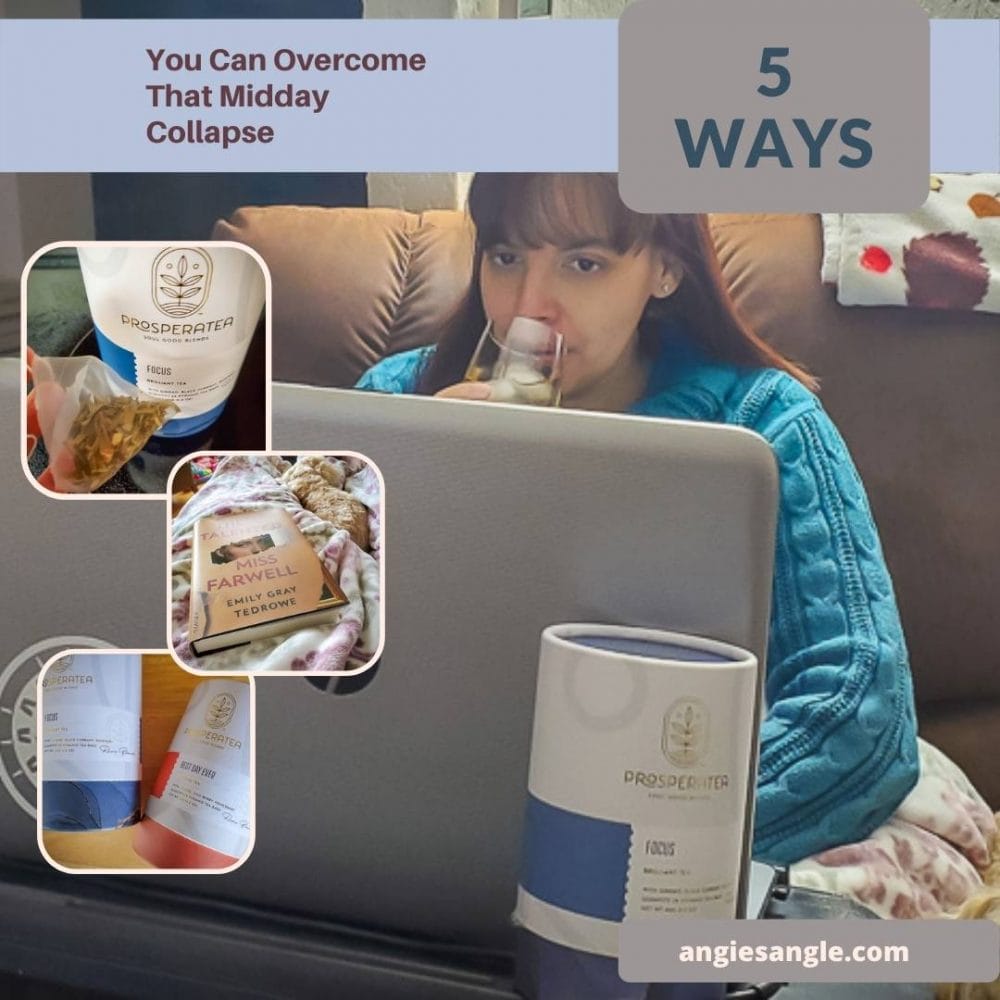 5 Ways You Can Overcome That Midday Collapse
Those midday collapses are about to hit the curb. Read on to hear my 5 simple tips to push on (and sometimes not!) to get more done in your full day.
Healthy Snack
Grab a snack when that time of the day hits. It's, essential though, to pick the right snack. It has to balance and give you that boost of energy you need—nothing heavy or just for mindless taste. Grab a handful of nuts (almonds and pumpkin seeds are excellent picks). Do you enjoy yogurt? An idea would be to have some plain greek yogurt with some fresh berries added in. You can even throw in some dark chocolate chips to give you that yumminess you are craving. A healthy snack will help you push forward with the right balance. And there are a ton of powerful ideas out there. Or something as pictured below.



Stimulation Mind Games
It might be easy to grab your phone and play some games there, which could work. But I find it much more stimulating for your brain and afternoon lag if you have something physical in front of you. Do a jigsaw puzzle, a crossword, word search, or sudoku. Anything to get you thinking and out of your normal mindless routine. It'll work better than you realize. Think old school, and your mind (and body) will thank you.

Exercise
I know! I know! The last thing you want to do when you feel rundown is getting moving but trust me. Even a simple walk around the block can do wonders. A little stretching on the living room floor, a little yoga, or even a little mediation. That afternoon lag will be gone in just ten minutes if you get moving a tiny bit.



Nap
And sometimes, especially me lately, you have to give in and listen to your body. Nap. Take that afternoon nap can help you move forward the rest of the day and get so much more done. It has me. Naps are not bad; they can truly help, not hinder.





and the last tip to overcome that midday collapse…

Tea
The most important tip I can give you, grab some ProsperaTea. Made with all-natural ingredients, beneficial for your mind, body, and spirit. The perfect addition to overcoming that midday collapse. There are many varieties to choose from if you head over to ProsperaTea. But I grabbed Focus & Best Day Ever to try out to share with you all.





I thought these two teas would be the best remedy for the afternoon slumps. Focus is perfect for that brain fog that tends to hit with the afternoon slumps. Made with uplighting ginkgo biloba, hawthorn berry, and rosemary, zap away that fog and stay moving.

Because I am much more an iced tea drinker than a hot tea drinker, I made up the focus in a simple iced tea. Brewing four bags in boiling water and a 1/3 of a cup of monk fruit. It's the perfect afternoon sipper that I've been loving. So tasty and with zero caffeine, an all-natural way to get that boost.



Best Day Ever is an uplifting tea that will help you feel like you are drinking sunshine on those dreary cloud covered days. The Best Day Ever tea is made with orange peel, goji berry, and refreshing peppermint. Yummy flavors to boost your mood while also being caffeine-free.





Check out the full line of ProsperaTea and click this link to get 15% off your Prosperatea order today! Use CODE: ANGIE 15 at checkout to get that 15% discount. You won't be disappointed with them.
Those are my tips to overcome that midday collapse. What one will you try next time your hitting that wall? Maybe even combine a few of them to really get your mind zooming. What about the ProsperaTea & snack? Or the ProsperaTea and a mind puzzle. The ideas are really endless. I'd love to hear a tip you have for those afternoon slumps.