There is nothing like a good facial. Facials, for me, are a pure form of self-care; I try to do at least one of them a week at home. While I had always been curious about what a professional facial would be like, I honestly never thought to seek it out. One, you know, being an introvert and having someone that close to me just wasn't appealing. Second, the cost always made me step away from acquiring one further. Well, no more! At the beginning of April, I had my first professional facial, a rejuvenation facial, at Venus Rising Med Spa. And here I am tickled to tell you all about it today. And yes, the facial was a blissful time at Venus Rising Med Spa. I am excited to tell you all about it!
Venus Rising Spa sponsored me to enjoy this facial to share with you all. However, all thoughts & pictures are 100% my own.
My spotlights of Local Tuesdays have been on hold for a bit. With first COVID itself and then our overwhelming life lately, it hasn't happened to feature new places. However, I hope to bring back the spotlights even more again—time to get me rocking and rolling and back in the saddle.
Today let's pamper you!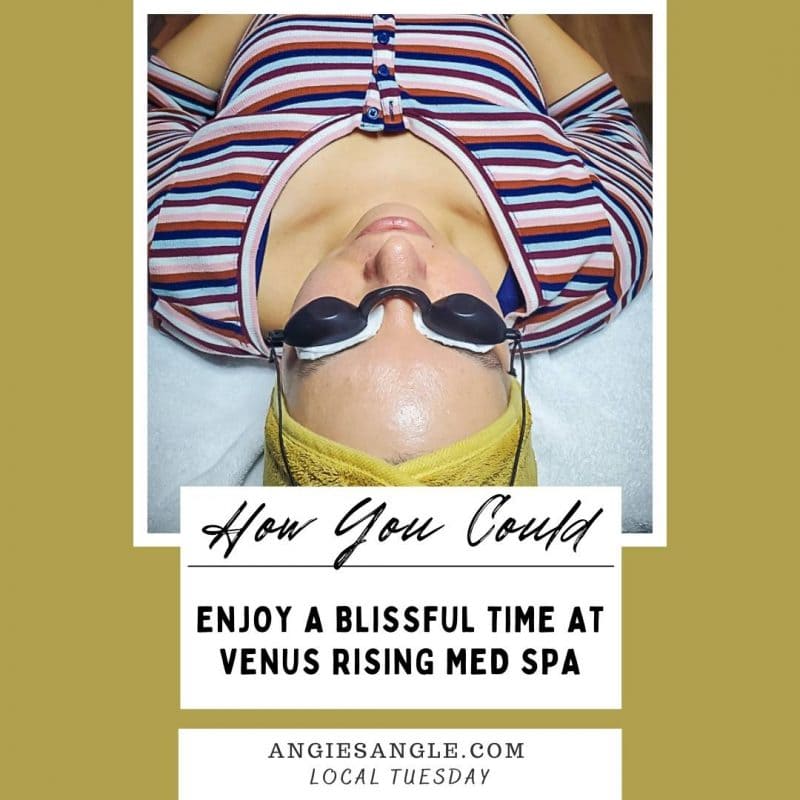 How You Could Be Enjoying a Blissful Time at Venus Rising Med Spa
Close your eyes. Breathe. Now let Venus Rising Med Spa take you away.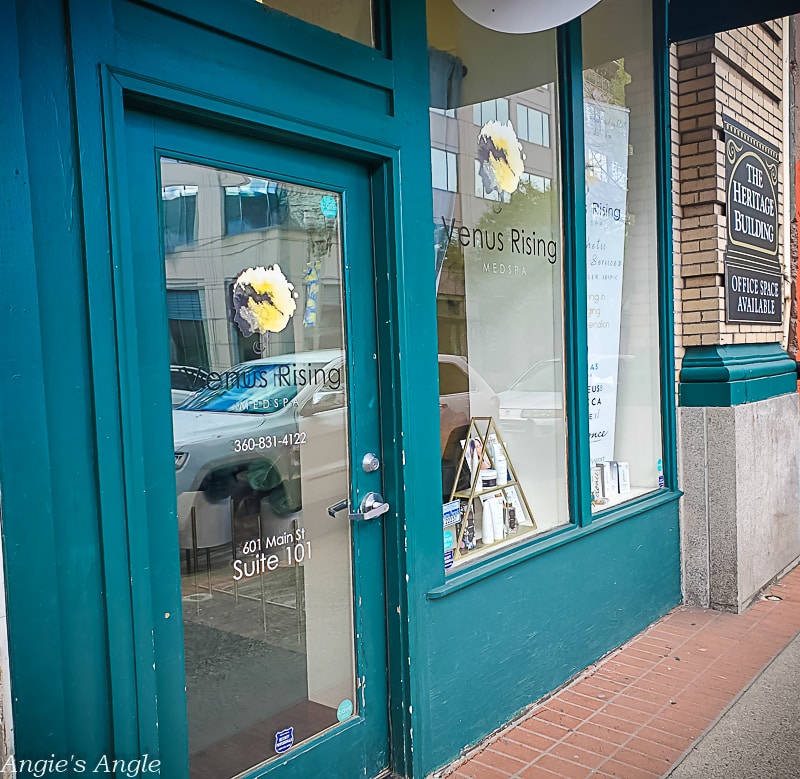 When I first walked in, the lobby had a very welcoming feeling. But, even as welcoming as it felt, I felt a little weird to be walking in because that is who I am. I couldn't help but be nervous sitting in the lobby filling out the paperwork. The paperwork though was just simple questions about your general health, skin concerns, and what other things you may be interested in doing.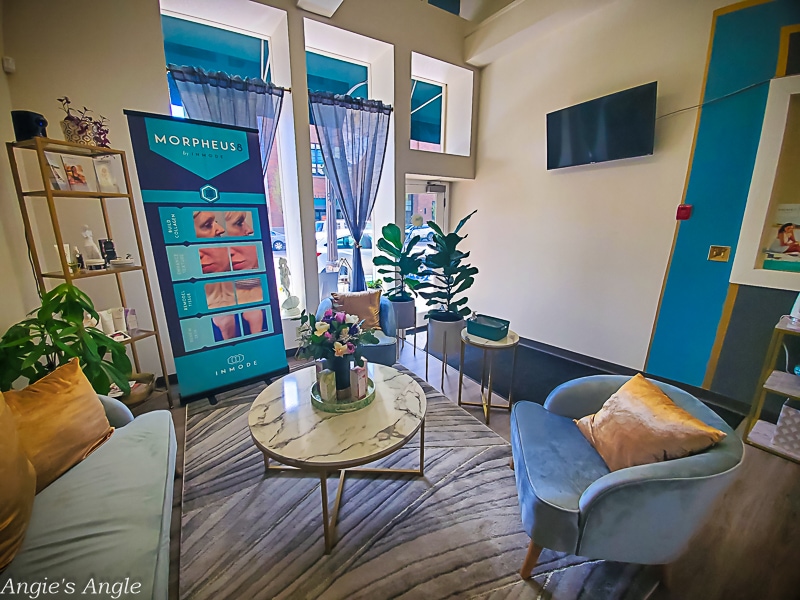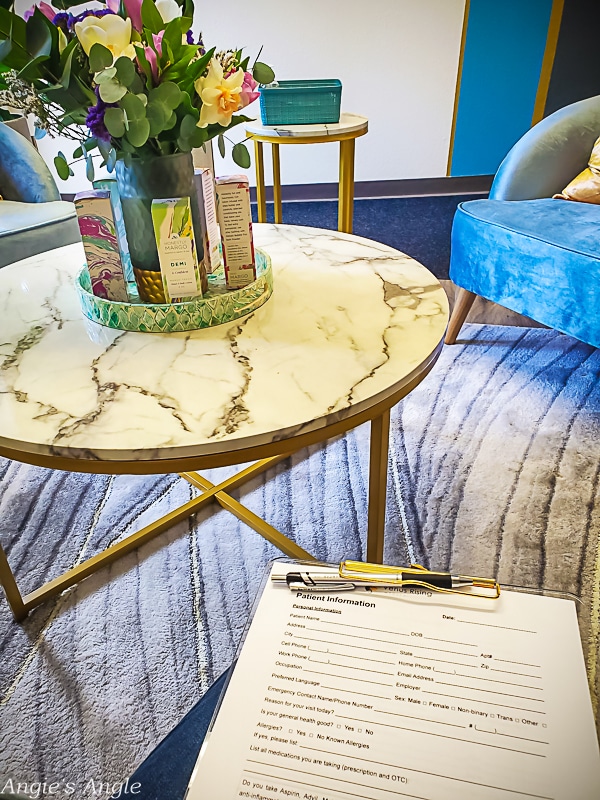 After filling out the paperwork, I waited for my esthetician, Tina. Tina guided me back to her area with a big welcoming hello to do my facial. I sat down, and she put a raiser under my legs so my legs and back were comfortable while I was lying down. At first, it felt weird, but then once I laid back, I felt the tension release from my back. That alone almost had me won over. But, silly thing as that was, it was genuinely relaxing.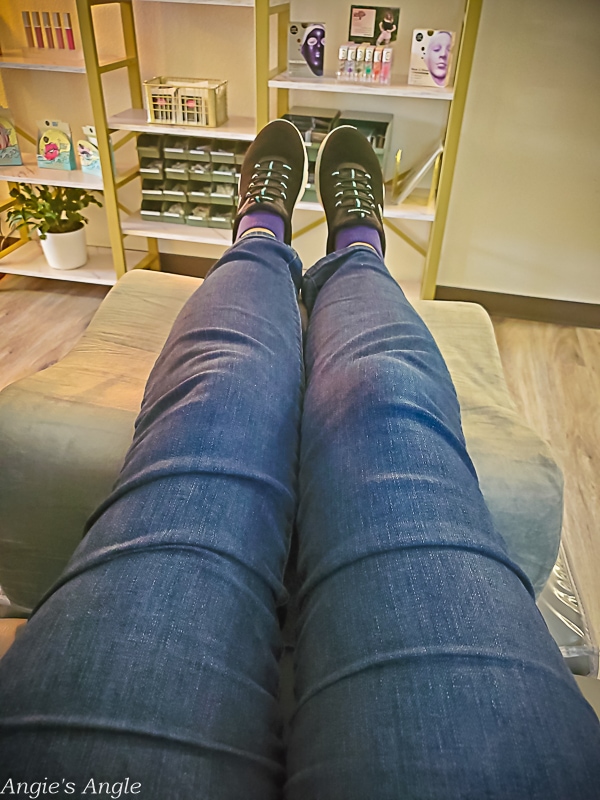 Assessing my skin.
After Tina wrapped back my hair in a towel, she got to work looking my skin over. Why was she looking my skin over? Why, yes, each facial they do is customized just for you. No generic one-size-fits-all facials around here. She had to look to see what my skin was telling her. What was it needing? What areas needed a little extra love?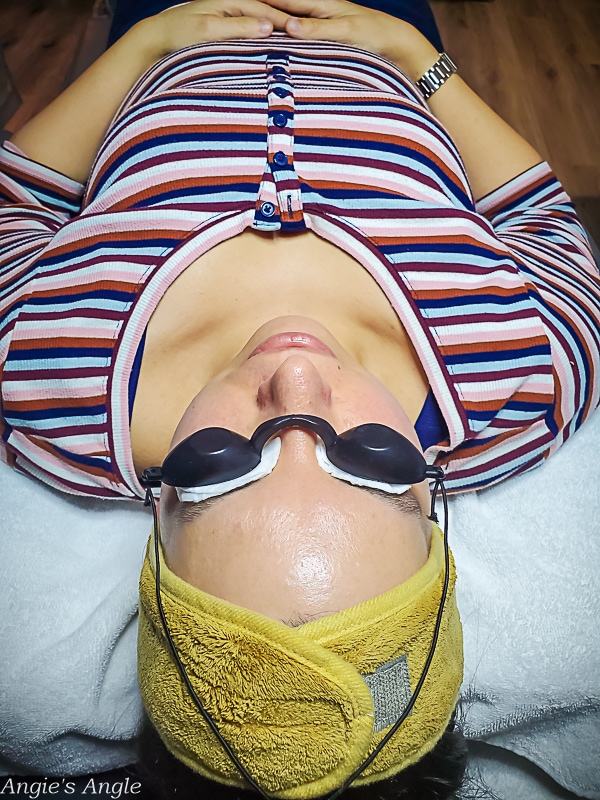 Curious what my skin was telling her? Surprisingly it was reasonably healthy. I have an oily t-zone, which I already knew—some slight scarring at my temples. And what I thought were blackheads in my nose and forehead are not – supposedly, with a bit more moisturizer, they'll vanish a bit more. Finally, and most shocking to me, I have slightly sensitive skin – it reacts quickly to anything put on it—all interesting tidbits to learn about your skin when doing a facial, though, I believe.
Did I make you curious what your skin would tell them? Then, keep reading for even more facial pampering.
The best facials start with a clean slate.
While you wait for the facial cleanse, the hot steam starts on your face. It's an ozone antibacterial steam to open and clear pores. So not only do you get one good cleansing, but you get two. After that nice cleansing, a nice hot towel is placed around your face, which lets your face relax and rest. While this felt incredible, I also, at times, felt a bit claustrophobic. Would I do it again, though? You bet it felt amazing!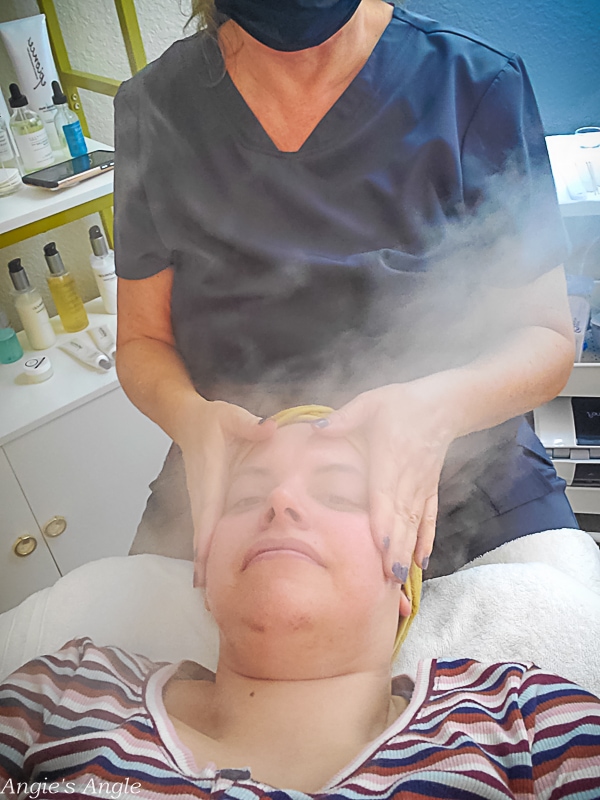 While your face is all hot and relaxed, it's time for a lymph drainage massage to reduce puffiness. It was easy to relax while this happened to my face, and I could have gone all day while this little treat occurred.
Microdermabrasion Time
After that nice calming skin cleansing routine, my skin required good microdermabrasion. From what I gather, some can be sensitive to this, and it can be slightly painful, but I felt nothing at all. Instead, it was relaxing, and I was anxious to see what came from my skin after Tina finished.
Tina took a small wand-like thing and slowly moved it across my skin to pull out the yuck. While also restoring your skin and making it happy. There are so many different benefits to getting a microdermabrasion treatment; you'd likely want to add this into your facial. My skin looked so glowy after.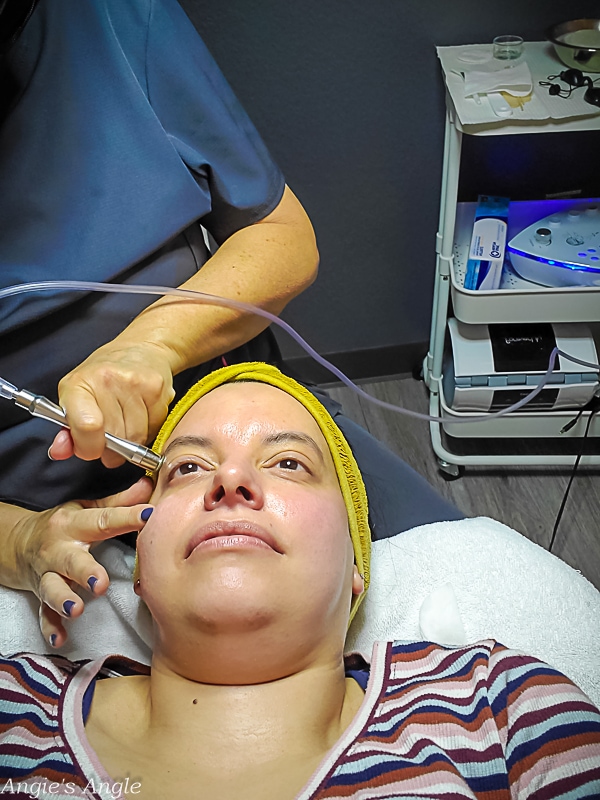 Finishing Touches
Now that my face was all cleaned and prepped, it was time for the simple mask. Tina applied it with a nice brush and let it sit while I relaxed. The facial mask is probably the most straightforward part of the complete rejuvenation facial since you know this was the primary step of the whole thing.
After my mask (or while my mask was on, I can't remember which step happened here), it was time to sit under the red light for some red light therapy.
Red light therapy is:
A machine that slides over your face like a half globe. It helps with a few wrinkles in one treatment. Red light therapy provides cumulative skin benefits with continual use and temporary instant plumping effects with each treatment. Enjoy immediate, visible benefits. Awaken and energize the skin for a vibrant glow.
The picture Tina captured for me was pretty neat to look at it.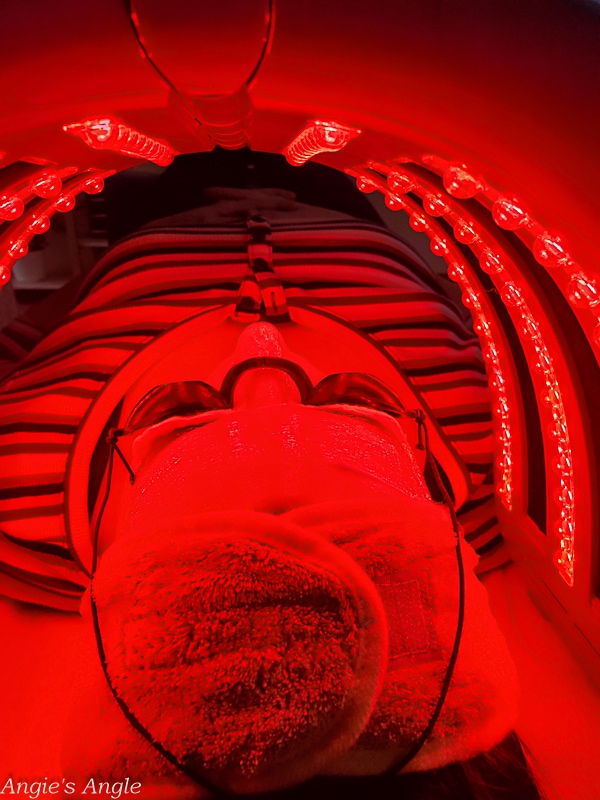 Admittedly it was tough to sit under there with something over your eyes. Again I felt a bit claustrophobic, but it wasn't awful.
A blissful time at Venus Rising Med Spa comes to an end.
And that was a wrap for my rejuvenation facial. Tina gave me a few samples of the products she used on my face, and I was out the door. I walked out the door with the freshest and most happy face I have to note!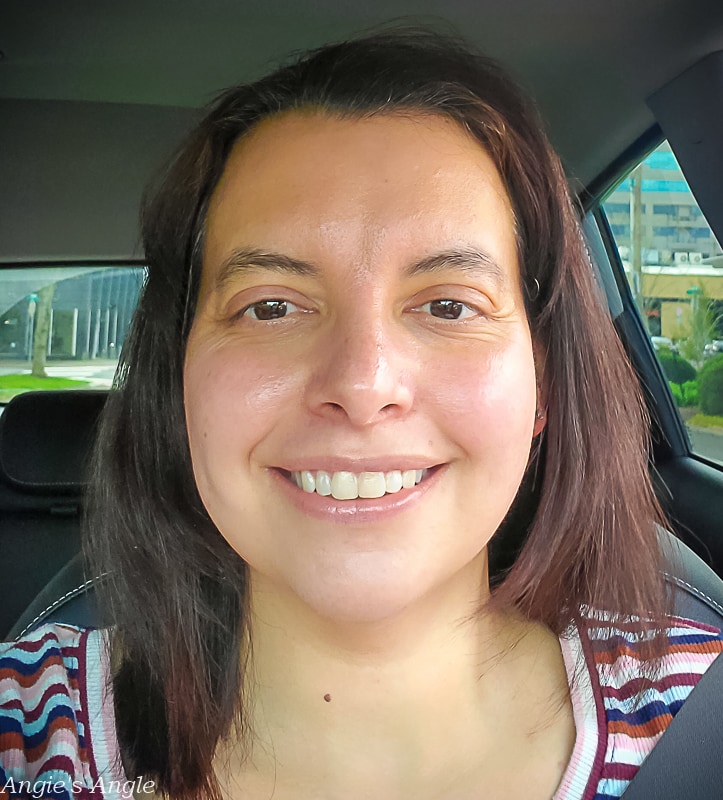 The ladies at Venus Rising Med Spa are fantastic. I'd recommend this just for the atmosphere as soon as you walk in. Plus, of course, the added benefit of them loving what they do.
Ready to have your facial at Venus Rising Med Spa?
Venus Rising Med Spa
601 Main St., Suite 101
Vancouver, WA 98660
(360) 831-4122
Facebook
Instagram
Call or Book Online for your next treatment!
PSSST: Also get $25 off by saying Angie Agerter or Angie's Angle referred you!
Radiance Club
I can't leave you without mentioning that you shouldn't go without inquiring about their Radiance Club. Ready to be serious about taking care of your skin? This club is for you!
There is a monthly & annual membership. Each gives you a free base facial while giving you a discount on the facial enhancements (red light therapy, lip & eye renewal, and microdermabrasion). And discounts on Epionce skincare products and other MedSpa services.
Ready to get serious about your skin? Hands down the best deal if so.