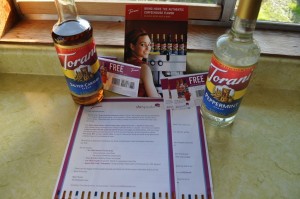 The whole kit together
As being a member of the SheSpeaks blogger society I was able to get this awesome Torani flavored syrup kit! Included were two full-size bottles of Torani flavored syrup (mine were Salted Caramel & Peppermint), a recipe book of a small selection of recipes you can make with the syrups, two welcome letters, & 5 coupons for a free bottle of Torani flavored syrup.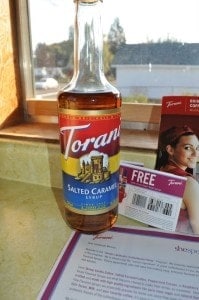 There are so many uses for these Torani flavored syrups & so many different flavor choices, not just for your coffee anymore. I have to say though the only way we have used them thus far is for our coffees. My husband, I have both put the Salted Caramel in our coffees each morning since we got them. I have a feeling we are going to run through this bottle rather quickly.
My review for the Torani Salted Caramel is now included with the others on the SheSpeaks review area, which can be seen here: Torani Salted Caramel reviews. I have yet to open the peppermint, but you can bet I'll do a review on that once I do and experiment with it more.
A recipe that caught my eye though in this little recipe book was a Torani Sangria since sangrias have been a big thing lately for my parties I had to share this recipe:
Torani Sangria
1 cup Torani Peach Syrup
4 firm-ripe peaches, in wedges
1/2 cup plus 2 Tbsp superfine sugar
2 – 750ml bottles chilled rose wine
1 qt. chilled sparkling water
Ice
Fresh Mint for garnish
Stir together Torani, peaches, and sugar; let sit one hour. Add mixture to a large pitcher and stir in wine, sparkling water, and ice. Garnish with mint and serve.
You can bet I am trying this one next time we make up some sangrias.
I also plan to purchase a bottle of peach Torani ASAP, cause there is an iced tea recipe that caught my eye as well. I have a thing with peaches I guess.