I was lucky enough to be picked by Rubbermaid to test for free, one of their new products called – Hidden Recycler.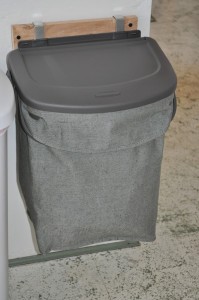 I couldn't be happier with this product. The handle makes it easy to carry wherever you may need to carry it to dump. Then when you go to dump your bag into the bigger recycling bin there is a handy little handle on the underside of the bag for even easier dumping out. No need to worry about losing the bag into the bin like I have done a few times with the old paper bags I was using.
Sadly our cupboards are old-style ones and don't have room enough for the actual bag on it. My husband, the ever wonderful, made me a bar for it next to our regular garbage bag. It works wonderful and looks so nice.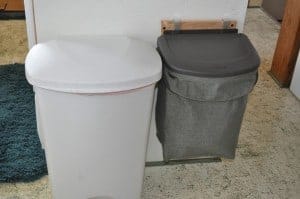 The bag itself is machine washable so you don't have to worry about it getting yucky and not being able to do anything about it. It also has a leak-proof liner, no worries about leaking all over the place with this baby. With a 5 gallon bag, you'll find you don't need to dump a lot. I was actually surprised at how much I could fit into it before needing to take it out to dump.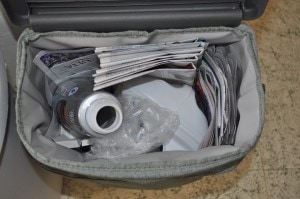 Now for the good stuff, Rubbermaid has been nice enough to allow me to do a giveaway for your very own Rubbermaid Hidden Recycler. At a retail value of $15.99 the Rubbermaid Hidden Recycler will help you feel more organized and clean in your own home. Please fill out the rafflecopter below for your chance to win! USA Only, sorry!
I was given this Rubbermaid Hidden Recycler free from Rubbermaid to test & do a giveaway for. All thoughts and pictures are my own.