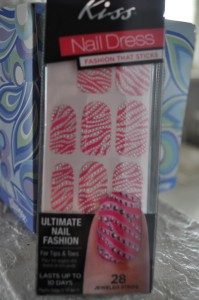 In my lovely Love VoxBox from Influenster were these really cute Kiss Nail Dress nails in Cocktail. A simple sticker you put on your nail bed & then shape down to your nail size? It just doesn't sound like something that would stay or work well does it? I mean a sticker? How many of us have had stickers just not stay once you put them down? I can say that I have had that issue in the past no matter what type of sticker it was.
I was a little overwhelmed on how hard it seemed even though it was just a sticker. First make sure to clean off your nails with rubbing alcohol or polish remover. Then select the size that fits your nail then smooth and fold the excess over the edge. Instead of using a file to get the excess off I cut it with nail scissors, then used the excess on my other hand. I have a short enough nail bed to do this. Though the square side (which is what the excess was) were suppose to be for my toes, I found that they worked well on my hands too. Then I filed down the little excess to match my nail shape.
Again, it took me a bit to do this cause anymore I keep my nails really short. It was easy though, just a bit more time consuming.
The only draw back I had is that I had a jeweled design and it kept snagging in my hair and the bed sheets. I got tired of that so I took them off after a few days, but they were still sticking like champs. They are suppose to last up to 10 days and I can totally see this. I was having no issues other then the snagging.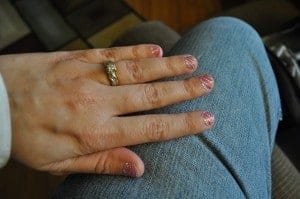 I love these and have already bought another set to play with. I think I am going to do both my toes & nails this time too! The other set I bought is called Bustier and not a jeweled design so I am sure I am going to LOVE them even more.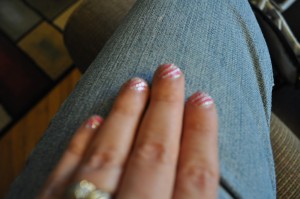 With 18 styles I am sure you'll find one or two (or more) that match your style. I rarely paint my fingernails just for the simple fact that no matter what I do my nail polish doesn't stay on my nails, it chips away quickly. With these I can have a pretty nail design with no issues. I paid 6.99 for this set, which seemed about the average. I think its an awesome deal and am excited to get even more to play with!
I was given this product free from Influenster to try and review. All my thoughts & pictures are my own.