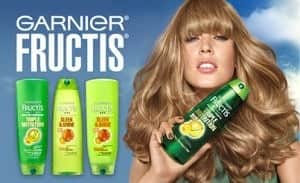 I was lucky enough to get into a fun campaign from Bzz Agent for the new line of Garnier Fructis. I was given the line of Sleek & Shine, since I have super duper curly frizzy hair this was a perfect line for me to test out.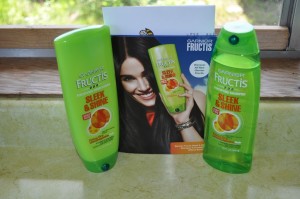 The first thing I noticed when I opened up my kit from Bzz Agent was the eye-catching bottles. There is something about the green and sleek look of the bottles that drew me in right away. Next thing I noticed was the smell, the smell of these is just incredible. I can't pinpoint the exact smell, but its an inviting happy experience during washing and conditioning your hair.
The bottles themselves are made with 30% recycled plastic and the bottle itself is fully recyclable (just remove the cap). They're also 10% lighter, which saves over 125 tons of plastic annually!
After washing my hair with these a few times I noticed my hair was left frizzy and somewhat easier to straighten. Which for me is a win-win. 🙂
The line I received of course works best for dry, frizzy and unmanageable hair.
Fights your frizzy hair and keeps your hair sleek for 3 days straight, even in 97% humidity.
Infused with Fortified Fruit Science and ultra-smoothing Argan oil from Morocco to deliver long-lasting shine and hair that's 10x smoother.
Available at most anywhere for around $3.99 (13oz) & $6.99 (25.4oz).