I was so excited to get chosen for another Sample & Share from Crowdtap. It happened to be for Old Navy, which they work with quite often. This is my second sample & share for Old Navy itself from Crowdtap.
I posted on facebook that I had gotten in on this special sample & share from Old Navy from Crowdtap. Didn't take but two minutes and Mandy had pipped in, I want the shorts. So in no time, I had my partner in the sample & share. She lives in Texas, but there was plenty of time to send it to down to her and get my report in as well.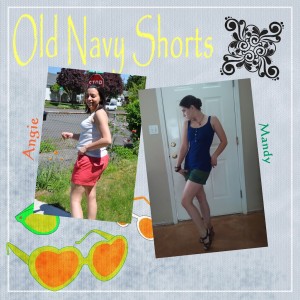 I was able to go fairly quickly to Old Navy to use my coupon once it started. I have to admit I had a hard time finding a pair of shorts in my store that I liked and fit well. With me having bigger thighs and a bigger butt, with a smaller waist, it takes time to find ones that fit decently. The ones I had originally thought I was going to get just didn't fit right. Took a few short tries to find the ones I did. It wasn't unpleasant though trying on the shorts, just was getting frustrating to find ones that fit comfortably and looked right on me. I know the ones I ended up with were 5 inch length.
Mandy didn't take long on finding a pair of shorts that fit her, and she even got some matching tank tops she had seen on a previous visit to Old Navy. She ended up with the 3.5 inch canvas shorts in the calypso green print.
I have to say that the shorts themselves are super soft and a comfortable to wear fabric. Love the way they feel.
Neither of us had any issues using our coupon. When I used it the lady was like wow, that is the kind of coupon you want. I mentioned twice that it was from Crowdtap, that she should go look at the site. She mentioned she was going to go show the others that a new thing was floating around and it was great. Mandy's check out just needed to get approval from the manager since they had never seen one either.
What a wonderful Sample & Share though. I enjoyed myself as did Mandy. Look forward to more sample & shares in my future.
I was given a coupon to get a free pair of shorts from Old Navy from Crowdtap. I was given a second coupon to share with a friend. All thoughts and pictures are my own.