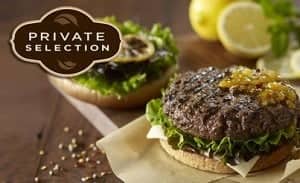 Now the main part of my Bzz Campaign, the one I already posted about was the cherry pie, but the "main" part of this one was the Angus beef by Private Selection. Included in my kit was a coupon for a free pound of Angus Beef, we used the coupon and used our first batch of beef (which was tasty) then realized wait you forgot to take any pictures about it. So to help my blog I bought another pound and remembered to take photos this time. 🙂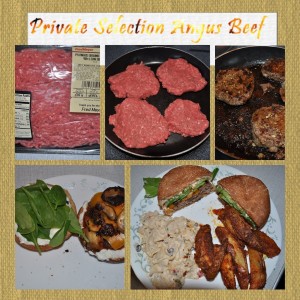 The steps to a yummy burger!
Private Selection has a yummy Angus beef that works well for burgers. It's 100% Angus ground beef that is super tasty and makes for some fuel to make some really gourmet meal ideas or excellent homemade burgers. We had homemade burgers both times with it and loved every ounce. It just has this awesome overall taste.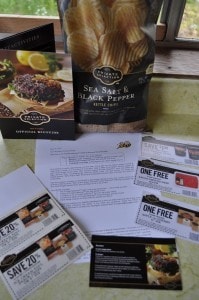 Also in this kit I received a bag of Private Selection chips in salt & pepper (which were also really tasty) & a coupon for a free pint of Private Selection Ice Cream. Yummy tasty stuff in a lot of varieties.
I was given these products free to test from Bzz Agent. All pictures and thoughts are my own.