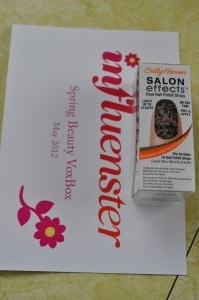 Another item I received free in the Influenster Spring Beauty VoxBox was something I was super excited to try Salon Effects by Sally Hansen. I had been eyeing these because they offer just regular looks compared to others I have seen where its all prints and designs. I was hoping I'd get a solid color because that is really what I was wanting to try and was more a look for me.
As you can tell from the side picture I didn't receive a solid color, but was still super excited to give these a go.
It took me awhile to be able to try them with my wisdom teeth surgery and all. I tried them late last week finally and loved how thin they were and soft being able to curve with your nail bed easily & snap off the excess when you pull to tighten it over your nail so you don't have ridges.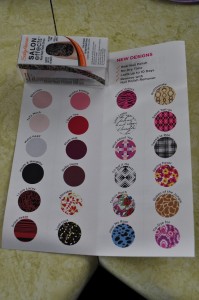 The other color choices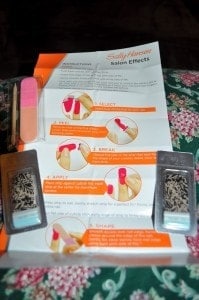 I don't know if it was just me or the set I had or what exactly, but I had a hard time pulling them off the little strips they came with. Then had a hard time finding a good fit for each nail. I even have longer nails this time so I thought oh this is going to be so easy and look so nice.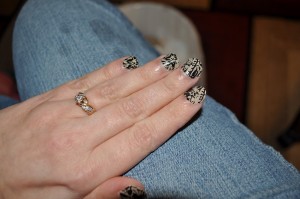 The End Results
Overall I liked the look, it took some work to put them on though, which I wasn't expecting. Sadly these didn't stay on as well either as I thought/assumed they were going to. They claim it last for up to 10 days. Mine only stayed on overnight and then start to pull at the edges (again this could do with me not finding the right nail fits for each nail). When I went to wash my hair the edges kept snagging in my hair so after my shower I just ended up pulling them off. Before my shower though I had washed dishes, and did some heavy duty cleaning and they were staying just fine and had no weird issues with them.
It says to start with a clean nail bed. It gives you the cuticle pushing stick, so you can push them down and get a clean nail bed to lay down the polish strip. I think the stick was my favorite part, it pushed down my cuticles much better then what I normally use. It then tells you to use nail polish remover once again before applying the strips. Find the strips that best fit your nail beds and then peel away and apply. Making sure to press around to get an even fit. Then pull to get out any extra bubbles that might have popped in. File away the excess and presto you have a beautiful done nail.
Real nail polish colors with no dry time at all, make an easy way to change up your look!
I would totally try them again though, cause I love the idea behind them and I think it was probably just a fluke the issues I was having. I still really want to try a solid color.
Sold for around 9.99 at your local drug & discount stores with 40 must have styles, you'll find lots of different ones to fit your mood or occasion.
Edit: After posting this I had a facebook friend tell me she loves these! And they do last the 10 days they claim it does. She suggested though putting a base coat on your nail before applying the strip to your nail. She said it seems to grip better that way. So next time I shall be trying that!
I received this product free from Influenster to test and review. All thoughts and pictures are my own.