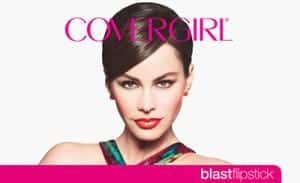 Being a part of BzzAgent is just a wonderful thing. This last year was filled with so many amazing products. I can't wait until this new year and see what kind of bzz campaigns Bzz Agent will be coming out with this year.
Even though I hardly ever use lipstick and usually am not a huge fan of it, I was super excited to get into the campaign for the new Covergirl BlastFlipsticks. Two lipsticks in one tube, yes please! What an exciting concept and one I was eager to try.
The bzz kit came in this really cute box set. Which made open up the box and seeing what was inside even more fun! Just look at it below. How fun!
I received three different sets of the Covergirl blastflipsticks. After trying the Minx and finding out I really liked it, I was going to be super selfish and keep all three myself. Instead, I ended up keeping two of the sets and giving the third to my friend Debbie – who I must say loved it as well.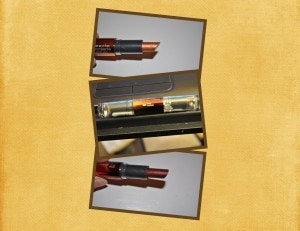 One side of the flipstick is a creamy bold color, and the other side is a shimmery shade. So you can do a day or night look or you could do something fun and mix the two colors on your lips and see what color you come up with then. With 13 complementary shade duos, the possibilities on mixing and matching them up is really endless.
One of the reasons I don't normally like lipsticks is they are so dry on my lips and just look bad on my lips most of the time. This is much different kind of lipstick. Filled with a moisturizing formula that doesn't leave your lips heavy or even dry. Wonderful news!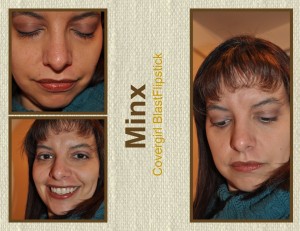 You can find the new Covergirl blastflipsticks at most anymore store for around $8.49. And the good news? I have lots of coupons for $2 off one blast flipstick that I'd be more then happily to send out to you. I'd gladly send out two per person that ask. So just speak right up if you'd like me to get in touch with you to mail one or two out, please just leave your email address and let me know if you'd like 1 or 2 of them. As always first that come gets them, so if I run out before I can get to you I am sorry. USA only, since I know the coupons are good here & I am the one shipping them. Coupons are good until the end of April.
Want to learn more about Covergirl in general? Then just follow them below in the following ways:
Pinterest
Facebook
Twitter
I received this kit free from BzzAgent to review. I will receive MyPoints in exchange for this post & other bzz. However, all thoughts and pictures are my own.