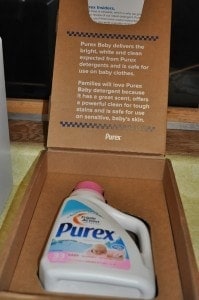 Being a member of Purex Insiders, I get some amazing great products to review & most of the time host a giveaway for as well.
This time for me, this is more just for the giveaway since I know lots of people who are having babies or already have young babies, but personally don't have any children. I was asked though would your readers still be interested in this product. While of course they would I said, so here comes this package with the bottle of baby detergent for me and three coupons for a free bottle to use a giveaway for you all!
I figure I'll use my bottle for my undergarments & maybe some blankets and such. After all it is a wonderful product that leaves your clothes bright, white clean while being hypoallergenic and with a gentle baby-inspired fragrance. It works out those tough baby stains while being gentle on those little delicate clothes. Happily new Purex Baby Detergent can be used on all washers including those new high-efficiency & your traditional top-loaders.
Purex Baby Detergent is not currently available in every store, so make sure to check out this link to see where you can find it in your local area.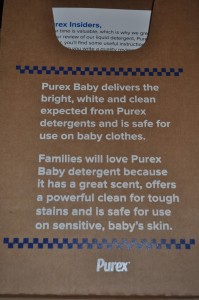 I was thinking a cute idea for this product could be giving it as a baby shower gift. How wonderful would it be for that soon-to-be Mommy already have some fabulous detergent to use for all those new baby clothes. So why not enter and try this out for yourself.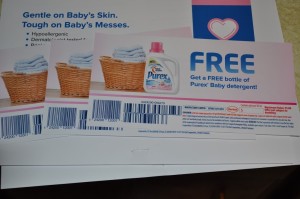 Fill out the Rafflecopter below, USA only please. There will be 3 winners for 1 coupon each for a free bottle of Purex Baby Detergent (that doesn't expire until the end of 2014, how great is that?!?)
Also take a moment to enter the sweepstakes for the chance to win $500 – http://insiders.purex.com/oh-baby?id=44354
Purex provided me with a sample of Purex Baby detergent in exchange for a product review. However, all opinions & pictures are my own.