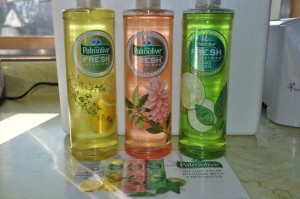 I was pretty excited to be getting these Palmolive Fresh Infusion dish soaps free from Influenster. I had some friends get them previously from Influenster, but I hadn't yet, so was excited to get my hands on them to try myself.
Above you see I received three different bottles all in a different scent. Lemon Thyme, White Ginger Tea, & Lime Basil listed as seen above from left to right. I love the smell of all three, but right now I am personally using the White Ginger Tea. I plan to give the Lemon Thyme to my friend Debbie, who absolutely loves all things that are lemon, so I knew right away that was going to be the one she getting. I am sure she'll be helpful and give updates on what she thinks of it as well.
This is just a first impression since I have only been using them for about a week thus far, if that. I am happy with the amount of suds though, that is something I was worried that would be a problem, but it produced lots of good cleaning suds! Bonus! *see the suds below*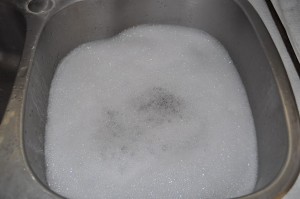 I'll update again more fully once I am able to review it more and Debbie is able to get hers as well. Be on the look out! 🙂
I received these products free from Influenster. All pictures & thoughts are my own and I was in no way swayed because of receiving it for free.