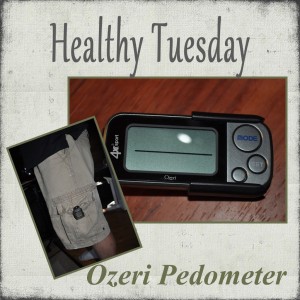 This segment of Healthy Tuesday will be brought to you by Ozeri. I was given this Ozeri Pedometer to test and review and give my full honest opinion on. Even though I was given this product for free, I only recommend products/services that I have liked or value.

I was so thrilled when Ozeri asked me to review another product of theirs. I happily picked the 4×3 Sport Digital Pedometer. I have been wanting something to count when we go on our walks and hikes and this was perfect for us. I couldn't wait until I received it.
A few weeks ago I didn't have to wait any longer. It was here and in my hot little hands. Ended up being that my husband was the one to actually put it to the test. We were curious just how much he actually walks at work. My husband easily set it up, though is actual stride might be slightly off.
The first day he wore it to work, we were amazed at the amount of miles he walked/ran stairs, etc. It not only counts your steps, but also the steps you have to go for your target goal of the day (which you can easily change to challenge yourself daily). It also counts your calories burned, distance traveled, and your actual exercise time. It is small enough to just slip into your pocket. It can also be clipped on your belt or pocket or hold in your hand.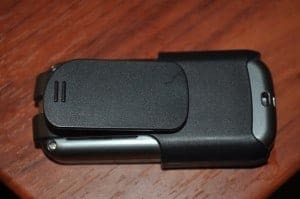 Easy to set up and accurate tracking. Which is why I highly recommend you check out this pedometer. Check it out at Amazon, here. Low price, yet accurate and small. Perfect combo. It also has an auto sleep, so the battery isn't wasting away while not being used. With a 30 day memory, its easy to go back and look how you did recently.
The only slight, very slight, mishap we had with this Ozeri Pedometer is when my husband was driving home one day and he took a corner sharply or changed directions sharply, the pedometer counted it as steps. That was the only time though my husband noticed it counting when not actually walking.
Again, check it out and I know you'll enjoy it like my husband, and I have. The pedometer by Ozeri can be found at Amazon!