I love looking for new posts for my Healthy Tuesday segments. Todays is the dinner we had last night, which was super yummy and completely meat free while being healthy too. It was so good, I couldn't get over how good the Enchiladas were, I just kept raving on them while we ate them. The side was good, but not pure excellence like the Enchiladas. Below you'll find the recipe for both! Enjoy!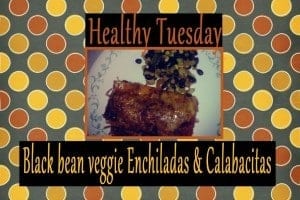 Black bean veggie Enchiladas
(which I got from the Taste of Home Comfort Food, diet of 2011)
(we gave this a 5 star in our cookbook, which we rate from a 1 to 5 to know how we liked it)
1 small onion, chopped
1 small green pepper, chopped (we used the little red and and yellow peppers)
1/2 cup sliced fresh mushrooms
2 teaspoons olive oil
1 garlic clove, minced
1 can (15 ounces) black beans, rinsed and drained
3/4 cup frozen corn, thawed
1 can (4 ounces) chopped green chilies
2 tablespoons reduced-sodium taco seasoning (we used our own homemade stuff)
1 teaspoon dried cilantro flakes
6 whole wheat tortillas (8 inches), warmed
1/2 cup enchilada sauce
3/4 cup shredded reduced-fat Mexican cheese blend
In a large skillet, saute the onion, green pepper and mushrooms in oil until crisp-tender. Add the garlic; cook 1 minute longer. Add the beans, corn, chilies, taco seasoning and cilantro; cook for 2-3 minutes or until heated through.
Spoon 1/2 cup of the bean mixture down the center of each tortilla. Roll up and place seam side down in a greased 13-in. x 9-in. baking dish. Top with enchilada sauce and cheese.
Bake, uncovered, at 350 for 25-30 minutes or until heated through.
Calabacitas
1 tablespoon olive oil
1 large onion, chopped
3 gloves garlic, minced
4 small zucchini, diced
1 fresh poblano pepper, seeded and chopped
1 cup frozen whole kernel corn
1 (15 ounce) black beans, rinsed and drained
1/2 teaspoon salt, or to taste (we used no salt)
Heat olive oil in a large skillet over medium-high heat. Add onion and garlic, and cook, stirring until translucent. Add zucchini and poblano pepper, and saute until soft. Stir in corn and beans, and heat through. Season with salt to taste.