I love chili. Sadly I also love canned chili, which has so much added junk it makes it not healthy for you, but I can't resist having it once awhile.
Last week we tried a homemade chili we found in one of our cookbooks we had laying around called Family Favorites Made Lighter by Better Homes & Gardens. We ended up loving it quite a bit and was even better that it was fairly good for us.
We used 96% lean beef instead of the 90% lean they suggested you use in the cookbook, we only use that lean of meat. We also added in a poblano & two jalapeno's to add in some spice that we like. We also didn't add the extra salt that is stated in the recipe. Those were our tweaks to it, but you can use it as is or tweak it a bit yourself.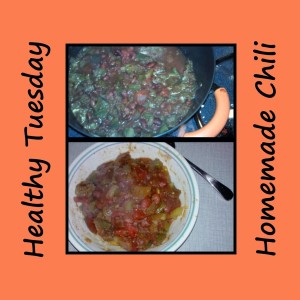 8 ounces 90% lean ground beef
1 cup chopped onion
1 cup chopped celery (2 stalks)
1/2 cup chopped green pepper
2 cloves garlic, minced
1 15 1/2-ounce can lower-sodium red kidney beans, drained
1 14 1/2-ounce can lower-sodium tomatoes, cut up
1 8-ounce can lower-sodium tomato sauce
1/4 cup water
2 to 3 teaspoons chili powder
1/2 teaspoon salt
1/2 teaspoon dried basil, crushed
1/4 teaspoon pepper
In a large saucepan cook ground beef, onion, celery, green pepper, and garlic till meat is brown. Drain off fat. Stir in the kidney beans, the undrained tomatoes, the tomato sauce, water, chili powder, salt, basil, and pepper. Bring to a boiling; reduce heat. Cover and simmer for 25 to 30 minutes or till the vegetables are tender.
Makes 4 servings.
Per Serving:
Calories – 264
Protein – 20g
Carbohydrate – 34g
Dietary fiber – 9g
Total fat – 6g
(Saturated fat) – 2g
Cholesterol – 36mg
Sodium – 365mg
Potassium – 838mg
from the cookbook, as stated on the right, I am not held accountable for the truth of these figures.