I received this product free from Influenster & Dr. Scholl's to give my full and honest opinion on. All thoughts and photos are my own though. I only recommend products I truly like.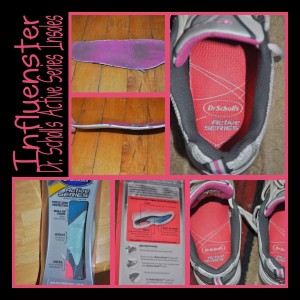 I have to admit I was a bit disappointed when I found out I was receiving the Dr. Scholl's Active Series Insoles in place of not getting one of my other prizes. I thought oh god, insoles, how am I really going to talk about those. I have tried them in the past and have never been a huge fan of them, they always make my shoes feel funky.
I had Jason help me put them into a pair of older shoes that the soles hurt my feet, but the outside still looked decent. I was shocked when we were reading the directions and saw it told us to pull out the old insoles first. I wonder if that is why they always hurt my feet and never felt right before? I always just put them in over the old insoles. Interesting!!
We got them all put in and as soon as I put my foot in I was shocked, yet again. They felt wonderful. It felt like a brand new shoe. We went for one of our walks right after we got them in, and wow did I feel a total difference. I mostly felt the wonderful arch that seemed to support my feet better then the old shoe itself did. We were on almost a two mile walk, and I had no foot pain.
I have wore them several times now after the course of the week and am still impressed. It gives such great support.
Dr. Scholl's states that the Active Series Insoles reduces shock by 40% and helps reliever and prevent pain from three common sport injuries: shin splints, runner's knee and planter fasciitis. It's designed with Triple Zone Protection. 1. Ball of Foot pad provides cushioning. 2. Reinforced arch supports the foot. 3. Deep heel cup absorbs impact with every step.
I am loving them, and my husband is thinking he wants a pair too since he is in his shoes daily and walks around his work anywhere from 4 to 10 miles a day. I can imagine these would help quite a bit in making his feet more comfortable and not achy.
Check out Dr. Scholl's and find out more about the Active Series or any of the their other great products!