I received this book free to read from NetGalley to give my full and honest opinion on. However, I only give my honest opinion and was no way swayed by receiving this book for free.

I finished Nightfall by Anne Stuart on Christmas Eve. I am always up for a good mystery and whodunnit type of book and happily this one was an excellent one for that. Plus it had some romance thrown in to keep you on your toes and make your heart go pitter patter and at some points be very afraid.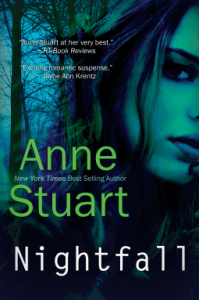 Book Description from NetGalley:
This is my fate . . . to die for unspeakable crimes. All I ask is that a stranger give herself to me and to my secrets.
Richard Tiernan has been sentenced to death. With an ulterior motive and a heart full of dark truths, he agrees to tell all to an ailing writer whose greed and ambition are so strong that he will even give his own daughter to Richard in return for one last Pulitzer-winning story.
I want Cassidy Roarke. I need her. But she has to prove she's worthy. That she can be trusted.
Cassidy's spent her life struggling to earn her father's respect and love. Now his health is failing, and her feelings for him are even more complex. Loyalty is a sacrifice. Daughters can be broken by their fathers. She has to help when he calls. He's bailed Richard Tiernan out of prison just long enough to coax the shocking facts out of him. What happened that night? What did Tiernan really do to his family?

Her father will sell his soul to the Devil before he dies. So be it.

Richard Tiernan may take them both to Hell
My thoughts:
I have to say that this book kept me guessing to the bitter end, which I LOVE in a book. Did Richard do it or is it all a masking for the real truth? Where are his kids? Are they dead as well?
Can Cassidy protect her heart while seeking the truth? What is her Dad up to?
Cassidy takes time off her job while helping her father write up a book about Richard Tiernan. Can she face the truths she finally starts to unbury from the depths of Richard himself?
If you like mystery and the classic game of who did it? Then check it out.