Disclaimer: The following post is part of a campaign, review or sponsored post. I was given the product and/or have been financially compensated for the following post. Post may also contain affiliate links. As always though all thoughts are 100% my own, as are most of the pictures included.
Disclosure: I got this product as part of an advertorial.
f you know me at all, you know that I love playing games. It doesn't matter if it's a card, board, or video games – I just love it and it makes me happy. I'd be completely giddy if I could find people to do a monthly game night with.

Jason and I enjoy playing games by ourselves as well, but a lot of the games out there take more then two people to play. Which is why I am always on the lookout for new games, especially two player ones.

I was lucky enough to get my first official game to review on here. I was over the moon excited about it. It took me a bit longer then I would have liked to actually play the game, but we finally did last night and now I can tell you all about it!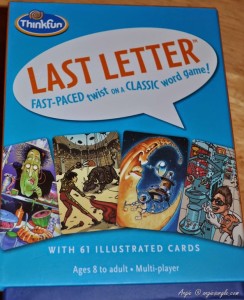 My thoughts on Last Letter Game
My first thought when I first opened the game was the graphics on the cards. They are amazing and eye catching and so much going on in the card. It was neat to just look at the cards themselves before even playing the game.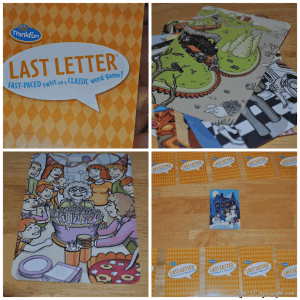 The concept of the game is very simple. Each person gets dealt 5 cards and doesn't look at them and a card gets turned over in the middle of the table for everyone to see. The person that dealt then names something in the picture. Say there is an apple, so the dealer would say apple…now everyone looks at their cards and finds something in one of their cards that would start with an e. Whoever says its first, gets to name to put their card in the middle pile and play goes on from whatever was named next until a player is left without any cards, that person wins.
This was an easy, fairly fun game to play. My husband and I agreed that it might be more fun with more people and more words getting spoke quicker, etc. Also, we could see it being used as a learning activity in classrooms.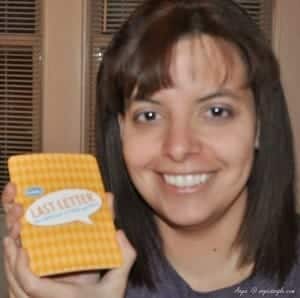 Last Letter is for Ages 8 to adult, 2 or more players and is priced around $12.99
Buy it today on Amazon and enjoy the Last Letter.
I received one or more of the products mentioned above for free using
Tomoson.com
. Regardless, I only recommend products or services I use personally and believe will be good for my readers.